UPDATE: Originally posted in August 2017 as a sponsored back-to-school post, this muffin recipe continues to be in Deanna's baking rotation (and her now 12-year old still loves making them!)
——
Disclosure: I was compensated by fairlife to write this post. Opinions and thoughts are my own.
So, I realize some bloggers are onto Halloween stuff but my daughter still doesn't go back to school until next week! And at the risk at of this being just another back-to-school packing/snacking post, I wanted to share my 3 practical, no elaborate food prep or out-there suggestions that I actually use for back-to-school time.
#ad 3 Practical Back To School Packing Tips + Better For You Muffin Recipe @tspbasil @fairlife
Click To Tweet
1) There's no shame in the same. If your kid wants the same sandwich every day, IT'S OK. While we dietitians always preach variety in the diet, some kids like the routine and familiarity of the same lunch so it's not worth a power struggle as there are other places to switch it up.
My daughter is on a ham and cheese kick. This was her camp lunch every day except for the occasional Friday when they served pizza. Your kids may be open to having a different piece of fruit or veggie instead (she's pretty open to this.) And switching up their drink could be another option, too.
If you've followed me on social media, you'll know I'm a fan of fairlife milk – real milk that's been ultra-pasteurized and filtered so it contains 50% more protein and 30% more calcium compared to regular milk.
***And now they have a brand new line – called fairlife SuperKids with DHA Omega-3! I'm thrilled about this because most kids (including dear daughter) don't get enough omega-3s in their diets which is so important for brain growth and health. So, here's the scoop on SuperKids:
Each 8-ounce serving contains:

125 mg DHA Omega-3
12 grams protein
35% daily value calcium
no lactose
comes in plain and chocolate
My 10-year old asks for the 2% milk over the chocolate (go figure!)
2) Breakfast also works for lunch. If your kid has a favorite breakfast that's packable, go for it! Almost every weekend, I make a batch of these whole grain pancakes and freeze for busy mornings and once in awhile, I pack one for lunch with some fruit and nut or seed spread. Other breakfast-for-lunch ideas include oatmeal in a thermos, breakfast burritos, egg breakfast muffins and many of these quick protein breakfast recipes are packable too.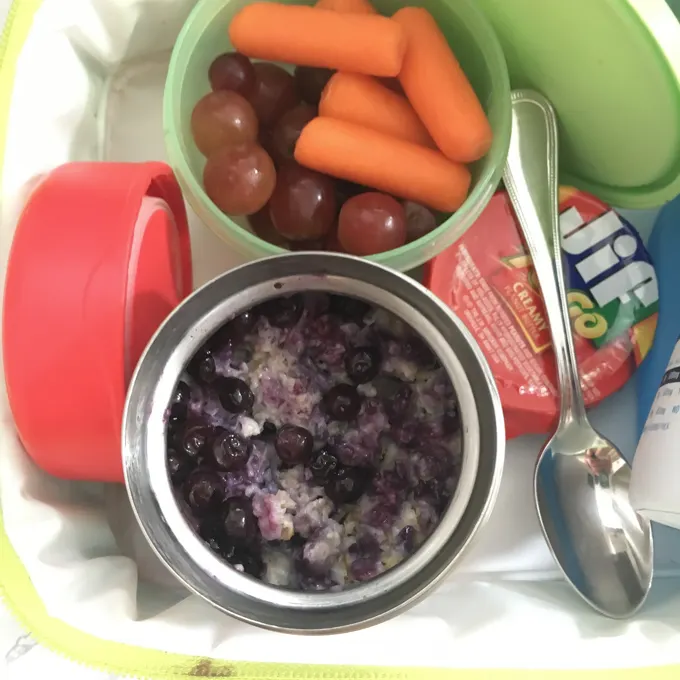 3) The freezer is your friend. Admittedly, I am not big on freezer meals as a) I'm not great with meal prep and b) when I do make a double batch and freeze, I usually forget that the extra meal is in there until freezer burn sets in.
BUT, I do use the freezer often to help with packing school lunch and serving up after-school snacks. A few freezer foods I use often:
Frozen peas
Frozen fruit
Frozen waffles (and those homemade pancakes I mentioned before)
Whole-grain bread/English muffins (side tip: bread goes stale faster if you store refrigerator vs. freezer)
Frozen muffins (recipe below) – I ALWAYS have these in the freezer along with those pancakes. I've made so many varieties of these muffins over the years to add to school lunch or serve as an afternoon snack. I'm calling this recipe a "muffin formula" because you can swap in so many different fruit and veggie combos like:

Blueberry Lemon
Apple Carrot
Vanilla Zucchini
Peanut Butter & Strawberry
Chocolate Cherry
After refining this recipe over the years, here are the different ways I've made them "better-for-you" muffins:
added different fruit and veggies – for several vitamins and minerals
added nut and seeds – for protein and unsaturated fats
added whole grain meals/flours – for fiber
made them mini size – for better portion control
And my latest "addition" is to serve them with a glass of fairlife SuperKids milk to my daughter as an afternoon snack (or even as a quicky, out-the-door breakfast on one of THOSE days.)
Print
Better-For-You Muffin Recipe Formula
---
Author:

Yield:

24

mini muffins

1

x
Description
Use this recipe formula to make better-for-you mini muffins with all different types of fruit, veggies and nut butters!
---
Basic mini-muffin formula:
3/4 cup

whole wheat pastry flour

1/2 cup

golden flaxseed meal

1/2 cup

all-purpose flour

1/3 cup

brown sugar

2 teaspoons

baking powder

1/4 teaspoon

salt

2

eggs

1/3 cup

canola oil

1/3 cup

fairlife Superkids 2% milk

1 cup

grated vegetables (like carrots or zucchini) or

1 cup

chopped fruit (fresh or frozen)

1 teaspoon

vanilla extract
---
Instructions
Preheat oven to 350 degrees Fahrenheit.
In a large bowl, whisk together pastry flour, flaxseed, all-purpose flour, brown sugar, baking powder and salt. Set aside.
In another bowl, whisk together eggs, oil, fairlife Superkids milk, vegetables or fruit and vanilla.
Pour wet ingredients into bowl with dry ingredients. Mix with spatula until just incorporated.
Spray a 24 cup mini-muffin tin with cooking spray or use mini cupcake liners.
Spoon batter evenly into each cup.
Bake for about 18-20 minutes or until muffins test clean.
Remove from oven and cool on wire rack for 10 minutes. Carefully remove muffins from tin and cool completely.
Notes
Other mini muffin variations:
Chocolate Cherry – add 1 cup pitted cherries, chopped (can be frozen) + 2 tablespoons unsweetened cocoa powder + use fairlife Superkids chocolate milk instead
Blueberry Lemon – add 1 cup frozen wild blueberries + zest from one lemon
Apple Carrot – add 1/3 cup applesauce instead of oil + 1 cup grated carrots
Vanilla Zucchini – add 1 cup grated zucchini + an extra 1/2 teaspoon vanilla extract
Peanut Butter & Strawberry – add 6 tablespoons peanut butter + 1 cup chopped strawberries
Click on this link for more back-to-school healthy and fun lunch box tips.
What are your go-to school lunch packing staples?