Stir fry roasted cabbage with carrots and day old brown rice for a healthy and tasty vegetable fried rice meal. ~ by Deanna Segrave-Daly, RD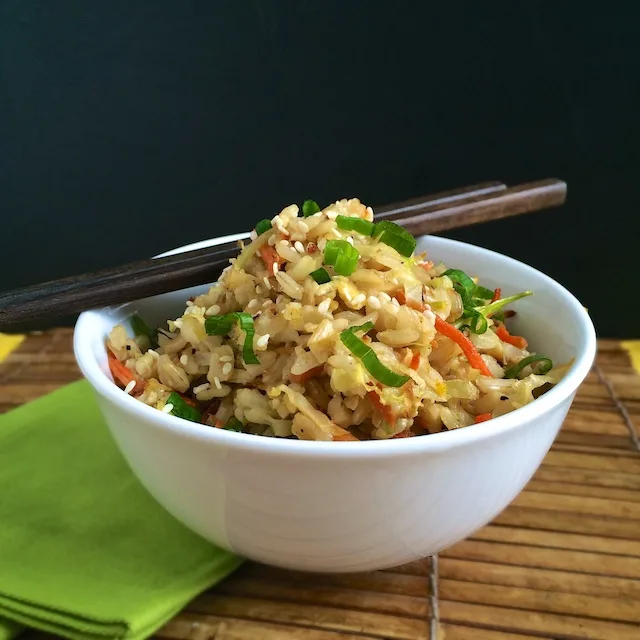 {Disclosure: As co-owners of The Recipe ReDux, Serena & I were compensated to manage the U.S. Rice Recipe Challenge but not eligible to win prizes associated with the contest. Thoughts and opinions are my own – I'm a long time fan/eater/cheerleader for rice!}
This recipe came about from about five different angles.
I had some leftover shredded cabbage (I ALWAYS seem to have leftover cabbage if I buy it—> which is why I was digging Serena's 7 Easy Ways to Use Leftover Cabbage post last week.)
Next, I started thinking about roasted cabbage and making a roasted cole slaw (more on that below.)
Then, the U.S. Rice Federation decided to sponsor a "Think Rice for National Nutrition Month" Recipe ReDux challenge for our members, so I was thinking of ways to pair cabbage with some type of brown rice and then it hit me.
Fried rice.
Now, I'm a fan of brown rice – admittedly it took some time to change my palate from white to brown but I now prefer the nutty flavor (plus it's a whole grain and gives you a fiber boost.)
I usually have an array of rice varieties in my pantry (a recent favorite is a short grain/sushi brown rice from Whole Foods.) But for fried rice, long grain is best – preferable a day old and dried out a bit.
I decided to use U.S.-grown brown basmati rice – a long grain rice with a delicious nutty flavor.
Now, for the actual recipe, I added an extra cooking step to the usual quick stir-fry method but trust me, this is SO worth it. I mixed up that shredded leftover cabbage with shredded carrots and broccoli slaw, tossed it all with canola oil and black pepper and then roasted the whole thing for about 15 minutes. So, it's really like a roasted cole slaw only without all the goopy dressing.
It was really hard to stop munching this roasted veggie mix and save it for the fried rice. But luckily, the rest of the recipe came together in less than 10 minutes.
Print
Roasted Cabbage & Carrot Fried Rice
---
Author:

Yield:

4

servings.

1

x
Description
Stir fry roasted cabbage with carrots and day old brown rice for a healthy and tasty vegetable fried rice meal.
---
1 cup

uncooked U.S.-grown basmati rice or other long grain rice (or

3 cups

cooked)

4 cups

shredded cabbage

4 cups

shredded carrots or broccoli slaw

1/4 cup

canola oil, divided

1/2 teaspoon

black pepper

6

scallions, chopped, divided

2

garlic cloves, minced

2

eggs, beaten

2 tablespoons

lower sodium soy sauce
Sesame seeds
---
Instructions
Cook rice according to package. Set aside or store in refrigerator overnight (day old cooked rice works best in this recipe.)
Preheat oven to 400 degrees Fahrenheit.
In a large bowl, mix cabbage, carrots (or broccoli slaw), 3 tablespoons oil and black pepper. Spread out on two baking trays. Roast in oven for about 15 -17 minutes until veggies are limp and start to brown (stir about every 5 minutes.) Remove from oven and set aside.
Heat a wok or a large skillet over medium high heat with remaining 1 tablespoon canola oil.
Add 4 chopped scallions and garlic, stirring constantly for 30 seconds.
Mix in rice and cook for 2 minutes, stirring often.
Mix in roasted cabbage mixture and cook for 1 minute. Push veggie rice mixture to one side of wok.
Add eggs and cook until scrambled, stirring for about 2 minutes.
Mix all ingredients in wok together for another minute until everything is incorporated. Add soy sauce and mix for another minute. Remove from heat.
Before serving, sprinkle with sesame seeds and remaining chopped scallions.
So, here are the perks of buying/enjoying U.S.-Grown Rice (look for the "Grown in the USA Rice" logo on the package):
Sustainable, locally-grown and GMO-free
An inexpensive staple for any meal – pairs well with healthy foods we need more of: veggies, fruits, seafood, beans, nuts and lean proteins
Gluten-free and least allergenic of all grains
What's your favorite type of rice? How often do you cook it? Do you have a rice maker (I'm still just cooking in a pot but am thinking about buying one…)