This healthier whipped coffee recipe is easy to 'whip' up! The TikTok-famous recipe is almost too easy: instant coffee, sugar, and water, but how do these simple ingredients produce that foamy whip to make "dalgona coffee"? I'll show you!
When my 15 year-old says, "Mom, have you seen the recipe for … (the hottest new Instagram or TikTok food trend)?", I've learned to pay attention.
The latest recipe craze (perhaps sourdough bread next?) my daughter is making , is whipped coffee also know also known as dalgona coffee (which was "invented" in South Korea), and is very, very similar to a Greek frappe.
Apparently the Greek frappe version is equal parts sugar and instant coffee shaken with a bit of water and poured over ice – then topped with water and sometimes a little milk. This Greek coffee drink has been around for much longer than TikTok or even Instagram, maybe as long as instant coffee has been around – and instant coffee was invented in 1901!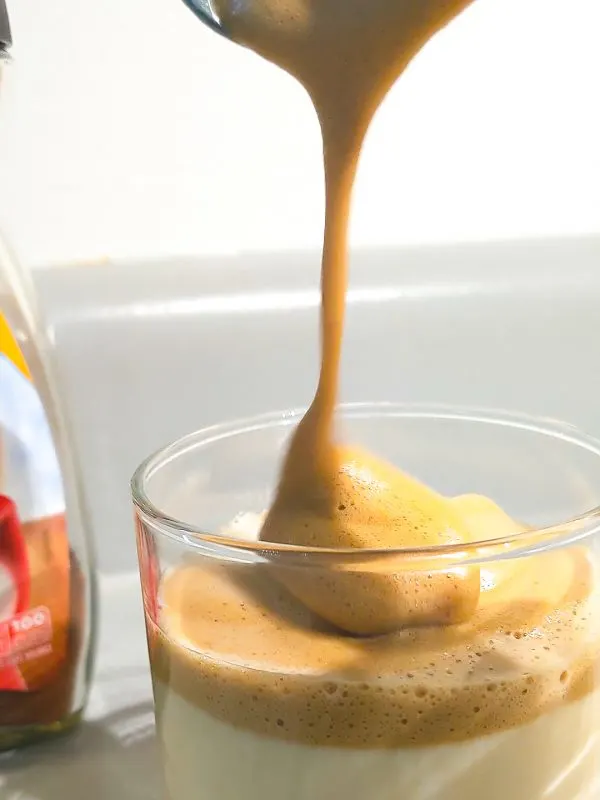 Why does whipped coffee work?
I reached out to the nice food scientists at Nescafe coffee and Carlos Armas explained that instant coffee granules have tunnels of trapped air inside to help them dissolve quickly. By adding just a tiny bit of water, the air stays inside the thick 'sludge' liquid that's formed – and the whisking or shaking that occurs in whipped coffee further foams up the air – and adds more air.
Now, here's the key: to make the most sturdy foam, add the least amount of water possible. Otherwise, too much water will allow the air trapped in the coffee granules escape!
I also asked Mr. Armas if the water temperature mattered. In my experimentation, I was getting really good results with plain tap water, not boiling water. He agreed with me, he said boiling water makes the coffee dissolve faster and allows the air to escape more quickly.
Lastly, he said more sugar probably leads to the very best foam. (uh, oh! (:) This is because the sugar thickens the 'sludge' allowing less air to escape. But in my book, the following recipes still lead to REALLY thick foam, as long as I don't add to much water.
Which is best? A whisk, electric beaters, or a mason jar?
Thanks to the amount of air they can incorporate before all the air in the granules escape, the best is 1) electric mixer 2) whisk, lastly 3) a mason jar. But the mason jar is still great. And it's much easier to shake. And it makes for a 1-cup coffee drink because you can just pour the milk and ice in after you're done shaking!
A lower-sugar recipe for whipped coffee
The recipe that's basically gone viral is packed with sugar and caffeine – which is why my dear teenager loves it. She told me the recipe had to be equal parts coffee to sugar (2 tablespoons of each!) to water. A normal cup of instant coffee uses only 1 teaspoon of coffee. So this is SIX times the amount of caffeine in a cup of coffee, and SIX sugar packets.
I found that this recipe with less than half the sugar whipped great:
2 teaspoons sugar
2 teaspoons instant coffee
2 teaspoons of water
The 2 teaspoons of sugar have only 32 calories and 8 grams of sugar.
In terms of milk, we think 1/2 cup of 2% reduced-fat milk is the most delicious and satisfying. But you could also use almond milk or soy milk beverages.
Have you tried whipped coffee?
Print
Healthy Whipped Coffee
---
Author:

Yield:

1

serving

1

x
Description
Healthy Whipped Coffee Recipe! Easy and fun to make – with just 3 simple ingredients, instant coffee, sugar, and milk!
---
2 teaspoons

sugar

2 teaspoons

instant coffee

2 teaspoons

cool water
Flavorings if desired: 1/4 teaspoon vanilla, 1/2 teaspoon cocoa powder

1/2 cup

reduced-fat (2%) milk, almond or soy milk bevererages
several ice cubes
---
Instructions
To a large bowl, add the sugar, coffee, and water. Whisk briskly with a wire whisk, milk frother or electric beaters into a thick foam. Using a whisk will only take about 3 minutes.
Pour the milk into a glass and add the ice. Carefully spoon the whipped coffee over the milk.