Ahhh, July's FoodLove Bloghop theme is highlighting of one of my favorite foods on earth – the lovely tomato. Probably because I'm part Italian and close to New Jersey, I'm a fanatic. I'm convinced whomever doesn't like tomatoes just has never had a fresh, in-season, super ripe tomato. In an ideal world, a visit to Italy would be the cure (I'd put olive haters on this trip, too.) But if you don't have the budget for a jaunt to Europe, I'm thinking these fab recipes from my fellow #tomatolove bloggers may help convince you.
Recently, I've been oven roasting tomatoes, which brings out a divine sweetness and smoky flavor. I've been going "slow & low" – cooking for about 1 1/2 hours at a low temperature. Despite the time factor, it's super easy – you basically stick them in a oven and pretty much forget about them.
A crostata (like a galette) is a free-form pie whose dough only partially covers the filling. It doesn't have to be pretty, in fact the more "rustic" looking, the better in my book. Most of the time, crostatas are filled with fruit like plums, peaches, pears or apples but I decide to go savory and hey, tomatoes ARE a fruit! Besides the time factor for roasting, this is such a simple recipe (especially if you decide to just use store bought puff pastry or pie crust – even though I encourage you to at least try to make it once.)
My pal, Regan @Healthy Aperture, recently traveled to Vermont to the King Arthur Flour Blog & Bake event (so jealous!) and picked up many cool baking tips, including how to make a super puff pastry. Now, I consider myself a pretty decent baker but pie crust/pastry dough is one thing I sheepishly admit to buying vs. making. But after reading her post for Blueberry Tartlets, I thought I'd give her pastry making tricks a try for this recipe and they really worked!
I got my tomatoes from our local farmers market where I also scored some lemon thyme – this stuff is POTENT – using a few sprigs is like squeezing lemon juice into your dish. You could pair almost any fresh herb with this recipe, like basil, oregano, rosemary, etc.
Print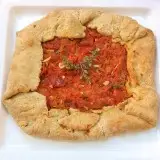 Roasted Tomato Crostata
---
Author:

Yield:

6

servings

1

x
Description
Upgrade your pizza with this savory summer tart of roasted tomatoes.
---
---
Instructions
Preheat the oven to 300 degrees F. Cut tomatoes into 1/8-inch slices. Add to a bowl and toss with olive oil and garlic. Add salt & pepper to taste. Spread out evenly onto baking sheet with lip or baking pans. Roast for 1 hour then set aside.
On a well floured surface. roll dough into a 12-inch circle.
Spread tomatoes onto dough leaving a 2-inch border. Fold edges over (the dough will only partially cover the tomatoes.)
Sprinkle with thyme leaves (and cheese if desired.) Place crostata onto parchment paper on a cookie sheet.
Bake at 400 degrees for 25-30 minutes or until crust is lightly golden brown.
P.S. I do realize I'm crazy for slow roasting tomatoes and then baking during a heat wave.
So, are you a tomato lover or have yet to see the light?