Sweetpotatoes, kale, black beans & jalapeno cheddar make a mighty fine tostada ~ by Deanna Segrave-Daly, RD
Disclosure: The California Sweetpotato Council compensated The Recipe ReDux (co-owned by ReganMillerJones, Inc. and Teaspoon Communications), to sponsor this recipe contest. We are not eligible to win prizes associated with the contest. I also received a box of California sweetpotatoes to use for recipe testing. My thoughts and opinions are my own.
---
No, that's not a typo in the recipe title.
There's a new spud in town by way of the West coast and it's the California sweetpotato – as in sweetpotato being one word not two (though my spell check begs to differ.)
The California Sweetpotato Council is sponsoring this Recipe ReDux recipe challenge and is spreading the word about these beauties, which are different from other sweet potatoes out there. Some facts about California sweetpotatoes:
Sweetpotatoes are grown in small quantities in soft sand and are hand sorted.

Sweetpotatoes provide 4 grams of fiber, 2 grams of protein and are a good source of Vitamin C.
You get all the Vitamin A you need for the day in one medium sized sweetpotato – for only 105 calories.
Sweetpotatoes are sweet and moist compared to yams which are more dry and starchy.
And as you can see above, all aren't necessarily orange. The three most popular varieties include:
Covington (Orange) – Rose colored skin and super orange flesh. Great for roasting and mashing.
O'Henry (Tan) – Pale copper skin and sweet, white flesh (it almost looks like a regular potato!) Great for soups and stews.
Diane (Red) – Red skin and deep orange flesh. Great for making sweetpotato fries.
I ended up using a mix of the O'Henrys and Dianes for these tostadas. Speaking of tostadas – a word about tortillas in general. A few weeks back, I had an epiphany when I made Lindsay @ Lean Green Bean's recipe for whole wheat tortillas. So simple, so easy and so delicious – I will not be going back to the packaged ones anytime soon.
More recently, fellow ReDux member, Robin @ Robins Bite, shared that she took inspiration from the same recipe and made homemade corn tortillas from masa.
Now, I didn't pull it together in time to make my own corn tortillas for this recipe post. But I plan to make them soon so I can make these yummy tostadas often this fall and winter when sweetpotatoes and kale are abundant.
Print
Sweetpotato & Kale Tostadas – The Recipe ReDux
---
2

large California sweetpotatoes, cut into

1

-inch cubes

2 tablespoons

olive oil

3/4 teaspoon

smoked paprika

1/4 teaspoon

black pepper

1/4 teaspoon

salt

1

(15 ounce) can black beans, drained and rinsed

4 cups

chopped kale

1/2 cup

chopped onion

12

corn tortillas

8 ounces

Cabot Jalapeno Light Cheddar, shredded
Fresh cilantro
Lime wedges
---
Instructions
Preheat oven to 400 degrees Fahrenheit.
In a large bowl, mix together sweetpotatoes, olive oil, smoked paprika, black pepper and salt. Spread sweetpotato mixture in a large roasting pan coated with cooking spray. Roast for 15 minutes, stirring a few times.
In same bowl, add black beans, kale and onions, toss together. After sweetpotatoes have been cooking for 15 minutes, add beans/kale/onions to the roasting pan and mix together well. Roast for about 10 more minutes or until kale has wilted and sweetpotatoes are cooked through. Stir a few times during this cooking time. Remove from oven but keep oven on.
On a cookie sheet coated with spray, add six tortillas and put in oven. Bake for 5 minutes and remove from oven. Flip tortillas, sprinkle with a little bit of cheese, top with a few tablespoons of sweetpotato/kale mixture, sprinkle with more cheese and return to oven. Bake for another 3 minutes or until cheese is melted and tortillas are crispy.
Repeat with remaining ingredients.
Before serving, sprinkle each tostada with a few fresh cilantro leaves and a squeeze of lime juice.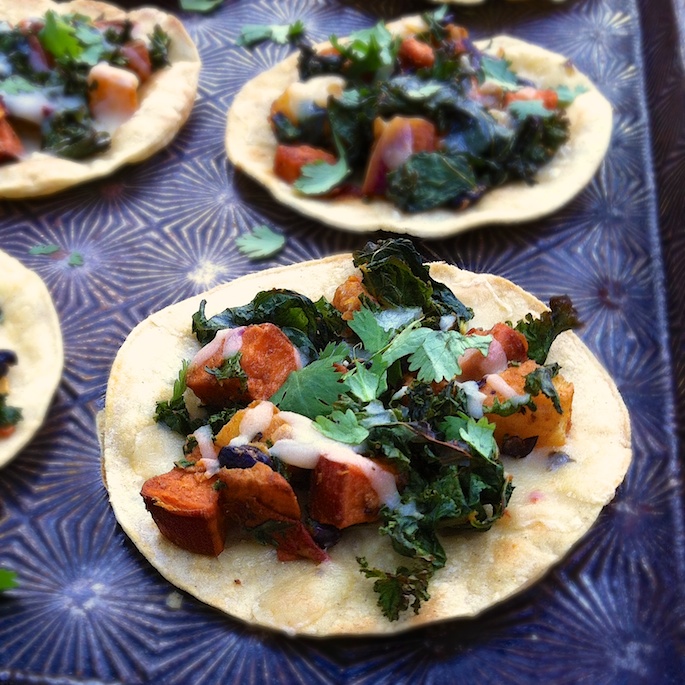 Ever heard of California sweetpotatoes? What are you favorite ways to enjoy this orange spud?
Check out how other ReDux members are using California sweetpotatoes in their kitchens!