Extra-crunchy granola topping soft, pillowy whole wheat muffins – these healthy Crunchy Granola Muffins will have you forgetting all about streusel topping.
There are two things that happen regularly every week at our house: I make a batch of muffins. And my mom mails, yes, snail-mails my children her newspaper comics.
Every week, my dear mother takes five days of black and white cartoons, and the colored comics from the Sunday paper and slips them into a manila envelope – with a stamp – and sends them off to my kids. She (amazingly) remembers to mail the envelope to a different grandchild weekly. The child on the receiving end gets to read all the cartoons first, before his/her siblings. I'm pretty sure these comics are how my son (finally!) got excited about reading when he was in 2nd grade.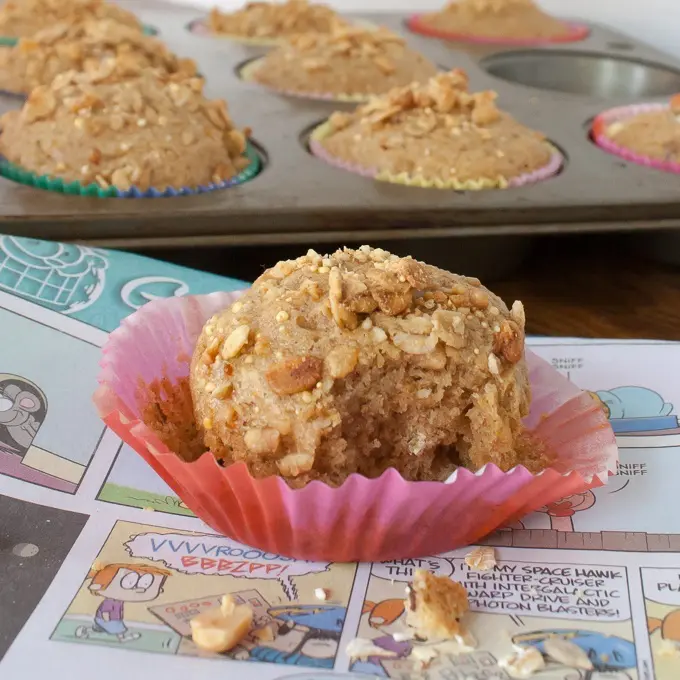 In terms of muffins, these are the ones I have on regular rotation:
I'm not really sure how either of these traditions began, but of course, my kids are infinitely fond of both. And honestly, I haven't thought much about how some weeks, these are the only two constants in our crazy weeks – until this week, when I watched my 8-year old munch his way through these Crunchy Granola Muffins while reading this week's comics from Grandma. Do you like crunchy muffin tops? These are for you! CRUNCHY GRANOLA MUFFINS via @tspcurry #TheRecipeReDux Click To Tweet
Mom made muffins almost weekly when I was growing up too. So thanks, Mom, for the inspiration of this week's Recipe ReDux theme: Our favorite crunchy snack.
It was time for a new muffin flavor on this blog, as surprisingly, the last muffin post I did was in 2014! I started with what I like (crunchy buttery + white flour streusel!) – but I made these Crunchy Granola Muffins a few times to get them soft and pillowy using whole wheat flour – with EXTRA crunchy-tops.
These soft, tender muffins with peanut buttery crunchy tops will have you forget you ever knew about streusel.
They are THAT good.
What's streusel again??!
Print
Description
Crunchy tops on soft and fluffy muffins – the perfect combo! Kids will adore these muffins as a snack. They also freeze well for an afterschool snack.
---
1 cup

whole wheat pastry flour (or white whole wheat flour)

1½ cups

all-purpose flour

1 teaspoon

baking soda

¾ teaspoon

baking powder

1 teaspoon

ground cinnamon

1/2 cup

granulated sugar

1 cup

whole milk

½ cup

canola oil

2

eggs

1 teaspoon

vanilla extract

¾ cup

Peanut Butter Granola, divided (I've also used KIND Peanut Butter Whole Grain Clusters)
---
Instructions
Place muffin papers in 16 muffin cups (or spray with cooking spray). Heat the oven to 400-degrees Fahrenheit.
In a large bowl, whisk together flours, soda, baking powder, cinnamon and sugar. In a small bowl, whisk together milk, oil and vanilla. Add liquid ingredients to dry ingredients and stir for 15 strokes with a wooden spoon – or just until barely mixed. (It's fine if a few pockets of flour remain.) Stir in ½ cup granola with about 2-3 strokes.
Using a medium scoop, fill prepared muffin cups 2/3's full. Top each muffin with about 1 teaspoon of the remaining granola.
Bake for 15 minutes or until a toothpick inserted in the center of the muffin comes out fairly clean (a few crumbs are fine, but no liquid batter.)
Notes
These muffins freeze well in a zip-top freezer bag.
Are you a muffin maker? Do you have any fun weekly traditions?
And check out all the ReDuxers's creative crunchy snack recipes below!