Sweet, moist muffins with crunchy sunflower seeds – made with ingredients you have on hand: Sunflower Seed Apple Muffins. Plus tips for cooking with kids.
Sometimes the most brilliant, kids'-play ideas do NOT come from Pinterest.
Instead, they originate from a good old fashioned conversation with a friend in the kitchen. In this case, in order to keep my 3-year and 5-year olds occupied and out of my hair the way of dangerous/hot items, my friend suggested I give them a spoon, whisk and a bowl containing just flour and let them go to town.
Here are the benefits to allowing your kids access to a few kitchen basics:
If you start with a real recipe, you may be disappointed when your carefully measured ingredients inevitably end up on the floor.
Kids may use their pretend play to be a piece of heavy machinery: Think front-end loader or scoop shovel.
Practicing mixing makes a child feel important and younger children love to be just like mommy, daddy or grandma in the kitchen.
You can judge how well kids follow instructions so you know they are ready to actually try that real recipe.
Muffin recipes are a great way to start baking with a child (another sign of muffin-baking-readiness: if kids can count and stir 15 times around the bowl, as that is how many strokes I stir muffin recipes when incorporating wet into dry ingredients.)
These Sunflower Seed Apple Muffins are perfect for young bakers because the recipe easily adaptable. Leave out the apples or applesauce if their attention span is running short. Add grated carrots and raisins if it's not.
Plus, it's healthy too, including whole wheat flour, 2 whole cups of apples, plus protein-rich nuts or seeds.
For more cooking-with-kids tips when making muffins, see my recipe below.
Print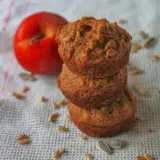 Sunflower Seed Apple Muffins
---
Description
Sweet, moist muffins with crunchy sunflower seeds – made with ingredients you have on hand: Sunflower Seed Apple Muffins. Plus tips for cooking with kids.
---
1 cup

all purpose flour

1 cup

whole wheat flour

1/3 cup

sugar

2 teaspoons

baking soda

1 1/2 teaspoons

cinnamon

1/4 teaspoon

salt

2 cups

shredded (unpeeled) apples (about

3

medium)

1/2 cup

roasted (unsalted) sunflower seeds

1/2 cup

natural applesauce (no-sugar added)

1/3 cup

canola oil

1/4 cup

1% milk

2

eggs, beaten

2 teaspoons

vanilla extract
---
Instructions
Preheat oven to 350 degrees F. Line muffin tins with 18 paper muffin cups, or spray with non-stick cooking spray.
Let child help stir flour in flour canister and then help scoop, measure and level off flour in measuring cup. Let child help measure additional dry ingredients (sugar, soda, cinnamon, salt) into a large bowl and stir carefully with a whisk or fork.
Let child CAREFULLY shred apples on a box grater (teach them how NOT to scrape their knuckles by using LARGE chunks of apple and by NOT getting too close to the scraping holes.)
Add apples and seeds to dry ingredients and have child help mix well.
Measure wet ingredients (oil, applesauce, milk, eggs, vanilla) into another bowl.
Pour wet ingredients into dry ingredients and let child count 15 careful stirs around the bowl to incorporate ingredients just until moistened.
Let child use medium cookie scoop to place even amounts of dough into 18 muffin cups.
Bake 20 minutes or until toothpick inserted in center of muffin comes clean.
Remove from pan and cool on wire rack.
Here are some more muffins recipes to make with your kids:
Chocolate Zucchini Muffins with Vanilla Glaze
Cinnamon Almond Chia Seed Muffins
Do your kids like to be in the kitchen? What age did they start to help out? What do you like to cook with them – we love to hear from you!