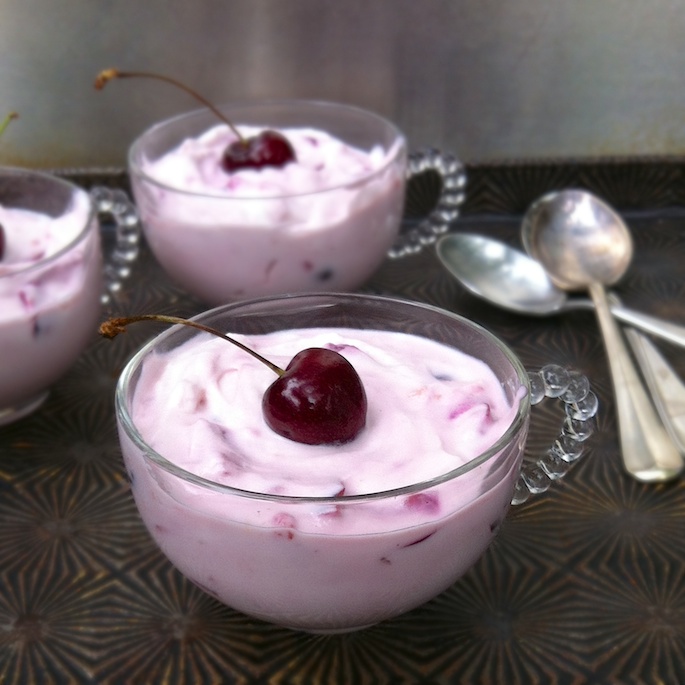 Enjoy summer cherries in cream and yogurt!
Years ago, I saw this simple Blueberry Fool recipe from Nigel Slater's Ripe featured on Food 52 – I was in the kitchen minutes later making it. It was gone by the next day so of course, I needed to make it again, this time with cherries – my absolute favorite summer fruit and a few of my adaptations.
A "fool" is a traditional English dessert that typically mixes cooked fruit in some type of cream or custard.
And, yes, my recipe calls for heavy cream (though I did lower the amount from the original recipe while upping the amount of Greek yogurt) but sometimes you do have to splurge and in this case, a little bit of lovely, full-on fat cream goes a long way.
It's a simple dessert that is also elegant at the same time (especially if you get fancy and serve it in wine glasses!) You can use just about any summer fruit you'd like.
If you like this recipe, Serena has another twist on this cherry fool in our upcoming Easy Everyday Mediterranean Cookbook coming out in October 2020 but you can pre-order NOW. She also created a delish Lemon Fool that's featured in our 30-Minute Mediterranean Diet Cookbook (both links are Amazon affiliate links.)