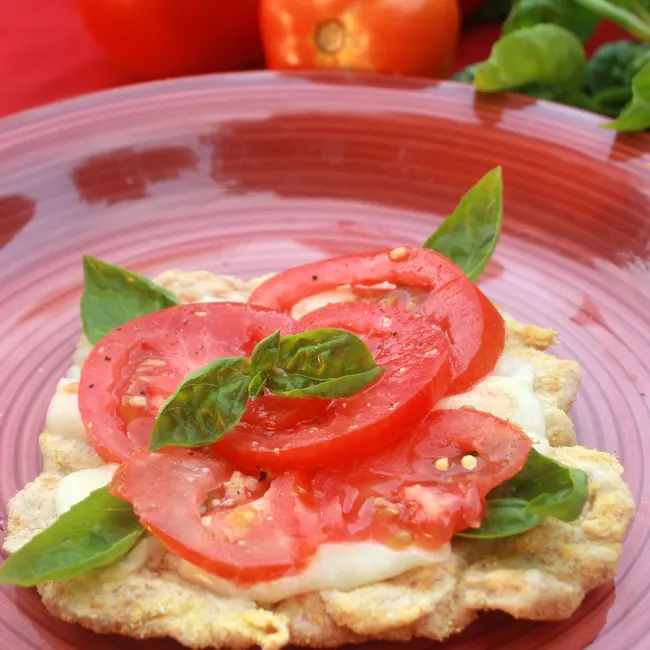 This crust takes 5 minutes to mix and 4 minutes to grill – then throw on tomato, basil, mozzarella and you've got summer on the plate! ~ by Serena Ball, MS, RD
Sometimes, a recipe turns out just too yummy…and is too easy…and is perfect for a fleeting seasonal fruit…that I just have to do a quick share.
This Simple Tomato Basil Grilled Pizza recipe was literally whipped up while the kids were taking showers after a pool playdate. And it was even quicker than the homemade quick-dough pizza I usually make – because:
They were grilled instead of baked
The four individual pizzas took less time to cook than one large pizza
And can you go wrong with the tomato, basil, mozzarella combo? Never! In fact, we really like this Caprese combo – be it Cherry Caprese Panzanella Salad, Grilled Potato Zucchini Caprese Salad or even in this version of Caprese Pizza from Cooking Light using a few more ingredients on top – but with refrigerated fresh pizza dough.
So as I was considering what to top my pizzas as they grilled, it was the simplest of flavors that won out: The tomatoes sitting on my counter, the basil growing out back, and the mozzarella ball in the fridge. Because SIMPLE is what summer is all about…including eating these pizzas in our pajamas (to simplify the bedtime routine,) eating outside where the birds get the crumbs (to simplify clean-up,) and in bare feet (because we're soaking up every bit of summer around here!)
Enjoy!
Print
Simple Tomato Basil Grilled Pizza
---
Yield:

4

individual pizzas

1

x
1/2 cup

whole wheat flour

1/2 cup

all-purpose flour

1 teaspoon

baking powder

1/4 teaspoon

salt

1/3 cup

milk

2 1/2 tablespoons

olive oil, divided

2

–

3

small tomatoes

20

fresh basil leaves

2

–

3

ounces fresh mozzarella cheese
Cornmeal
Freshly ground pepper
---
Instructions
Prepare grill or grill pan by greasing well; heat to medium high heat.
In a large bowl, mix together flours, baking powder, salt; pour in milk and 2 tablespoons oil and mix until dough leaves the side of the bowl. Gather the dough together with your hands and 'knead' right in the bowl about 10 times. Cover bowl and let rest 15 minutes.
While dough rests, slice tomatoes into slices as thin as possible, wash basil, and slice cheese as thin as possible.
On a cornmeal dusted work space, divide dough into 4 equal portions and shape into 4 circles by pulling and flattening the dough using your hands. Place all 4 onto a grill – or 2 onto a grill pan. (I used a grill pan.) Cook for about 2-3 minutes until grill marks form, flip and immediately add the 1/4th of the cheese slices to each pizza crust.Grill for 2 minutes longer. Remove from grill and add basil, tomato, and a drizzle of olive oil and ground pepper. Repeat with additional dough.
Roll into a 12-inch circle (flour on counter generally not necessary.)
Have you made anything with tomato, basil and mozzarella yet this summer?