Ice cream sandwiches stacked up tall and frosted with mounds of fluffy vanilla whipped yogurt frosting; slice and serve for big smiles.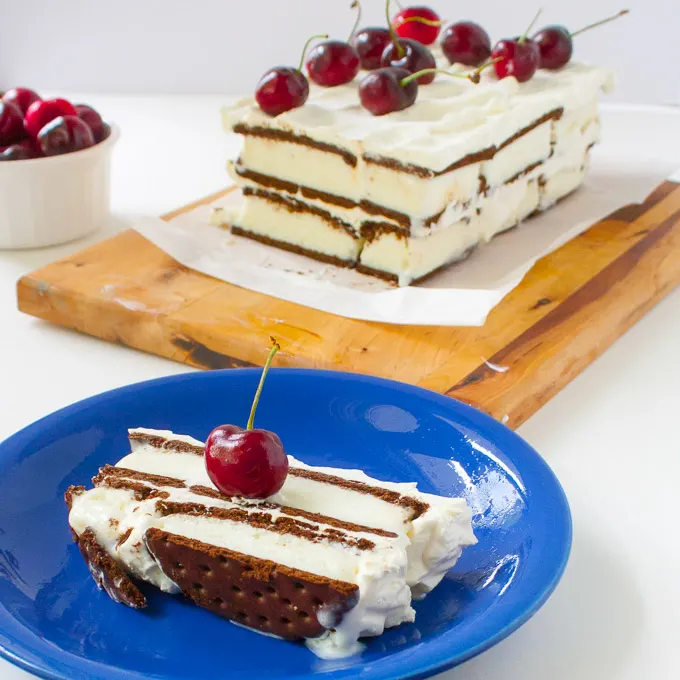 [Disclosure: I was compensated by Skinny Cow to write this post but as you will read, my love for vanilla ice cream goes waaaay back. Thanks for supporting brands which support Teaspoon Of Spice….and as always, thoughts and opinions are totally my own.]
Five things are always in my house:
Canned beans, bananas, good coffee, milk and ice cream.
I like bananas, but they are mostly for the kids. Everything else on the list is for me. Canned beans can always save dinner. And I gotta have coffee with milk and ice cream daily.
Growing up, my mom served dessert every single night at dinner. It was usually one small scoop of vanilla ice cream. Sometimes with fruit. Sometimes with a drizzle of chocolate syrup. But it was always served in one of those small Corningware tea cups.
Today, my days almost always end with ice cream: sometimes at dinner with the kids, or often I take a little 'moment for me' after they go to bed.
I can thank Mom for serving a 'reasonable' portion of ice cream – and I think it's important my kids learn what 'a scoop' of ice cream looks like (about ½ cup.) So I always serve dessert in small blue custard cups – just right for a scoop of ice cream (or apple crisp or chocolate pudding or whatever dessert has at least some nutrition.) AD: Stack up smiles: Ice Cream Sandwich Cake with Frozen Yogurt Frosting via @TspCurry Click To Tweet
So since dessert is a big part of my so-called 'food philosophy,' when Skinny Cow approached me to try their ice cream sandwiches with a new recipe and new look, I was more than open to the idea. (: The first thing I did was take a look at the ingredients list: skim milk is the first ingredient. The rest of the list is fairly simple.
And in terms of the nutrition, the Vanilla Gone Wild Ice Cream Sandwiches have only 160 calories each…which is about the same as my typical ½ cup scoop of vanilla ice cream which has 150 calories. They also have a good 4 grams of protein, which is better than the 2 grams protein in my regular scoop.
Then I checked to see if Skinny Cow ice cream sandwiches would fit into my blue dessert custard cups. They do. Talk about the perfect portion.
So, I started thinking about those ice cream cakes I've seen.
And this healthier Ice Cream Sandwich Cake with Frozen Yogurt Frosting cake was born. It makes a very impressive (and easy!) dessert for you and your girlfriends to enjoy over a coffee chat. It goes without saying, kids will love it.
Boy, oh boy, is it ever worth the like 20 minutes it takes to throw together. It would also be perfect to all month long in July, which is National Ice Cream Month. Next, I plan to make it with Skinny Cow Cool as Can Be Mint Ice Cream Sandwiches.
Enjoy your 'me moment' with this stacked up Ice Cream Sandwich Cake with Frozen Yogurt Frosting.
Print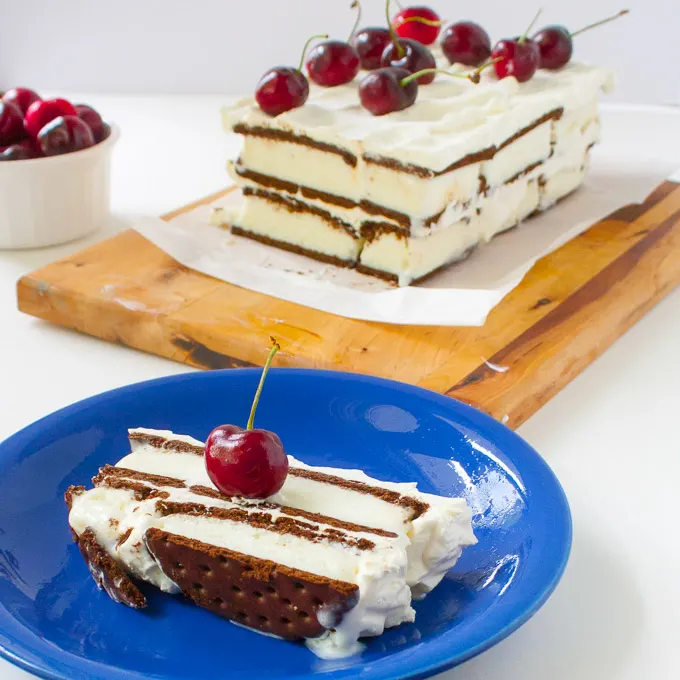 Ice Cream Sandwich Cake with Frozen Yogurt Frosting
---
Author:

Yield:

10

servings

1

x
Description
Ice cream sandwiches layered with whipped Greek yogurt cream; slice and serve for smiles!
---
½ cup vanilla-flavored Greek yogurt (look for 20 g or less of total sugar)
1 half-pint heavy whipping cream
½ teaspoon vanilla extract
9 Skinny Cow Ice Cream Sandwiches, unwrapped
---
Instructions
Line a 9 x 5-inch bread pan with parchment paper so the sides hang over the edges.
Place yogurt and cream in a large (chilled) mixing bowl. Using an electric mixer or a stand mixer, whip cream until peaks are fluffy, but stiff. (It's much harder to over-mix cream with the addition of yogurt. So don't panic, whip until it's a consistency that will spread and stick to the 'cake.') Mix in vanilla extract.
Place 3 ice cream sandwiches on the bottom of the prepared bread pan. Cut 2 sandwiches in half, fit 3 sandwich halves into the bottom of the pan to make 1 layer of ice cream sandwiches.
Spread half of the whipped yogurt cream into the crevices between the sandwiches and over the top of the sandwiches to make a thin layer of cream.
Top cream layer with 3 more whole sandwiches and 3 more sandwich halves. Top with the remaining cream, making waves in the top of the cream layer for a 'fancy' look, if desired.
Chill in the freezer for at least 1 hour. To serve, let Ice Cream Sandwich Cake stand at room temperature for 15 minutes to soften. Slice with a serrated knife.
Notes
If time allows, chill mixing bowl and beater/s in the refrigerator for 10 minutes before whipping cream, for faster thickening of cream.
Heavy whipping cream contains no sugar and no hydrogenated oils (like Cool Whip!) I like to add it whipping cream to Greek yogurt for healthier whipped cream that mounds up beautifully and really hard to overwhip.