It's simple to learn how to make Rhubarb Sauce – it's just 3 ingredients – then use it to jazz up pancakes, parfaits, a grilled cheese sandwich(!) and even barbecue sauce. Follow my simple 1-2-3-4-5 recipe for a taste of spring (and rhubarb season through August!)
My first rhubarb of the year is coming up in my little garden patch and I'm beyond excited.
As one of the few remaining truly seasonal vegetables, rhubarb seems to scream SPRING!
When I was a child in Montana, our family went for long springtime walks over our hilly pasture land. My sisters and I liked to visit an old homestead and play we were the girls in "Little House on the Prairie". There wasn't much left of the broken down shack. But what did remain – a remnant of the homesteader's original garden – was rhubarb. My dad said this was typical: Rhubarb plants are extremely hardy.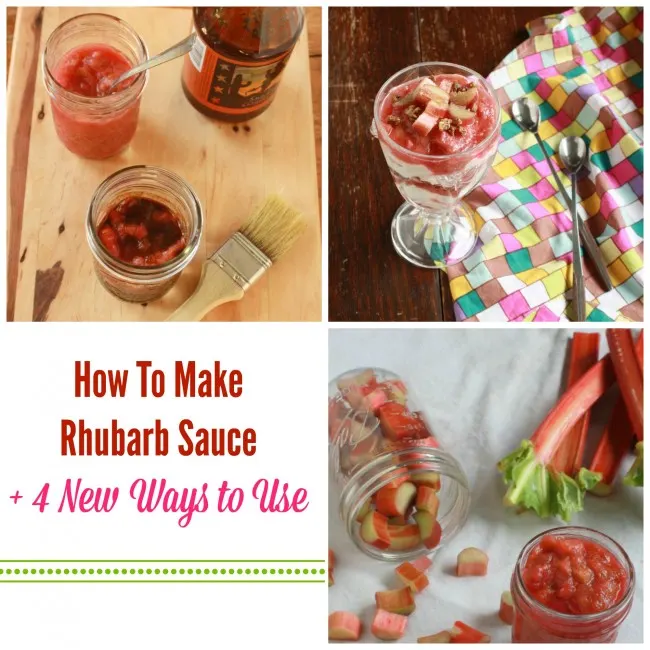 And it's true.
Despite lacking a proper garden spot, my little rhubarb plant keeps returning faithfully spring after spring. And my girls get just as excited as me when it emerges; partially because they love to dance around pretending those giant leaves are umbrellas for spring showers.
We also get excited about Rhubarb Sauce. I make it every year and we always eat the first batch warm, straight out of the pot with a spoon. I've developed this simple:
1 – 2 – 3 – 4 – 5 recipe for Rhubarb Sauce:
1 pound of rhubarb (about 4 cups chopped)

2 tablespoons orange juice or water

Add 1/3 cup sugar

Cook about 4-5 minutes
That's it. And while I can think of at least a dozen other uses, here are four of my favorite uses for Rhubarb Sauce:
1) Yogurt & Granola Parfait
Just spoon layers alternately with Greek yogurt, Rhubarb Sauce, and granola. Top with fresh raw rhubarb that's been dusted with sugar.
2) Top Pancakes, Waffles or French Toast
Katie over at Healthy Seasonal Recipes tops her Lemon Almond Ricotta Pancakes with Rhubarb Compote – a delicious two-ingredient rhubarb sauce.
I add orange zest to my simple Rhubarb Sauce and the sweet-savory-tart rhubarb condiment is a perfect match for most blue cheeses, aged Gouda, or aged Cheddar, such as Cabot Legacy White Oak Cheddar
4) Barbecue Sauce
My friend Amy Myrdal Miller gave me a paper copy of her 'secret' Rhubarbecue Sauce' years ago. But I'd forgotten about it until moving here to the St. Louis area – otherwise known as Barbecue Nation – by locals. Inspired by Amy's secret sauce, I now mix my 1-2-3-4-5 Rhubarb Sauce into my favorite purchased barbecue sauce for awesome sweet-tart taste. And since rhubarb is officially a vegetable, you'll get a dab more veggies along with whatever you are barbecuing – be it tofu or tenderloin. It's rhubarb season! Easy 3-INGREDIENT RHUBARB SAUCE is sweet-tart tasty on ice cream, cheese plates, or mixed into BBQ sauce. #Rhubarb via @TspCurry Click To Tweet
Print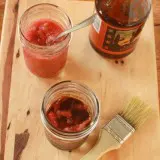 1-2-3-4-5 Rhubarb Sauce
---
Description
Use this simple 1-2-3-4-5 formula to make sweet-tart rhubarb sauce.
---
1

pound rhubarb – about

4 cups

chopped

2 tablespoons

orange juice

1/3 cup

sugar (or more if desired)
---
Instructions
Combine all ingredient in a sauce pan or medium pot. Cover tightly.
Cook over medium-high heat for 4-5 minutes; stirring once halfway through. (Cover pot after stirring.)
Sauce is done when tender but not totally falling apart.
Have you ever cooked with rhubarb? How do you like to use it?