The Fluffiest Meringue * Easy Homemade Gluten-Free Flour * How to Layer Ingredients Right in the Slow Cooker * 3 Ways to Clean a Crock Pot * Make Toast Fun*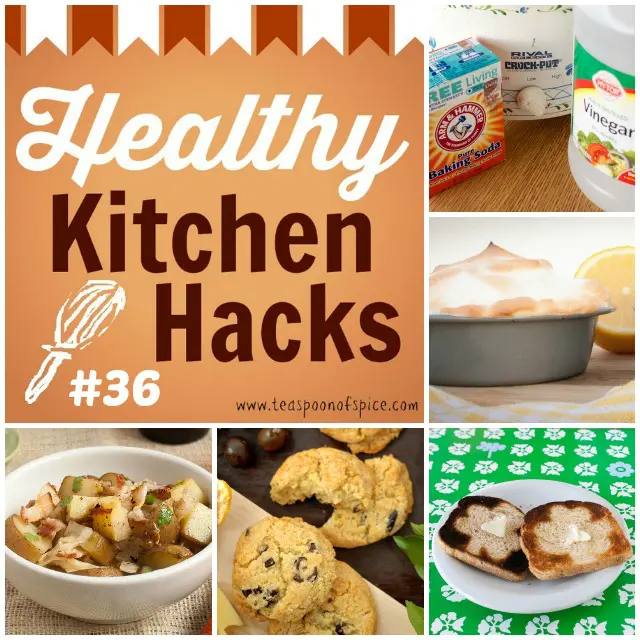 Here's something interesting I just learned:
Cream of tarter is a byproduct of wine production, actually the residue left on the barrels! (It's also a leavener that helps keep beaten egg whites from deflating.)
That little fact came from my research for this week's #HealthyKitchenHacks –> shortcuts and kitchen tips we test out for you ….and we've been doing it for over a year now!
This week I got to experiment with meringue pie (My kids were overjoyed with this test project!) to find out which leavener made the fluffiest meringue. Read on…
1) Easy Cream of Tarter Substitution
via @Cooking Light
Now that Easter and #BrunchSeason are approaching, you may be reaching for the cream of tarter which is an ingredient in souffles and meringue pies. But if you're out of cream of tarter, use lemon juice as a substitute.
To test this, I made two mini Lime Creamsicle Pies and topped one pie with a 1-egg meringue using 1/8 tsp cream of tarter. The other mine-pie was topped with a 1-egg meringue using lemon juice. They both turned out delicious. But, the lemon juice meringue actually turned out fluffier; and the meringue stayed more inflated. (See the pie on the left above.) The slightly-lemon flavored meringue was yummy atop the lime pie.
Head over to Cooking Light Magazine to get the proportions for how to substitute lemon juice for cream of tarter.
2) Easy Homemade Gluten-Free Flour + Video Instructions
via Gretchen @Kumquat
While I don't, some of my favorite people do live gluten-free. And they often have questions about gluten-free baking. To answer their #GF questions, I share this video by gluten-free blogger and dietitian Gretchen of Kumquat blog. Not only does she show you how to make her tried-and-true Kumquat's Gluten-Free All Purpose Flour, but she also gives suggestions on how to customize the flour to your needs.
Her Facebook Live video also has tips on how to get accurate measurements in baking, as well as info on how ingredients like gums affect the performance of supermarket gluten-free flours. Plus don't miss her recipes like Olive Butter Rolls or make Deanna's Easter Bunny Sweet Bread and sub in gluten-free flour.
3) How to Layer Foods in a Slow Cooker
Ever had veggies from the slow cooker that were so soft, they were indistinguishable? While slow cookers are a great set-it-and-forget-it time saver in the kitchen, I've had to learn how to layer ingredients right. So cabbage and onions get done – and potatoes don't turn to mush.
For my recent Food Network post, I shared this St. Patrick's Day for Slow Cooker Cabbage Potatoes and Bacon – and included instructions for how to place ingredients in the bottom, middle and top layer of the slow cooker. How to Layer Ingredients Right in Your Slow Cooker + 4 more #HealthyKitchenHacks via @TspCurry Click To Tweet
4) Clean your Crock Pot 3 Ways
via @The Kitchn
Speaking of slow cookers, I've had a few messy clean-up jobs from using mine. Of course the easiest solutions is to spray cooking spray like crazy (see my favorite brand here) on the inside of the pot.
But if you're still left with a Crock Pot cleaning catastrophe, @TheKitchn has three different ways to get the gunk out. They all work.
With cleaning confidence, try out my favorite slow cooker recipe: Slow Cooker Mexican Lasagna with Chicken.
5) Make Morning Toast Fun
via @PopSugar
OK, how cute are these St. Patty's Day Shamrock Toast Slices? While this will NEVER be a craft blog, because I have zero crafting genes, I can use scissors to cut out foil. And I can make toast under the broiler.
To get instructions on making mornings bright with (whole grain!) toast, pop over to PopSugar for more Toast How-Tos.
Toast tips I discovered: 1) While no one likes burnt toast, very dark toast shows up shapes much better. 2) No need to sugar the toast, I used just butter.
Would you try any of these hacks? Do you have healthy kitchen or healthy living shortcuts to share? Shoot us an email (ddaly@teaspooncomm.com or sball@teaspooncomm.com) or share below in comments and we'll try them out.