A bubbly birthday cocktail featuring grapefruit and Italian sparkling wine ~by Deanna Segrave-Daly, RD & Serena Ball, MS,RD
{Editors' note: Thanks to Deanna's computer crash last week, alas there are no fun photos of Regan and us galivating about but we do have cocktail photos. So there's that…}
The holiday season may have come and gone but in our part of the blogosphere, we aren't done with the celebrations and toasts.
We love having another excuse to breakout the bubbly and today, on January 5th, along with a few fellow bloggers, we are celebrating Ms. Regan Miller Jones big 4-0 birthday with a cocktail and dessert recipe roundup!
The idea was crafted by Gretchen @ kumquat, long time friend of Regan's and fellow co-founder of the Blog Brûlée conference (along with Regan, Deanna and Robin.)
Our ties to Regan go back a few decades to when we three were fresh faced, eager communicators for our local dairy associations in different parts of the country: Regan in the Southeast, Serena in New England and Deanna in the Mid-Atlantic. Together, we shared tips on schlepping props to TV stations and the best recipes to leave with the TV set crew…and that was only the beginning of our mutual love of food, nutrition and recipe development.
As members of the Food & Culinary Professionals nutrition practice group, we three also served together on the executive board. This group is dedicated to serving the professional development of the dietitian who loves to talk about, write about and cook food.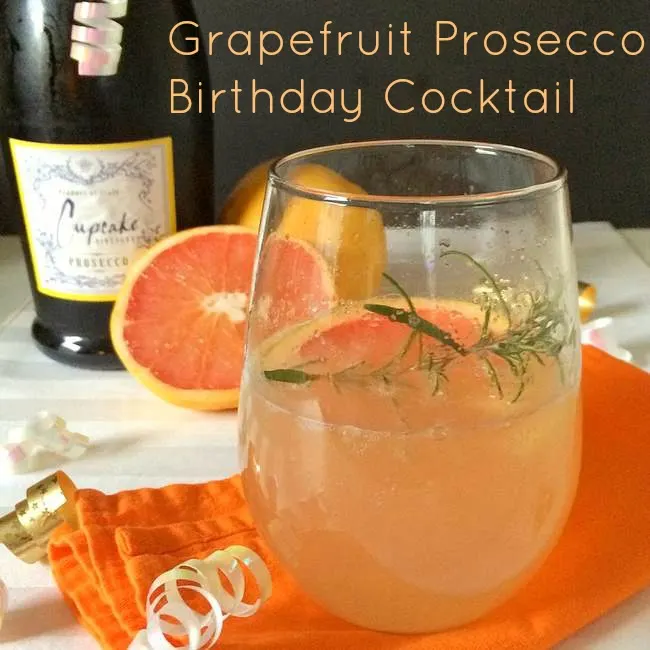 And then, there was the birth of The Recipe ReDux, which was solidified as the three of us sat together under a cabana poolside in California. And it's changed all our lives for the better; the bloggers we've met through Recipe ReDux are some of the most talented and fun we know.
So, in honor of your birthday, Regan, we raise a glass to you, our friendship, our business endeavors and all that you have done in the blogosphere to make healthy food delicious and appealing while raising the profile of fellow food-loving dietitians. May your best years be ahead of you!
Print
Grapefruit Prosecco Birthday Cocktail
---
Description
A bubbly birthday cocktail featuring grapefruit and Italian sparkling wine.
---
1.5 ounces

grapefruit vodka (we used Deep Eddy Ruby Red)

1.5 ounces

freshly squeezed grapefruit juice

4 ounces

Prosecco or other sparkling wine
Rosemary sprig
---
Instructions
Pour grapefruit vodka and grapefruit juice into a champagne or wine glass. Slowly pour in Prosecco or sparkling wine. Add rosemary sprig and serve immediately. Cheers!
Check out the cocktails & gluten-free party treats below and feel free to use #RMJis40 if you want to send some birthday wishes to Regan via your social media channels!