Healthy Kitchen Hacks: Use your empty peanut butter jar to make overnight oats.
It's Healthy Kitchen Hacks Wednesday – the day we share our favorite time-saving kitchen tricks and cooking shortcuts to help you make healthy and delicious meals.
You can see all our Healthy Kitchen Hacks here. And to get exclusive healthy kitchen hacks – only available to our email subscribers – sign up HERE.
Now…onto today's featured Healthy Kitchen Hack:
What To Do With An Empty Peanut Butter Jar

Before you recycle that empty jar of your favorite nut butter, use it to flavor your overnight oats.
If you are new to the concept, overnight oats is a super easy, no-cook way to enjoy oatmeal. You simply add uncooked oats to a jar with liquid (usually milk) and other ingredients, cover and let it sit in the refrigerator for at least 6 hours. The oats will swell and absorb the ingredients and all you have to do is stir before eating cold. (You can also heat in microwave if you'd rather eat them warm.)
Before you recycle that empty peanut jar, make overnight oats! @tspbasil #healthykitchenhacks
Click To Tweet
I first got the idea to make overnight oats in an empty peanut butter jar years ago from a recipe posted on Scoop Nutrition and now every time we use up a jar of peanut butter (almost weekly in this house), I routinely make my own version of Danika's PB&J Overnight Oats.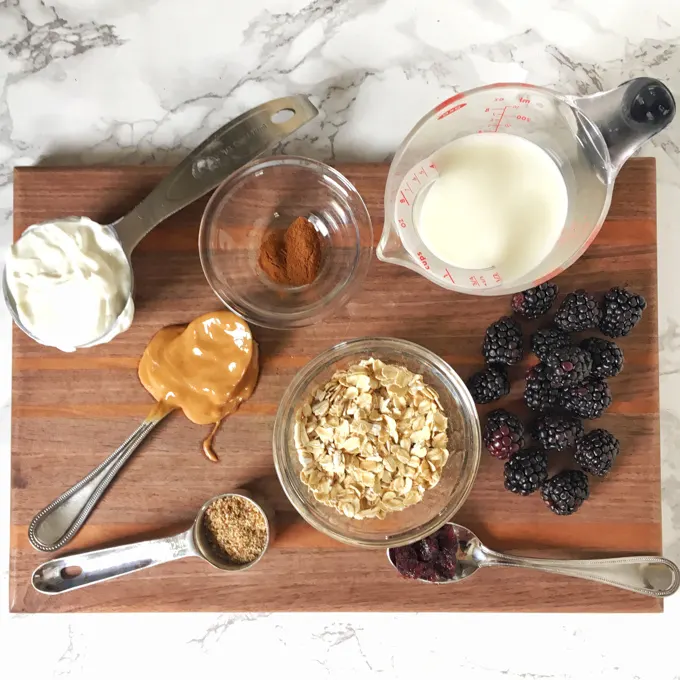 Tips for making overnight oats:
Use equal parts (about 1/3 cup – 1/2 cup) of rolled oats + yogurt + milk
If you want thicker oats, use more yogurt
If you want thinner oats, use more milk
For extra nutrients, add 1 tablespoon of seeds or chopped nuts, like ground flaxseed, chia seeds, peanuts, almonds, walnuts, etc.
If your peanut butter jar is completely empty, add a few teaspoons of peanut butter. If you have some nut butter left on the bottom of your jar, you're good to go!
If you using plain yogurt and you want some extra sweetness, add 1 teaspoon of honey, maple syrup or fruit jam.
The fruit/nut/seed/nut butter flavor combinations are endless – experiment with what you have on hand. Get the kids to make their own with their favorite ingredients.
Print
Peanut Butter Jar Overnight Oats
---
Description
Healthy Kitchen Hacks: Use your empty peanut butter jar to make overnight oats.
---
1/2 cup

rolled oats

1/2 cup

milk

1/2 cup

plain yogurt

1/4

–

1/3

cup berries

1 tablespoon

ground flaxseed

2 teaspoons

peanut butter

1 teaspoon

cinnamon

1 teaspoon

jam
---
Instructions
In an empty peanut butter jar, add all of the ingredients. Screw on lid and refrigerate for at least 6 hours.
Before eating, shake jar and then mix with spoon. Eat cold or add a little bit more milk and heat in the microwave. Stir again before eating.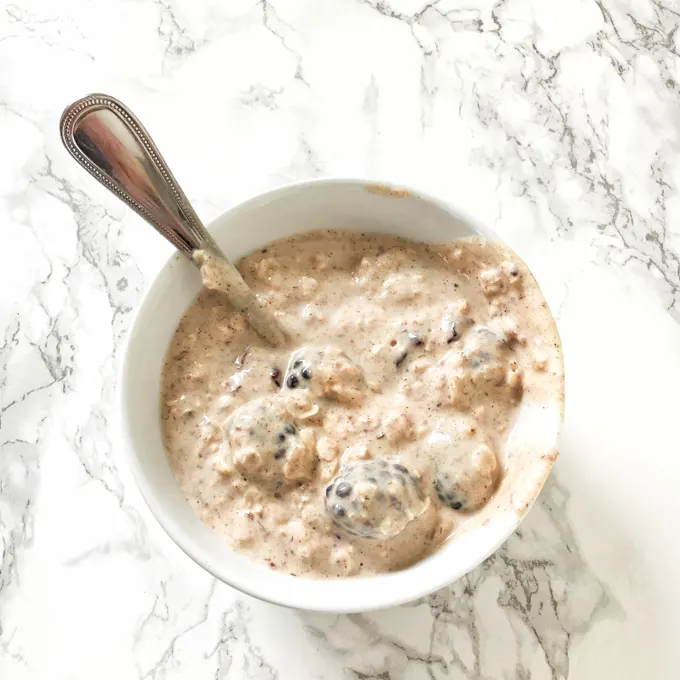 Do you ever make overnight oats?