Just 5 innocent words proved to be not so innocent: "Cut the squash in half."
I was having a heck of a time getting my SHARP knife into the tough, armor-like skin of a spaghetti squash.

Usually I just throw the whole squash in the oven and bake it up whole, like this Whole Pumpkin Gratin. When it emerges from the oven, it's a breeze to slice through the tender flesh.
But I needed two firm squash 'bowls' for spaghetti squash and sauce and my basic knife skills were not cutting it. Then I remembered this Healthy Aperture video by Regan Jones, RD, on "How to Easily Cut, Peel and Cube a Butternut Squash."
Would a similar method work for spaghetti squash? Yup.
Here's the easy method for how to cut spaghetti squash:
1. Using a sharp knife, poke a few small slits in the squash skin; poke in a dotted line along where you plan to slice the squash in half.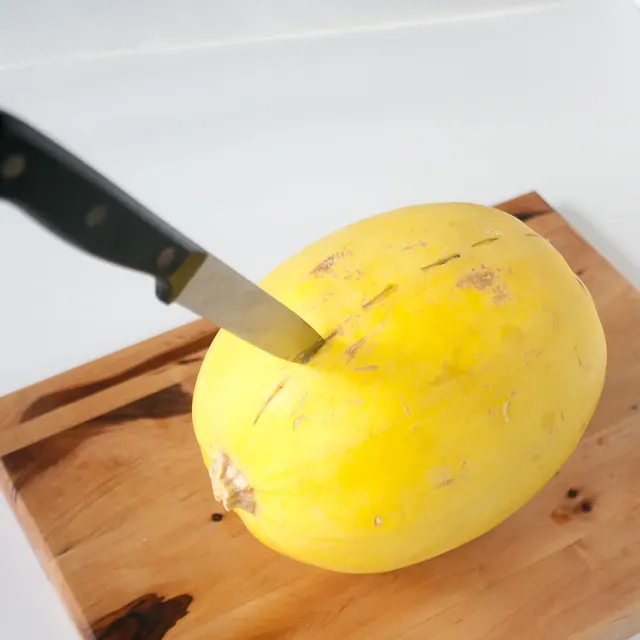 2. Microwave squash 5-6 minutes; cool slightly.
3. Place squash on cutting board with the most-flat surface down. Slice along your 'dotted line' of slices. (Slice off the stem first.)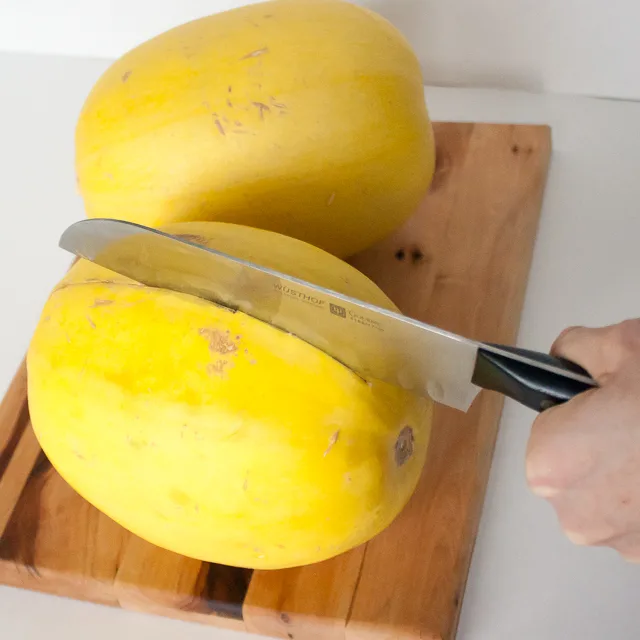 4. Since the squash will be hot, use a towel (or oven mitt) to hold the squash half, and scrape out the seeds for roasting.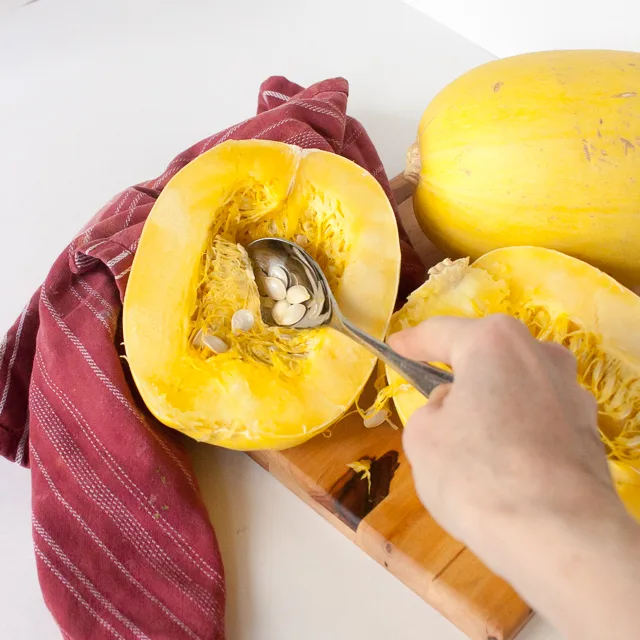 5. Roast in oven (about 35-45 minutes at 375-degrees, cut-side down) for the sweetest squash flavor and the softest noodle texture (or continue to microwave until soft.) See the trick: How to Cut Spaghetti Squash Easily + 3 Sauces Perfect for Spaghetti Squash via @TspCurry Click To Tweet
And make sure you DON'T TOSS those spaghetti squash seeds. I roasted them up using my favorite no-rinse, no-dry method. (Just toss them in the oven with squash flesh still clinging to them.) Here's the 'scoop':
How to Cook Pumpkin Seeds in 15 Minutes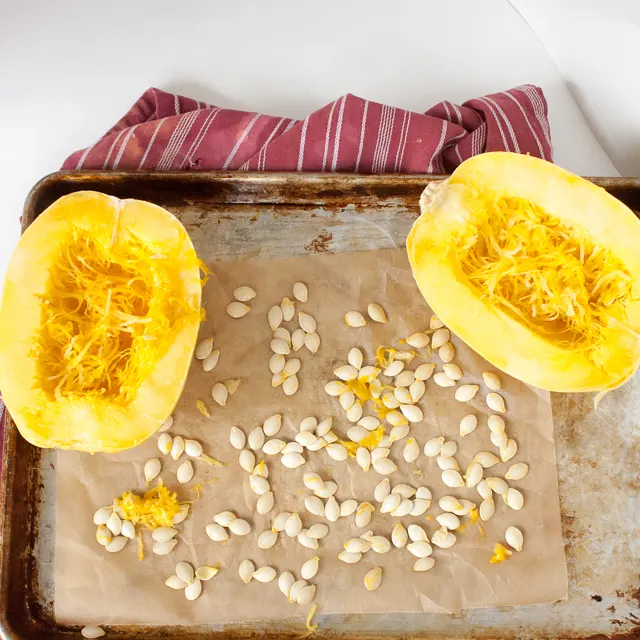 And here are our favorite pasta sauces to jazz up that spaghetti squash:
Tomato & Chili Pepper all'Arrabbiata
What's your favorite way to make spaghetti squash? Have you tried roasting a whole squash in the oven?