Simple pan-roasted chicken with the sweet, spicy, savory taste of 5-spice powder and crunchy salt.
You know you've got them…way in the back of your spice drawer: Spooky spices…those herbs, spices or rubs that are getting dusty because you're afraid (or don't know how) to use them.
I could hardly WAIT for this month's Recipe ReDux which is all about finding ways to use those spooky spices.
You see, I've got several spooky spices: Jerk rub, catfish seasoning, lemon pepper…the list goes on. But I ended up using 5 spice powder – I love the sweet, savory, bitter, spicy scent but I never get around to digging up a recipe to use it.
So for this recipe, I decided to take the 'spooky' theme to all the creepy corners of my cupboards.
I found these noodles from a Chinese market:
I know exactly why I haven't used them: Not a single word of English on the label, not even the ingredients list. Were they rice or soy noodles? How should I cook: boil or just set in hot water to cook?
In addition to my spooky cabinets, I have several dusty cookbooks (mainly beautiful glossy coffee table ones I'm too afraid to get messy) so I thought they might be a good place to start for inspiration with 5 Spice Powder and those mysterious Asian noodles.
So I grabbed a dusty cookbook that I adore thumbing through but have NEVER cooked from: Donna Hay's Flavor. Hay is famous for her brilliantly beautiful food styling that's also stunningly simple. Donna had three recipes with 5 spice powder, but none that combined chicken and questionable noodles. But they did give me inspiration for Salt and 5 Spice Powder Chicken.
I would like to say it was fabulous the first time. But I'm afraid it was my second recipe #fail in as many posts. (See the first #fail from last week.)
The chicken skin got burnt big time a bit too crispy:
Luckily, chicken skin is easily removed.
For the second batch, I kept it burnt free and it was amazing – the combo of crunchy salt plus that complex spice. My kids even loved that it was sweet and just a bit spicy.
Oh, and those spooky noodles? They were basically flavorless but they were super fun: Clear as glass, but with tiny bubbles in them; wide and chewy and the slipperiest noodles EVER. They were waaaay too much fun for the kids and me to slurp.
Just don't ask me to buy them again – I have no idea in which Asian grocery I purchased them years ago.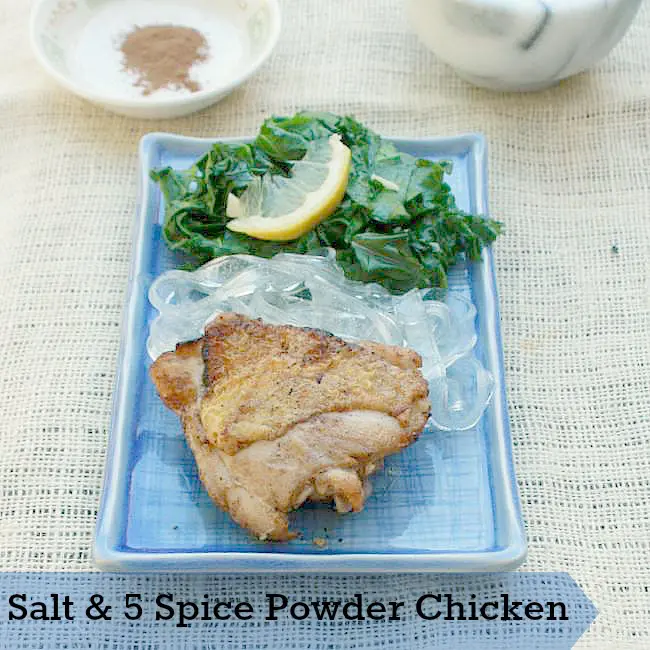 Print
Salt and Five Spice Powder Chicken
---
Author:

Yield:

6

servings

1

x
Description
Simple pan-roasted chicken with the sweet, spicy, savory taste of 5-spice powder and crunchy salt.
---
1 teaspoon

Chinese 5-spice powder

2 teaspoons

sea salt, ground fine with mortal & pestle (or kosher salt)

1 teaspoon

ground black pepper

6

skin-on, bone-in chicken thighs (about

2 1/4

pounds)

1 tablespoon

canola oil
Chinese rice or soy noodles, cooked
Kale, cooked in 1/2 cup chicken broth and garlic until tender

1

lemon, wedged
---
Instructions
Preheat oven to 400°F. In a small bowl, mix together 5-spice powder, salt, pepper.
Place chicken on plate and sprinkle 5-spice powder mixture over both sides of chicken.
Heat oil in a 12″ cast-iron or heavy nonstick skillet over medium-high heat until hot. Place 4-5 thighs in skillet, skin side down, and cook 2 minutes. Reduce heat to medium; continue cooking skin side down, until skin is golden brown, about 6-8 minutes.
Transfer skillet to oven and cook 5 more minutes. Flip chicken; continue cooking until skin crisps and meat is cooked through, about 5 minutes longer. Transfer to a plate; let rest 5 minutes before serving with noodles and kale and a wedge of lemon to squeeze over everything. Don't forget the lemon!
What spooky spices or unused ingredients are lurking in the back of your pantry? Please share and maybe we can give you a recipe recommendation!
If you like this recipe, you may like those below and all the spooky ones from our Recipe ReDux friends.
Chinese Baked Lemon Chicken with Sesame Rice
How to Make Gluten Free Chicken Nuggets (or non-gluten free)