Add some savory sesame flavor to your dessert with this Chocolate Tahini Zucchini Bread.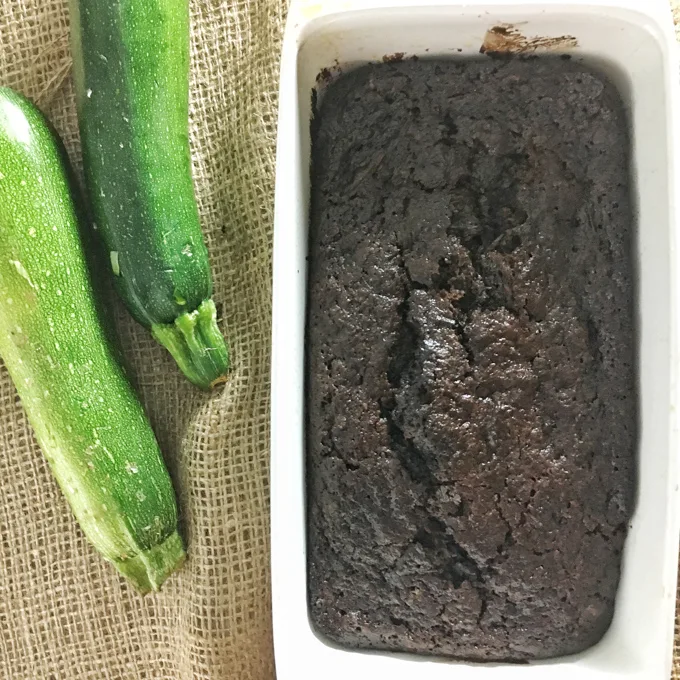 Have you ever cooked with tahini? Or are you saying "what the heck is tahini?"
Tahini is a paste made from ground and toasted sesame seeds and is a key ingredient in hummus, baba ghanoush and havla (dense candy-like treats.) And thanks to the hummus craze (which is one this dietitian can get behind) and the rising popularity of Middle Eastern cuisine, tahini has become a hot ingredient of late. I've used it in the past in hummus but never thought of using it in a different type of recipe, until now.
Savory + sweet: Chocolate Tahini Zucchini Bread @tspbasil
Click To Tweet
Lately, I've been seeing it used in quick bread, cookies, brownies and other desserts, often in place of nut butters. Now, tahini is not as sweet as most nut butters – even unsweeted nut butters. Tahini has more of a savory and earthy taste to it.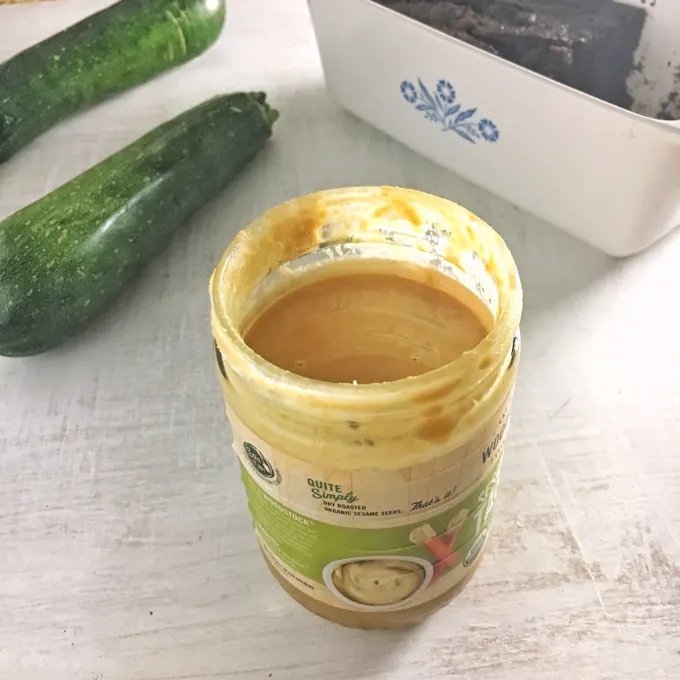 As far as nutrition goes, it's similar in calories to peanut butter and sunflower seed butter but richer in calcium especially if you buy the unhulled kind (which is also more bitter than hulled tahini.)
Because I'm swimming with zucchini – as I'm sure many of you are, too – I thought I'd take a crack at using tahini a zucchini bread.
Confession: I was skeptical on how it would taste but it was FANTASTIC. The bread had just a hint of the tahini flavor which was perfect (I used 1/3 cup – I think any more would be overwhelming.) Even my tricky eater husband and daughter (who's a bit of a better eater) loved it —–Ok, I may have told them it was chocolate cake…..
Print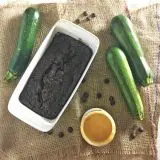 Chocolate Tahini Zucchini Bread
---
Description
Add some savory sesame flavor to your dessert with this Chocolate Tahini Zucchini Bread.
---
1/2 cup

all-purpose flour

1/2 cup

whole wheat pastry flour

1/2 cup

ground golden flaxseed meal

2 tablespoons

unsweetened cocoa powder

1/2 teaspoon

baking powder

1/4 teaspoon

baking soda

1/4 teaspoon

salt

1 1/2 cups

grated zucchini

3/4 cup

sugar

1/3 cup

canola oil

1/3 cup

tahini

1

egg

1/2 cup

chocolate chips
---
Instructions
Preheat oven to 375 degrees Fahrenheit. Grease a 9 x 5 x 3-inch loaf pan and set aside.
In a small bowl, whisk together flours, flaxseed, cocoa powder, baking powder, baking soda and salt. Set aside.
In a stand mixer or a large bowl with hand mixer, beat together zucchini, sugar, oil, tahini and egg.
Add dry ingredients and beat until all the ingredients are just mixed together.
Fold in chocolate chips.
Pour batter in loaf pan and bake for 55-60 minutes or until bread tests clean.
Cool on rack for 10 minutes and then remove from pan.
Cool completely. (You can slice and freeze loaf if you wish.)
Would you try this recipe?