[Disclosure: Ajinomoto compensated me to write this post. Opinions and thoughts are my own.]
As a child of the 70s, my recollection of MSG was that it was in Chinese food and that some people may get headaches from it. I remember our favorite take-out joint, Chinese Delight, advertised "No MSG" in the window.
I also remember the iconic red and white Ac'cent can in my Nana's spice cupboard but never knew what she used it in. I always thought it was just a salt substitute.
So, my perception of MSG – up until a few years ago – was one of ignorance, really. I never saw it in my mom's kitchen so I wrote it off as something unnecessary and perhaps even harmful when it came to cooking based on what I had grown up hearing.
#ad Vegan Lentil Sloppy Joe Recipe and a new look at MSG @tspbasil #whyusemsg @whyusemsg
Click To Tweet
And then I visited the Ajinomoto booth (the company that produces MSG) at the Academy of Nutrition and Dietetics annual convention (FNCE) a few years back. After speaking with several representatives – including dietitians and a chef – for almost a half hour, I was totally intrigued and needed to find out more.
After this meeting, I did more of my own research and recipe experimentation. Then I actually approached THEM to sponsor a blog post and Facebook LIVE (side bar: Join me on Thursday September 5th at 12:30 pm ET) to share the facts and cool culinary aspects about MSG and why I've changed my mind about it.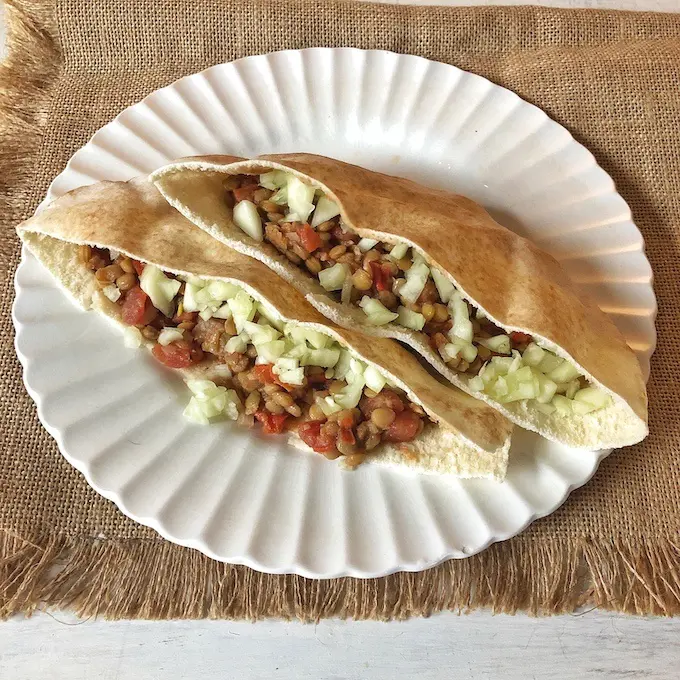 First off, what is MSG exactly?
Monosodium glutamate (MSG) is a mix of glutamate and sodium. Glutamate is the most abundant amino acid in nature and amino acids are the building blocks of protein in the human body. It's naturally found in many foods like tomatoes, mushrooms, aged cheeses and even breast milk.
How is MSG made?
MSG is made by a fermentation process starting with a glucose source – like sugar cane or corn. The body doesn't differentiate between the way it digests glutamate in MSG and glutmatate in food. Ajinomoto produces and sells MSG – it's available in America under the brand name Ac'cent. MSG can also be found in specialty Asian markets.
My 3 biggest takeaways after learning more about MSG:
MSG is safe
I grew up hearing that MSG in Chinese food caused negative reactions for many people when consuming it. Turns out that this bad rap all started from a 1968 letter to the editor (NOT a study) in the New England Journal of Medicine.
The author described his symptoms – feeling week, numb and having palpitations – after eating Chinese food and guessed it could have come from a number of the ingredients like the sodium, cooking wine or MSG. People jumped on the idea that it was MSG solely causing these symptoms and the term "Chinese Restaurant Syndrome" was born.[i]
Fast forward 30 years – after extensive studies on MSG consumption and the culmination of research using valid scientific methods, the conclusion is MSG is safe for human consumption. This has been verified by scientists, regulatory agencies and public health groups including the FDA.[ii][iii][iv][v]
Interesting points:
Sensitivity to typical amounts of MSG in foods has not been seen in double-blind, placebo-controlled human studies.
MSG is not considered an allergen.(5)
In 2018, the International Headache Society removed MSG from list of causes of headaches.[vii]
MSG has a long history of being used in many cuisines around the world.
MSG helps reduce sodium intake
MSG is even mentioned in the updated dietary recommendations for sodium and potassium (DRIs):"A flavor enhancer to help reduce sodium is free glutamate, used mainly in the form of monosodium glutamate. MSG is not believed to be a health risk at levels that is used in a typical serving of food."[viii]
Now, Serena and I are big believers that you need to use some salt in recipes to bring out the best flavor in your food, otherwise, it can be dull and bland tasting. Also, the overconsumption of sodium in this country is not from the salt shaker but rather from ultra-processed foods like frozen meals, condiments, canned soups, lunchmeats as well as fast food and restaurant fare.
That said, MSG can be a sodium reducer especially if you tend to be heavy handed with the salt shaker in cooking or with your meal– it contains two-thirds less sodium compared to regular table salt.
A chef-inspired tip – use one-part MSG to two parts table salt (which reduces sodium by 25%) when swapping in for the total salt in a recipe. Since I use salt (usually kosher or sea salt) in small amounts to begin with, I've also had luck with using a combination of 1/4 teaspoon MSG with 1/4 teaspoon salt – which keeps the sodium low but adds incredible flavor (see more in next point below.)
At the FNCE booth, I got to taste three version of broth: 1) salted 2) low sodium and 3) low sodium + MSG. And it was this taste test that sold me on the flavor power of MSG. I was blown away at how the low sodium + MSG broth was easily the most flavorful and delicious of all of them.
I then recreated a simpler version of this taste test at home with this cool kit Ajinomoto sent. Same positive results!
Cooking Note: it's not recommended to swap in 100% MSG for the salt in recipes as that salt brings a different flavor profile (sodium) to the table – it's the combination of the two that works best in rounding out the flavors of your recipe. And the only place MSG doesn't work well is with sweet applications and recipes.
MSG adds savory flavor to your dishes
Umami is the fifth taste (along with sweet, salty, sour and bitter.) Think of umami as the meaty, savory or broth-like flavor in your recipe. MSG is known as the "umami seasoning."
With a few shakes of Ac'cent, you have a super simple way to add that meaty deliciousness to plant-based recipes – I love this flavor hack as we make a fair amount of vegetarian and even vegan dishes. The flavor of MSG pairs well with just about every vegetable – and we are all about the veggies at Teaspoon of Spice, too.
So far, I've tried the 1/4 teaspoon Ac'cent + 1/4 teaspoon salt combo now with:
Sautéed mushrooms
Roasted tomatoes
Stove-top popcorn
Lentil Sloppy Joes (recipe listed below)
In the fall, I plan on trying it in soups, chili, roasted root veggies and the list goes on!
Print
Vegan Lentil Sloppy Joes
---
Author:

Yield:

4

sandwiches

1

x
---
1 tablespoon

extra-virgin olive oil

1 cup

chopped onion (about

½

medium)

1 cup

chopped bell pepper (about

1

medium)

2

garlic cloves, minced

1

(15-ounce) can lentils, drained and rinsed (or

2 ¼ cups

cooked lentils)

1

(14.5-ounce) can low-sodium diced tomatoes, undrained

1 teaspoon

ground cumin

1 teaspoon

dried thyme

¼ teaspoon

Ac'cent flavor enhancer

¼ teaspoon

kosher or sea salt

4

whole-wheat pita breads, split open

1 ½ cups

chopped seedless cucumber (

1

medium)

1 cup

chopped romaine lettuce
---
Instructions
In a pot over medium-high heat, heat oil. Add onion and bell pepper, cook for 4 minutes, stirring frequently. Add garlic and cook for another minute, stirring often.
Add lentils, canned tomatoes, cumin, thyme, Ac'cent and salt. Turn heat to medium and cook for 10 minutes or until most of the liquid is absorbed, stirring occasionally.
Stuff each pita with the lentil mix. Layer with cucumbers and lettuce, serve.
Nutrition
Calories:

334

Sodium:

619

Fat:

5

Saturated Fat:

1

Carbohydrates:

58

Fiber:

12

Protein:

16

Cholesterol:

0
——
For more information and recipe ideas, check out WhyUseMSG.com.
Would love to know – do you use MSG? What are your thoughts about using in in cooking?
—-
[i] Kwok, RHM (1968). Chinese-restaurant syndrome [letter], N Engl J Med, 278, 796.
[ii] Joint FAO/WHO Expert Committee on Food Additives (1988) L-glutamic acid and its ammonium, calcium, monosodium and potassium salts in: Toxicological evaluation of certain food additives and contaminants. 97-161. NY: Cambridge Press
[iii] Scientific Committee for Food (1991.) Reports of the SCF on a first series of food additives of various technological functions. Commission of the European Communities, 25th Series. Brussels, Belgium.
[iv] Federation of American Societies of Experimental Biology (1995.) Analysis of adverse reactions to monosodium glutamate. Washington DC. Life Sciences Research Office.
[vi] National Academies of Sciences, Engineering and Medicine (2017.) Finding a Path to Safety in Food Allergy: Assessment of the Global Burden, Causes, Prevention, Management and Public Policy. Washington DC: The National Academies Press.
[vii] International Headache Society (2018), The International Classification of Headache Disorders, 3rd Edition, 38(1) 1-211.