With just 4 ingredients, you'll find yourself making this Simple Vanilla Custard Sauce to spoon over everything from fresh fruit, cobblers and crisps, pancakes, or even a traditional English trifle.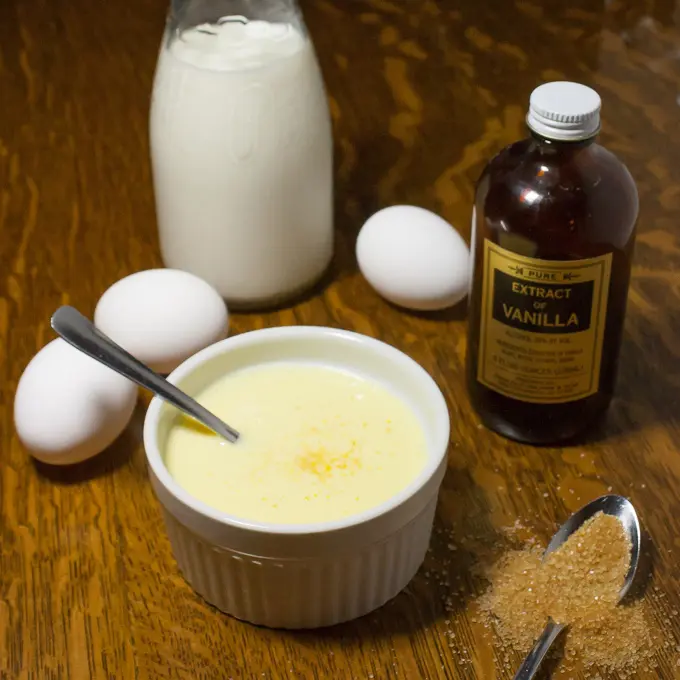 Despite the fact that I originally discovered creamy, velvety Vanilla Custard Sauce in a retro Christmas cookbook, I make this recipe all year round.
How could you not?
After all, a little bit of magic happens when you gently cook together egg yolks, milk and sugar – and then stir in vanilla at the end. Together, these few ingredients combine to form a spoon-coating, rich-tasting sauce that makes even a bowl of fresh fruit taste like a special dessert.
And in my opinion, it's healthy. (:
I originally discovered the lovely concept of Vanilla Custard Sauce in 'The Twelve Days of Chrismas Cookbook," by Suzanne Huntley, copyright 1965 by Galahad Books. In this book, detailing glorious (complicated!) Christmas feasts, was an easy recipe for "Boiled Custard for Trifle". I made the recipe even easier by:
using less sugar
making it with reduced-fat milk
ditching the double boiler
cutting the step of scalding the milk, using less of it
adding vanilla extract and a shake of salt
The sauce takes no more than 20 minutes. And the first thing you MUST pour it onto is a stack of pancakes. (You may never go back to maple syrup.)
I'm happily sharing my recipe for Simple Vanilla Custard Sauce as part of this month's challenge for The Recipe ReDux. Our challenge was to show you a cookbook we're using in our kitchens.
And while this is certainly not an everyday-cookbook, our very own cookbook (#shameless plug here) The 30-Minute Mediterranean Cookbook: 101 Easy and Flavorful Recipes For Lifelong Health contains recipes you'll use over and over again.
And because I'm a total retro-cookbook buff, I must share a few other recipe title gems from the 'The Twelve Days of Christmas Cookbook"
Whole Baked Fish
Peach Eggnog
Mexican Christmas Eve Salad
Orange-Glazed Sweet Potatoes
Cranberry Crumb Cake
Jellied Curry Ring (just kidding on that one!)
May you enjoy many holiday recipe this time of year – retro, or not.
Print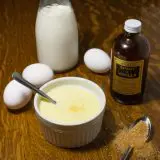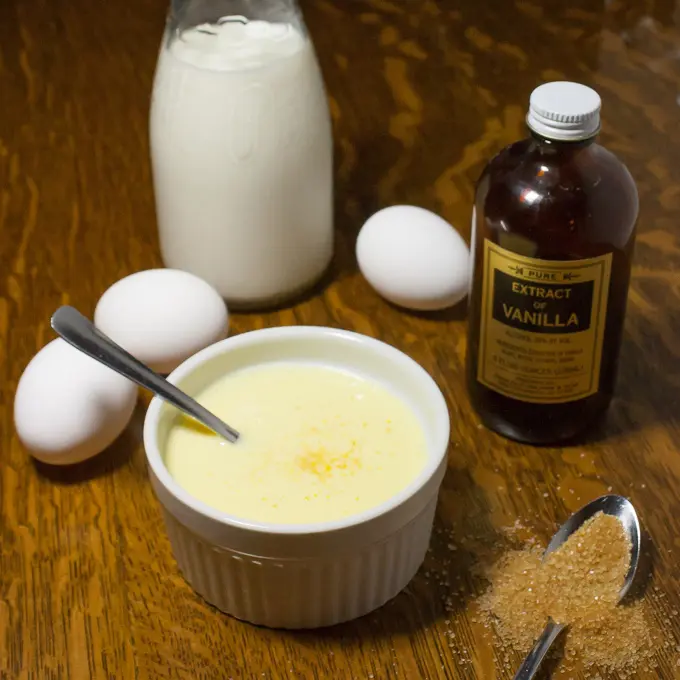 Simple Vanilla Custard Sauce
---
Description
Serve this simple 4-ingredient creamy sauce over fresh fruit, poached pears, pancakes, cake, or even English trifle.
---
3

egg yolks

3 tablespoons

sugar

1 1/2 cups

reduced-fat (2%) milk

1 teaspoon

vanilla extract
Dash of salt (optional)
---
Instructions
In a medium, saucepan (preferably with a heavy bottom) whisk together the egg yolks and sugar until well combined. Whisk in the milk.
Place the pan over low heat and cook until the mixture is thickened, about 12-15 minutes, stirring almost constantly, especially at the end. The mixture should not bubble or boil; it should be thick enough to coat the back of a spoon. Remove from the heat and stir in the vanilla and if desired, a shake of salt.
And check out all the ReDuxer's creative cookbook recipes below!