How about this main dish for the holidays? Rosemary and thyme pork tenderloin roasted with a naturally sweet orange raisin sauce ~ by Deanna Segrave-Daly, RD
{Disclosure: As co-owners of The Recipe ReDux, we were compensated to manage the California Raisin contest. We are not eligible to win prizes associated with the contest. Thoughts and opinions are my own.}
I gotta admit, this recipe was a leap of faith for me for two reasons:
1) I rarely cook meat of any kind. I'm not a vegetarian per se – I just prefer fish, seafood and the occasional chicken dish. So, cooking a pork roast? Definitely nervous.
2) Golden raisins are typically in my pantry but I never gave them much thought beyond using them as is – tossing into a salad, a baked good or the occasional rice dish.
But that is what I love about The Recipe ReDux and quite frankly, one of the reasons Regan, Serena & I created this group in the first place.
To take a chance in the kitchen. To try different cooking methods. To use wholesome ingredients in different ways.
Enter California raisins.
The California Raisin Marketing Board challenged our Recipe ReDux members to go "Naturally Sweet for the Holidays" and come up with festive dishes – from appetizers to entrees to desserts – using California raisins as a way to both enhance the flavor of the dish while reducing some of the sweetener that might typically be used.
Admittedly, I never really thought about using raisins to replace some of the sugar, honey or syrup in recipes.
But the more I thought about it – why not? California raisins are naturally sweet with zero fat, no cholesterol and no added sugar. And for each 1/4 cup serving, you get 9% of your daily fiber and potassium and 6% of your daily iron <— making them an important food source for vegetarians and vegans.
Not to mention, they are considered the most economical dried fruit according to the USDA. I can vouch for that.
OK, so onto the recipe.
I started thinking about holiday worthy entrees like honey glazed ham (admittedly, not my cup of tea) so I moved onto pork tenderloin and what type of glaze might work. And to cover my butt attempt to get the most flavorful pork, I figured I would do both a dry rub (in this case: rosemary, thyme & salt) along with a wet rub (the raisin sauce).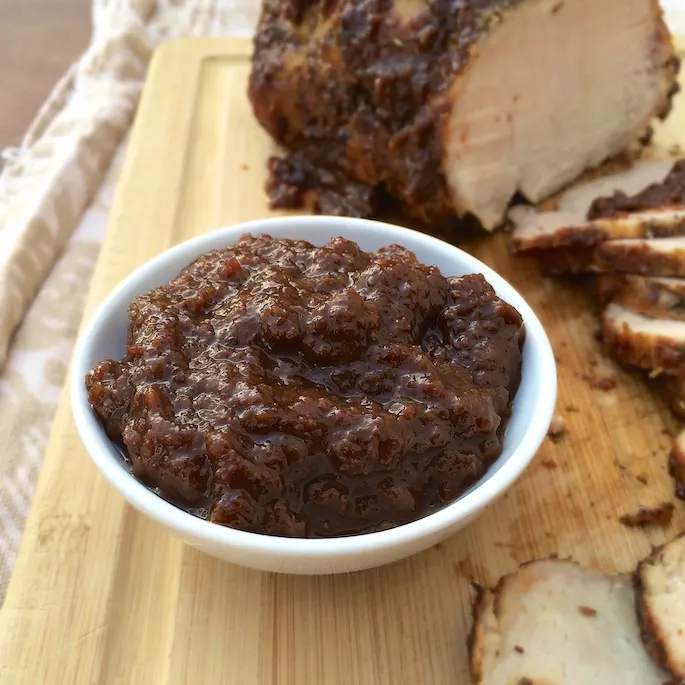 The raisin sauce was a snap to make.
After plumping the raisins in boiling water, I gave them a good blitz in my food processor with just three other ingredients (orange juice, orange zest and black pepper.) NOTE: use a food processor or a powerful blender like a Blendtec or Vitamix for this.
Print
Roasted Pork Tenderloin with Orange Raisin Sauce
---
Description
How about this main dish for the holidays? Rosemary and thyme encrusted pork tenderloin roasted with a naturally sweet orange raisin sauce.
---
For the sauce:
1 1/2 cups

California seedless raisins

2 tablespoons

orange juice (squeezed from

half of an

orange)

2 teaspoons

orange zest (from

one

whole orange)

1/4 teaspoon

black pepper
For the pork:
2 1/2

–

3

pounds boneless pork tenderloin, fat trimmed

2 teaspoons

dried rosemary

2 teaspoons

dried thyme

1/2 teaspoon

salt
---
Instructions
Place raisins in a small bowl. Cover with boiling water (about 1 3/4 cups) and let sit for 15 minutes. Drain, saving at least 1/4 cup of the water.
Add raisins to food processor along with 1/4 cup raisin water, orange juice, orange zest and black pepper. Pulse and blend until smooth (this will take a few minutes to break down the raisins.)
Using kitchen string, tie the roast at intervals along the length of the tenderloin. Pat it dry with paper towels.
In a small bowl, mix rosemary, thyme and salt together. Rub all over pork tenderloin (every side.)
Preheat oven to 300 Fahrenheit.
Heat a large skillet over medium heat. Place roast fat side down in skillet and sear until golden brown, about 3 – 4 minutes. Turn to the next side and sear again for 3 – 4 minutes, Turn and sear two more times until all four sides are nicely browned.
Place roast in a 9×13-inch roasting pan and then baste all four sides with some of the orange raisin sauce.
Place in the oven. Baste two more times with orange raisin sauce during the cooking process (with a clean baster.) Cook until the center of the roast reads 145 degrees Fahrenheit on an internal thermometer, which should take 60 – 75 minutes (depending on size of roast and your oven.)
Remove from pan and let roast rest 15 minutes before cutting.
Snip off string and slice into 1/4-inch pieces. Serve with remaining orange raisin sauce on the side.
The results? Delicious! Which says a lot coming from this very occasional meat eater and cooker.
And I couldn't get enough of the Orange Raisin Sauce and am already thinking of other ways to use it — like over grilled chicken, scallops or couscous with almonds.
Now I can't wait to see what our fellow ReDuxers come up with this week – you can see all their raisin creations below.
What about you – are you a raisin lover? How do you use them in your cooking? What main dish are you serving up (or eating up) for the holidays?