A fun-sized version of the traditional British street food. Perfect to serve as an appetizer with drinks.
This time of year, we all want to be a bit British. Be it food, or drinks, or Christmas carols. I don't have a drop of British blood in me – but I love what our friends across-the-pond have contributed to our holidays:
On our table: Roasted Chestnuts, Figgy Pudding, Plum Pudding (via Janice @MealMakeoverMoms), Yule Log (the British version of bûche de Noël ,) Roast turkey (like in Dickens' A Christmas Carol,) Brussels sprouts (traditional for Christmas dinner in the UK – now 'trendy' here)
In our glasses: Wassail, Mulled Cider, Hot Buttered Rum
Sung by carolers: The Holly and the Ivy, What Child is This, Angels from the Realms of Glory
So after flipping through several cookbooks for inspiration for this month's Recipe ReDux theme…
It's the end of the year and we're taking a moment to reflect – The Recipe ReDux has been around for 54 months! To celebrate: Grab your nearest cookbook and ReDux the recipe on page 54 or 154.
…it wasn't surprising that – being it's Christmas time – a British cookbook came to the top of my must-cook-from-list.
The book is Serena, Food & Stories: Feeding Friends Every Hour of the Day by London-born Serena Bass (now a New York caterer.)
The idea of the book – feeding friends – is perfect for this time of year. Her recipes have a bit of British-flair, but are adapted for American tastes. Some of my favorites include: Guadalahara Hash (a spicy hash of shredded sweet potatoes,) Roast Cauliflower with Raisins and Thyme, Pimms Cup and The Smart Blond (a passion fruit puree drink.)
But it was her Sausage Rolls that appeared on page 54.
To adapt Serena's recipe, I:
Shrunk the portion-size
Added shredded carrots for color and nutrition
Sprinkled in curry powder for zip (if you've been to the UK, you know curry powder is in everything!)
Mixed in Dijon mustard with is traditionally served with British sausage rolls
Below are two versions of my Mini Sausage Rolls – one using puff pastry shells (which is a bit tedious to work with unless you're making only a few appetizers.) The other uses wonton wrappers if you're making lots of apps.5-Ingredient App - A fun-sized version of the traditional British street food: Mini-Sausage Rolls via @TspCurry #TheRecipeReDux Click To Tweet
Now from my kitchen to yours…I leave you with two traditional British greetings…
"Happy Christmas!"
"Good health to you now and forever!" <==Love this!
Print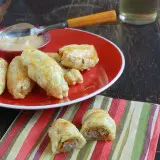 Mini Sausage Rolls
---
Author:

Yield:

12

puff pastry rolls or about

30

wonton wrapped rolls

1

x
Description
A fun-sized version of the traditional British street food. Perfect to serve as an appetizer with drinks.
---
1

pound pork sausage

2

medium carrots, shredded

1 tablespoon

Dijon mustard

1 teaspoon

curry powder (I used Penzey's 'The Now Curry')

6

ready-to-bake puff pastry shells, partially thawed (or

30

wonton wraps)

1

egg yolk whisked with 1 tablespoon water
---
Instructions
Brown sausage in cast iron (or other heavy) skillet until no longer pink. Remove pork to a paper-towel lined plate and drain pork fat from pan.
Return pork to skillet and add carrots, mustard and curry powder; cook about 4 minutes until carrots are slightly wilted. Remove from heat.
Place pastry shells on parchment-paper-lined baking sheet. VERY CAREFULLY, using a serrated knife – or cooking-spray-covered metal spatula – slice each shell in half horizontally and place each circle half on the baking sheet. Using your fingers, gently smooth over most of the holes in the pastry so it won't fall apart when rolling. Repeat with remaining 5 pastry shells so you have 12 small circles of semi-thawed puff pastry. (You will have leftover pork filling unless you have more time and purchase 2 packages of puff pastry.)
Place 1 tablespoon of sausage filling in a line down the center of the pastry circles; fold pastry over filling and seal edges. Brush with egg wash
Bake in 375-degree oven for 15-17 minutes until tops turn golden.
IF USING WONTON WRAPS
Follow instructions above, except fill pork by spreading diagonally down wonton wrap. Fold 1 corner over filling, fold in both ends (using a drop or 2 of water on corners to seal) and roll up last corner triangle – using water to seal. Brush with egg wash. Bake as above.
Do you have a favorite British holiday food? Or is it all about your own traditions this time of year?
For more British food picks from our Recipe Box, check out Deanna's round-up in honor of the Downtown Abby premiere.
And for lots more Christmas cookbook picks, click on the recipes of fellow ReDuxers: