Here's the dietitian's recipe for simple homemade protein powder – using a surprise budget-friendly protein source and a natural thickener.
This recipe was originally published in 2014 – and has become our most popular recipe. I've updated the post with new photos and recent information (and side note: people often ask me what blender I use – here's the $40 Black & Decker Blender I've used for decades now! [affiliate link].
So, over the years, dozens of friends have told me this homemade protein powder is a favorite for their kids and even for sick relatives. Here's how it all began…
My sister wanted a grab-and-go breakfast for herself and her teenager; she thought a fruit smoothie with a scoop of protein powder would combine all the components of a balanced breakfast. But…she wanted a more affordable option than most store-bought varieties – and she doesn't care for the artificial sweeteners in lots of the powders.
Here's the recipe she texted me for my dietitian approval: "dry oats + brown rice + raw lentils: grind to powder"
Yikes. I texted back "breakfast #bellyache" as raw lentils are indigestible. In fact one of the reasons you cook them is to destroy some of the anti-nutritional factors that makes them inedible when raw.
So, instead, here's the wholesome recipe I came up with using an under-utilized, convenient and super-nutritious item in the supermarket: instant nonfat dry milk – it's actually just milk with the water removed – thus powdered milk. So, just like a glass of liquid milk, it contains whey. And according to a growing group of researchers, high-quality protein like dairy (whey) and eggs yield the best results in terms of muscle growth, muscle recovery, and may be beneficial for weight loss.
Each 1/2 cup-scoop of my Homemade Protein Powder has 180 calories and 12 grams of protein. To make it I combined:
Dry milk powder: A 1/3 cup serving has just 80 calories, a whopping 8 grams of protein, including whey protein, AND 8 essential nutrients.
Dry oats: A natural thickener because oats 'plump' in liquid. All oats are a healthy whole grain with significant amounts of fiber. Plus some researchers have show oatmeal has a special type of fiber that helps you feel fuller longer.
Almonds: Contains fiber and heart-healthy fats.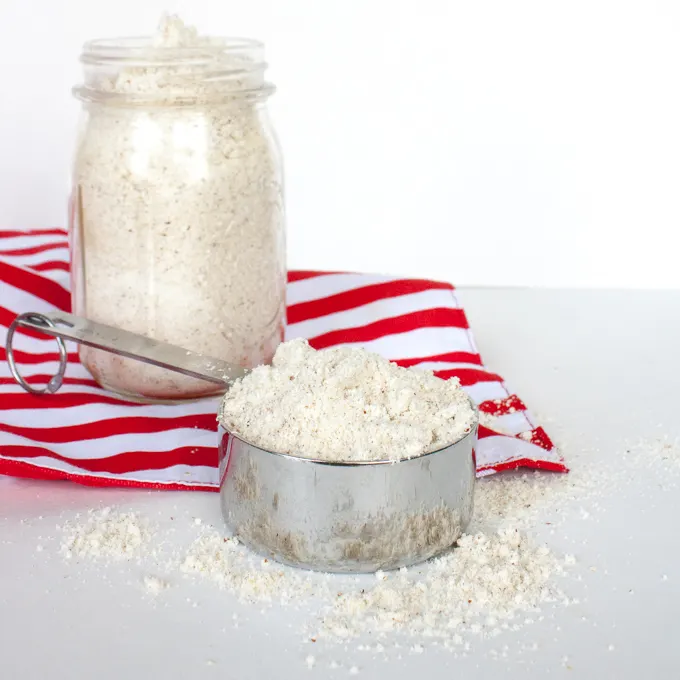 A dietitian's recipe for the simple way: How to Make Homemade Protein Powder via @TspCurry
Click To Tweet
Combine my Homemade Protein Powder (recipe below) in the following quick recipes for a protein-packed grab-and-go-breakfast that will do your body good plus keep you going all morning. These are also some of this dietitian's favorite ways to refuel after a workout. Use a 1/2-cup scoop (46.2 gm) of Homemade Protein Powder:
Berry Berry Smoothie: 1 scoop Homemade Protein Power + 1/2 cup plain (or flavored) Greek yogurt + 1 cup milk + 1 cup berries = 31 g protein
Extra Creamy Chocolate Smoothie: 1 scoop Homemade Protein Power + 1 cup milk + 1/4 avocado +1 tablespoon cocoa powder = 18 g protein
Sweet Potato Pie Smoothie: 1 scoop Homemade Protein Power + 1 cup milk + 1/2 teaspoon pumpkin pie spice + 1/4 cup canned sweet potatoes = 17 g protein
Print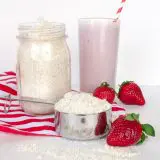 Homemade Protein Powder
---
Author:

Yield:

10

servings

1

x
Description
Here's the dietitian's recipe for simple homemade protein powder – using a surprise budget-friendly ingredient.
---
3 cups

(

240

gm) instant nonfat dry milk, divided

1 cup

(

80

gm) old fashioned or instant dry oats

1 cup

(

142

gm) almonds
Sweetener of your choice
---
Instructions
Place 1 cup instant dry milk, 1 cup oats, 1 cup almonds in blender. Pulse until smooth.
Place remaining instant dry milk in blender and pulse just a few times until blended.
Place in container and cover tightly. Keep at a cool room temperature if you use within 2 weeks – if storing longer store in the refrigerator so the nuts don't go rancid.
To use, scoop 1/2 cup into 1/2-1 cup liquid in a blender; if possible let set 5-10 minutes for oats to plump. Add additional fruits, flavorings, yogurt or milks of your choice. Vanilla or almond extract is especially delicious.
Do you use protein powder? Have you ever made your own?
If you like this recipe, check out more of our Healthy Kitchen Hacks series here.
If you like this recipe you may like to slurp these recipes with a scoop of my Homemade Protein Powder: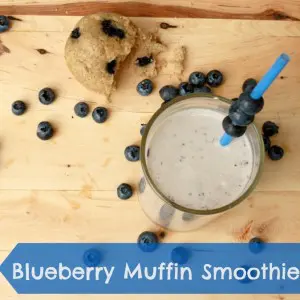 Chocolate Peanut Butter Smoothie Bowl
Now, check out my review: WHICH PROTEIN POWDER IS BEST FOR BAKING? And see the results when baking this Protein Banana Bread.