It's easy to make a fresh coconut Pina Coladas. With step-by-step instructions, you'll agree: that the classic tropical cocktail is better with fresh pineapple and fresh coconut – with or without alcohol!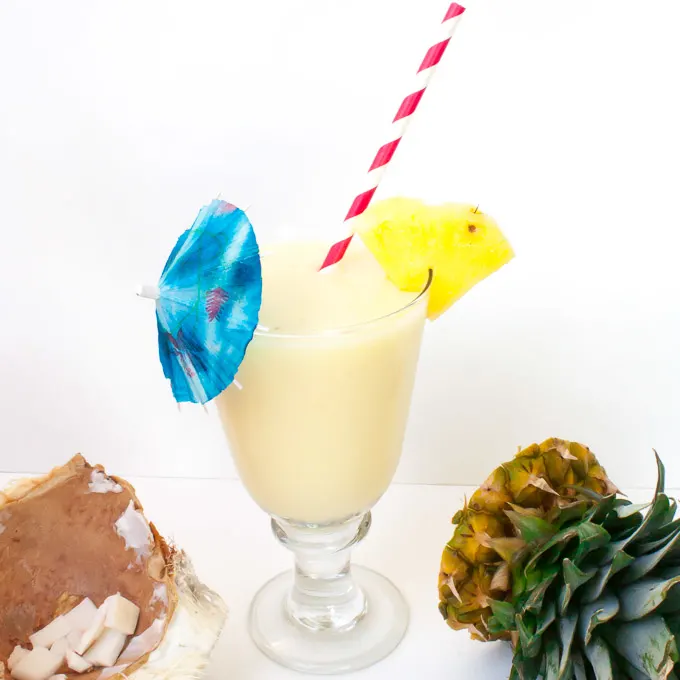 This recipe was originally published in 2014 – and has become one of our most popular posts. I've updated it with new photos and new Healthy Kitchen Hacks >> Like: freeze the pineapple first for a super thick drink.
When I stay with my sister and her four kids in Montana, things can get a little crazy. Her four, plus my four kids…well, tropical pina colada are a tasty cure-all.
Making these naturally sweet, icy refreshers with fresh young coconut meat (instead of the typical coconut cream) makes them soooo much more sweet-coconutty – and entertains the kids for a good 30 minutes.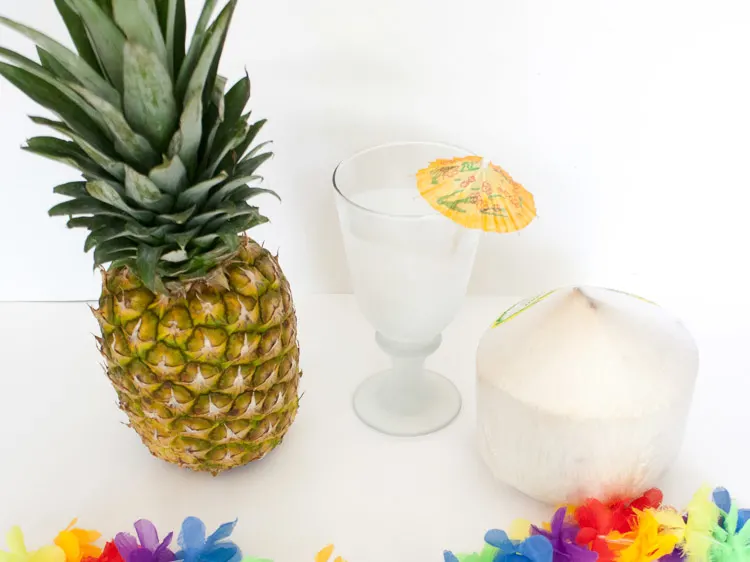 To crack open a young or mature coconut, check out Deanna's post and 1-minute video: How To Open a Coconut at Home.
By the end of coconut cracking, we'd brought out a hammer and nail to assist in following the YouTube steps. The kids thought it was a BIG deal; because of course, what other occurrence involves a hammer with food? It wasn't hard at all. In fact my 7 year-old son did all the hammering.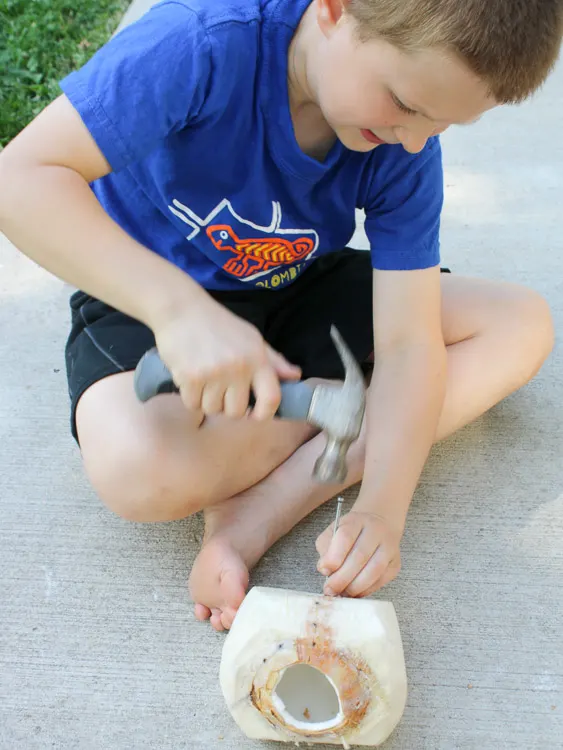 And a few more tools you'll need: lots of straws for sipping the soooo delicious coconut water! Fresh young coconuts are cheap (less than $3) and super healthy. And the thrill of slurping fresh coconut water never dies.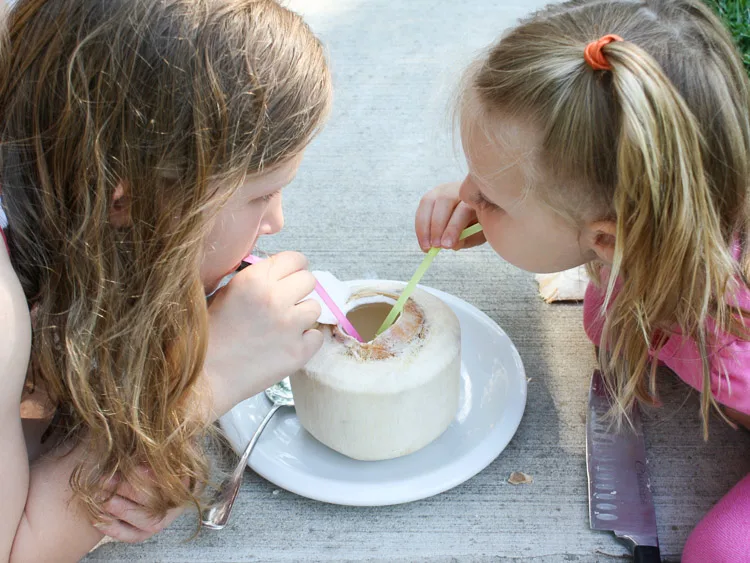 By using fresh pineapple and fresh coconut, I was able to Re-Dux the classic syrupy-sweet pina colada for this month's Recipe ReDux theme of "A Spirited ReDux". Follow these super easy 'How to Cut a Pineapple' instructions by Karman at Nutrition Adventures.
Here's what I did to make my healthier version of Homemade Pina Coladas:
Pureed the coconut and pineapple to retain all the nutrient-rich solids. Many of the recipes I found strained the coconut and the pineapple out of the final mix. Keeping the solids maintains fiber and antioxidants and vitamins found in the whole fruit.
Cut out most of the added sugar. Most versions had tablespoons of sugar per drink. Mine has just 1 teaspoon. The sweet fresh pineapple adds plenty of sweetness. If you need to add more, add by 1/2 teaspoon.
Be sure to make an extra batch of these and leave out the rum for the kids, but don't forget the cocktail umbrellas. They will be pleased as punch! Have you ever cracked open a fresh coconut? Try it! Then make these: Fresh Coconut Pina Coladas via @TspCurry Click To Tweet
Print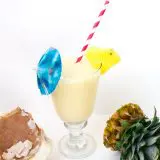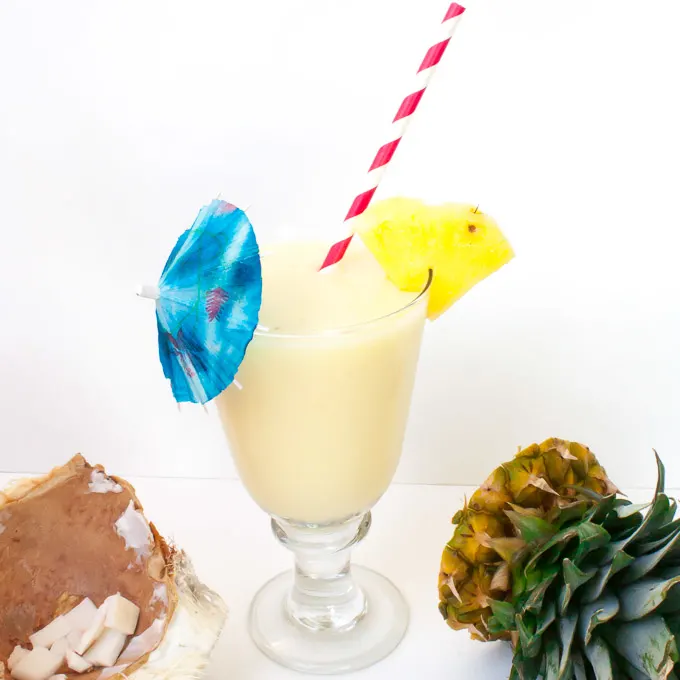 Fresh Coconut Pina Coladas
---
Description
Classic tropical Pina Coladas made sweeter with the addition of fresh pineapple and fresh coconut. Only 1 teaspoons of sugar in each drink. Rum is optional.
---
2/3 cup chopped fresh young coconut meat or 1/2 cup shredded unsweetened coconut meat
1 cup chopped fresh pineapple (or canned) frozen for 1-2 hours
1 1/2 cups coconut water (from fresh coconut if your kids don't drink it all or I used Vita Coco brand)
2–3 teaspoons sugar
2 ounces rum
ice
---
Instructions
In a blender place coconut, frozen pineapple, coconut water and puree for 3-4 minutes until coconut is thoroughly pureed.
Add sugar and taste after a quick blend.
Add rum and ice to taste.
Garnish with fresh pineapple and a cocktail umbrella.
Notes
Freeze pineapple on a parchment-covered tray at least 1-2 hours before making the drink for a thicker, frostier drink.
Follow these super easy instructions for 'How to Cut a Pineapple' by Nutrition Adventures.
I followed this YouTube video on how open a coconut, but my coconut was trickier to open. I needed a hammer and a nail too.
Have you ever cracked open a fresh coconut? What's your favorite tropical drink?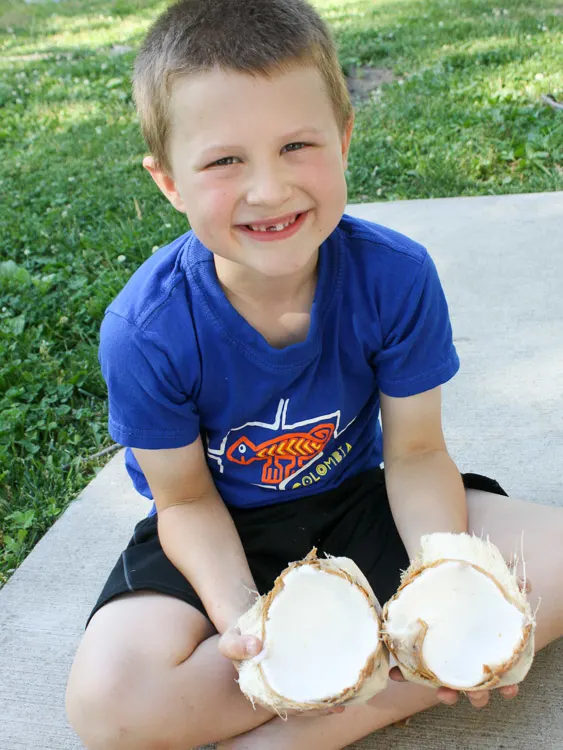 Please check out all the other sippable Spirited ReDuxes below from our Recipe ReDux friends: