Whip up a pitcher of summer sangria in minutes using these three healthy kitchen hacks!

It's Healthy Kitchen Hacks Wednesday – the day we share our favorite time-saving kitchen tricks and cooking shortcuts to help you make healthy and delicious meals.
You can see all our Healthy Kitchen Hacks here. To get exclusive healthy kitchen hacks – only available to our email subscribers – sign up HERE.
——
Easy Summertime Sangria – 3 Ways
Raise your hand if you love a pitcher of sangria.
If you've never made it before, it's really easy to whip up a pitcher and summertime is prime time to do it with all the fresh fruit on hand. And while I'd never claim sangria or any alcoholic drink is a health drink, I have three tips to make them a little bit better for you AND up the flavor and crowd appeal, too.
Sound good?
Easy Summer Sangria with 3 #healthykitchen hacks to make it better! @tspbasil
Click To Tweet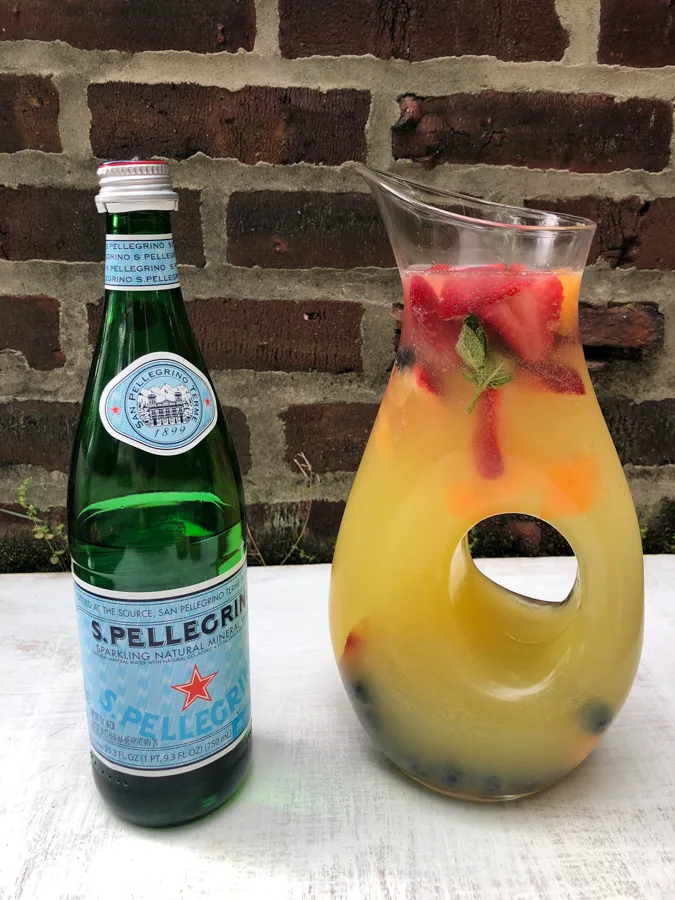 Sangria Hack #1 – Add Some Sparkle
Pour a few ounces of sparkling water or club soda in your glass before pouring in your sangria. You'll add bubbles without adding calories and make each serving a little less sugary and alcoholic.
Sangria Hack #2 – Freeze the Fruit
Skip the ice cubes and freeze fruit like sliced strawberries, peaches and nectarines; whole blueberries, raspberries or grapes and/or bite-sized chunks of melon. It's a great way to chill the drink, cut back on the added sugar and get some fruit into your day.
Sangria Hack #3 – Make It Slushie
Last year, all the rage was frosé. This year, let's make it sangria slushies!
Simply take the sangria to which you added frozen fruit, add about 6 ice cubes and give it a whirl your blender. If it's not slushy enough to your liking, add in some more frozen fruit or ice cubes.
It can't get much easier than that for a summer cocktail cooler.
Here's a basic summer sangria recipes to give you a starting point:
Print
Easy Summertime Sangria
---
Description
Whip up a pitcher of summer sangria in minutes using these three healthy kitchen hacks!
---
1 (750-milliliter) bottle white wine
1/2 cup of triple sec, ginger liqueur, brandy or other fruit-flavored liqueur
1/2 cup orange juice or white grape juice
3 1/2–4 cups frozen (not thawed) chopped fruit like strawberries, peaches, nectarines, melon, blueberries, cherries or raspberries
Fresh basil or mint leaves for garnish in each glass
Optional: Sparkling water
---
Instructions
In a large pitcher, pour in wine, liqueur and fruit juice.
Add 3 cups of frozen fruit to the pitcher. Cover and chill for at least 4 hours.
When ready to serve, mix in the remaining frozen fruit.
If desired, pour 2 ounces of sparkling water into each glass. Pour in 4 ounces of sangria and add a basil or mint leaf. If you'd like to make a sangria slushie, add 6 ice cubes along with frozen fruit and whirl in the blender.
And for all you autumn/winter lovers, pin this Apple Gingersnap Sangria for when cooler weather hits.
Do you ever make sangria? What are your favorite additions/flavors?