Confession: I don't tofu enough.
Now full disclosure –> While I was not paid to write this post, The Soyfoods Council was a sponsor of last month's Blog Brûlée where we got to enjoy some creative and tasty soy appetizers including Pesto Edamame Hummus Dip and Curried Tofu, Roasted Tomato & Eggplant Dip.
Alas, no photos, but trust me – so good.
Now, it's not like I'm a total soyfoods novice – after all, The Recipe ReDux hosted a "Do You Tofu?" Recipe Challenge (I made Grilled Tofu BLT) and last summer, I got to go on a Soy Tour of Iowa where I was, once again, reminded of the variety of soyfoods out there – tofu, tempeh, edamame, textured soy protein, soy flour – the list goes on. (I made this Basil Lime Dressing often after that trip.)
So, really, it's just a matter of me remembering to stop by the refrigerated section of Trader Joe's and pick up that package of tofu already. Seriously, how hard is that?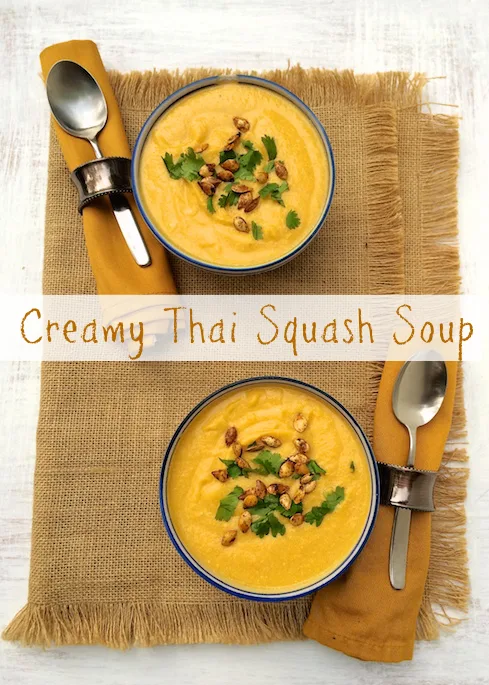 Not hard at all, but the real challenge for me is to get into the habit of routinely incorporating tofu into recipes. Since I don't really cook or eat a lot of meat, I tend to get into protein ruts – relying only on peanut butter, dairy, beans, seafood here and there and the occasional egg.
Time to practice what I preach – add more variety to my food choices.
So, a few weeks ago, when I went to make my CSA carnival and butternut squash into soup, I made that conscious effort to pick up some silken tofu as I figured it was a great way to incorporate tofu into a meal – while making a nondairy, creamy, protein-packed version of this soup.
Print
Creamy Thai Squash Soup
---
Description
Silken tofu is the secret in making this non-dairy, creamy and spicy Thai Squash Soup.
---
4

pounds of squash (butternut, carnival, acorn or delicate), cooked and pureed (about

2 1/4 cups

)

1 cup

light coconut milk

1 cup

low sodium vegetable broth

1 tablespoon

sugar

2 teaspoons

fish sauce (optional)

1 teaspoon

Thai red curry paste

1/4 teaspoon

ground ginger

8 ounces

silken tofu, drained and coarsely chopped

1 tablespoon

lime juice
Chopped fresh cilantro, garnish
Roasted squash seeds, garnish
---
Instructions
In a large pot over medium heat, mix together squash puree, coconut milk, broth, sugar, fish sauce, red curry paste and ginger. Stir in tofu and heat soup for about 15 minutes.
Using an immersion blender (or regular blender), blend soup until tofu is completely blended. Cook for another 5 – 10 minutes.
Ladle into bowls and garnish with cilantro and roasted squash seeds, if desired.
And it was oh so good and oh so easy. Definitely a soup I'll be making again and again this winter.
So, why go tofu? Just some reasons I am:
Soyfoods have played an important role in Asian cuisines for centuries. More recently, soyfoods are becoming more mainstream here in the Western Hemisphere because of their health properties, nutritional make-up and versatility.
Besides being an excellent source of plant-based protein, there's a growing amount of research linking soyfoods to lowering our risks for several diseases such as certain cancers and heart disease.
Tofu is super versatile – you can do so much with it from blending into drinks to cooking it like you would meat or chicken. The main trick is to flavor it well – tofu is a very neutral food.
So, are you a "tofu-er" or soyfoods user? What type? Favorite recipes? I'm looking for any tasty tips & tricks to get more into my diet so would love to hear from you.
If you're digging this post, you might also like these recipes:
GINGER CARROT & SWEET POTATO BISQUE
SEVEN LAYER TACO DIP + TOFU
RED LENTIL CARROT SOUP WITH FRAZZLED ONIONS