One of my favorite baking challenges is to thumb through my collection of community cookbooks until I find a recipe I've never before seen or tasted. There are never descriptive photographs in these books. Upping the ante even more, all ingredient lists and instructions are of course written in the home cook's (often less-than-complete) hand without the helpful additions or instructive tips of an editor. All of these challenges aspects were found within a recent recipe gem called Speedy Cinnamon Crisps.

Perusing a collection community cookbooks is a fascinating window into true regional cookery around this country; and even a glimpse into different eras. My cookbook collection includes those from churches, Junior Leagues, county homemaker clubs, and community organizations like Grange and the Montana Cattlewomen. A favorite is from the dear ladies of St. Paul's Lutheran Church in Brookfield, Illinois and was published in 1975 with recipes like Date Pinwheel Cookies and Cottage Cheese Rolls. Theirs were the recipes I grew up on – with subtle differences, since they were German immigrants in Illinois and I descended from French Canadian cattlewomen in Montana. Community cookbooks are a wealth of cultural family recipe. Similar recipes coming out of 1970's era Illinois and Montana kitchens included cheese balls (which I still love to make this time of year – with a few updates) and mock apple pie.
A day ago I was scanning through the 'Cookies' section of the River of Life cookbook from Glendive, Montana, I came across a recipe for Speedy Cinnamon Crisps. I read through the recipe once and was completely lost. I read through it three more times before I understood the meaning of the cryptic instructions. (I love feeling like a sleuth trying to uncover the meaning of cooks' language from my mother's or grandmother's era!) Bottom line: Cinnamon Crisps was a recipe for classic cinnamon rolls; but right before popping the raised rolls in the oven, you roll them as flat as pancakes and then bake until crisp, but pliable!
I had my 76 year old German neighbor over yesterday and gave her a stack of the Cinnamon Crisps. I wanted to know if she's ever seen a similar recipe. She loves to bake and has given me my absolute favorite oatmeal cookie recipe. But she had never seen a cookie like the smooshed cinnamon roll. So, I became even more excited to have uncovered this sweet (but not too sweet,) cinnamon-rich, yeasty, salad-plate-sized gem that would be perfect for Christmas brunch or a mid-morning cup of tea.
Print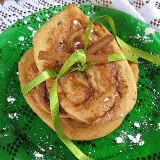 Cinnamon Crisps
---
Author:

Yield:

About

2 1/2

dozen

1

x
Description
These delightful cinnamon crisps are like a flattened cinnamon roll baked until crispy. A terrific cookie for the holidays.
---
2 cups

warm water (

120

degrees)

1/3 cup

sugar + more for topping

2

pkg active dry yeast
scant

2 teaspoons

salt

6 1/2 cups

all purpose flour

2

eggs

1/3 cup

canola oil
softened butter
cinnamon
---
Instructions
Combine water, sugar and yeast in bowl of stand mixer. Add salt and 2 cups flour; beat 2 minutes. Add eggs and oil; beat 1 minute. Blend in 4 1/2 cups flour; beat until sticky dough forms. Let rest 20 minutes.
To make cinnamon rolls, lightly dusk counter with flour and roll out half of dough until about 1/2-inch thick and rectangular. Spread lightly with softened butter and sprinkle with sugar and cinnamon. Roll up dough and using a serated knife or kitchen twine, slice cinnamon rolls about 3/4-inch thick and place cut-side down on sugar and cinnamon coated counter.
One at a time, place each roll on lightly flour-dusted counter, sprinkle with about 3/4 teaspoon sugar and roll flate until about 1/8-inch thick. Place on greased baking sheet and let rise 20 to 30 minutes, until light. Bake 18 to 20 minutes in preheated 375-degree oven.