Like fruity drinks or do you prefer an extra kick to your glass of champagne? Whatever your bubbly preference is, there's a cocktail recipe here to help you ring in the new year!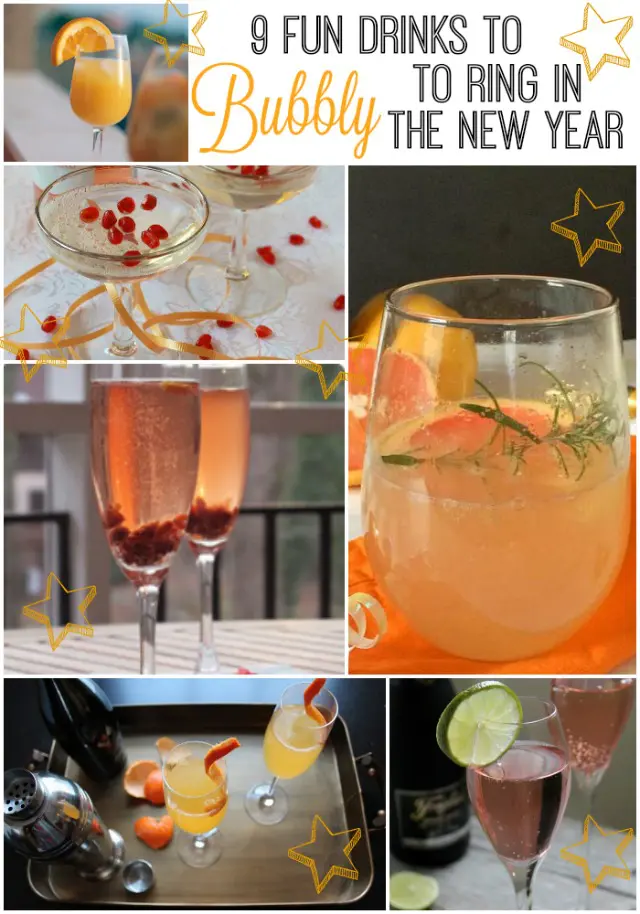 Champagne. Proscecco. Sparking Wine. Cava.
Whatever your bubbly drink of choice is for New Year's Eve, I've gathered 9 sparkling wine recipes from some of my favorite bloggers.
Pick one of the cocktails below based on your mood or favorite flavors and swap in your favorite bubbly beverage (even if it's seltzer or sparkling fruit juice!)
Choose a bubbly drink for New Year's Eve based on your favorite flavors! @tspbasil
Click To Tweet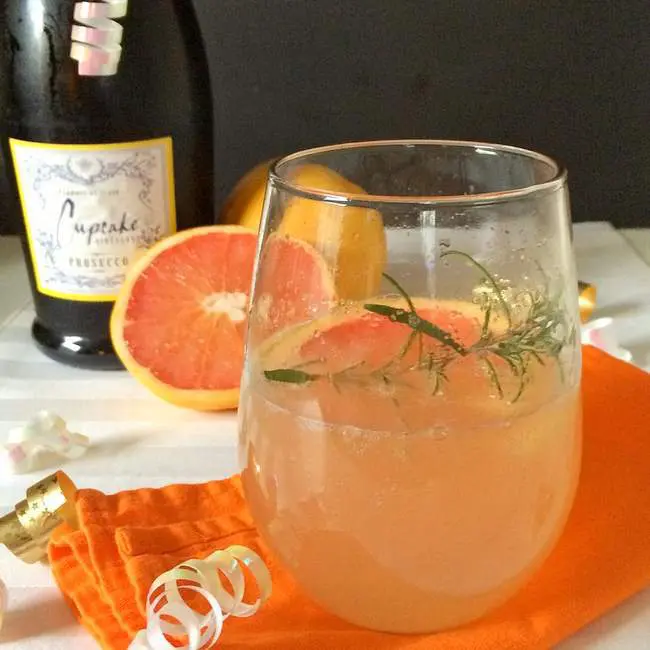 If you like a little tart with your bubbly: Grapefruit Prosecco
If you like holiday fruit flavors: Cranberry Pomegranate Champagne Cocktail – Katie @Mom To Mom Nutrition
If you like White Russians or cream liqueur drinks: Raspberry Pomegranate Icelandic Martini – Karman @The Nutrition Adventure
If you want to revisit your Jello shot days: Champagne Jello – Serena
If you like a classic mimosa: Mandarin Champagne Cocktail – Kara @The Foodie Dietitian
If you want to switch up the classic mimosa: Sparkling Fruit Mimosas – Elizabeth @Simple Swaps
If you're a New Englander at heart: Sparkling Cape Codder – Jenny @My Cape Cod Kitchen
If you like some gin with your champagne: Orange French 75 – Jessica @Nutritioulicious
If you like a floral touch to your cocktail: The Sparkling Rose – Ann @My Menu Pal
And if you need any tips on how to buy, open and/or store your bottle of bubbly, Cooking Light's All About Champagne post has you covered.
For the record, we'll be drinking straight up Prosecco (which in all honesty, we usually have a fresh bottle chilling all year round in our fridge.)
Which sparkler will you be toasting with at midnight? And extra credit: which TV show host had the tagline of "Champagne dreams and caviar wishes"? <—I'm dating myself here….