I narrowed down the Top 10 Cool Things I Learned about Almonds while visiting California and the next yummy recipes I'm making with them (homemade protein powder for one!)
[Disclosure: My trip was funded by the Almond Board of California but I was not paid to write this post. My comments below are all mine – including my mispronunciation of the town we were visiting- doh!]
Last month, I traveled out to Lodi, CA (pronounced Loh-dye vs. Loh-dee like the way I was saying it incorrectly up until Day 2 of the trip.) Lodi is about 30 miles south of Sacramento in California's Central Valley and the heart of ag country.
Because it would probably take at least 3 long winded posts to recap everything I saw and learned and ate (and nobody ain't got no time to read all that), here's my CliffsNotes version (do kids these days even know what CliffsNotes are?)
Top 10 Cool Things I Learned About California Almonds:
1) Almonds growers use 33% LESS water than they did 20 years ago. This was a BIG topic of discussion especially because of the severe drought. I was also surprised to hear that almonds use the same amount of water as other California fruit and nut trees. And the California Almond community has funded over 90 irrigation research projects over the decades. Clearly, water conservation is top of mind for them.
2) Almonds are related to peaches. (And this is probably why they go so well together in recipes.)
3) Almond have three parts to them and every part is used.
–>The outer shell is crushed and used as bedding for dairy cows, particle board or biofuel.
–>The hulls are used as feed for dairy cows.
–>The actual almond (inside the hull) is what we eat.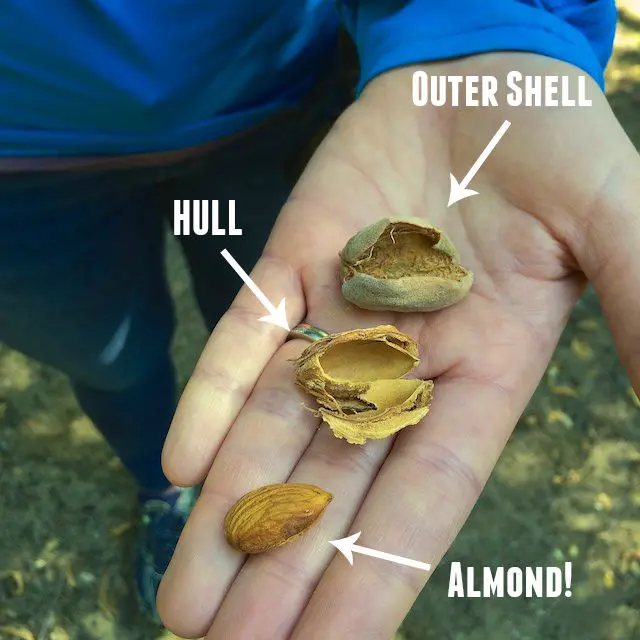 (Hand model: Kylie @immaeatthat)
4) Without bees, there would be no almonds and this is true for dozens and dozens of crops. Almond growers rent bee hives during the bloom season (mid February thru March) so the bees can pollinate the almond blossoms.
5) Almonds are harvested with a machine that shakes the trunk. Video clip of the almond shaker in action!
6) Almond growers and processors call them "a-mends." It's not really clear why they do but one farmer joked that when almonds are shaken from the tree, the "L" is shaken out of them.
7) Over 80% of world's almonds are produced in California.
8) One ounce serving size of almonds = 23 almonds
9) Almonds are the tree nut highest in protein, fiber, calcium, Vitamin E, riboflavin and niacin.
10) This Gluten-Free Skillet Almond Granola is da bomb. Seriously, delish. I first tasted it on this trip and got to enjoy it again at Blog Brûlée last weekend, too.
Top 10 Things I Didn't Know About @Almonds (+ recipes like homemade protein powder!) @tspbasil #sponsoredtravel
Click To Tweet
Speaking of eats, we had an almond snack team challenge during the trip. April, Abby, McKenzie, Rachael and I came up with a sweet and savory smoky almond crunch bar with chiles and dried pineapple.
While we weren't the winners, (we had a little issue with getting it to stick together in our limited "kitchen" time), they were actually super tasty.
And speaking about eats, I was inspired to gather a bunch of creative almond recipes rounded up from my fellow #AlmondTour attendees.
Pantry Staples:
(The most popular post on our blog!) How To Make Homemade Protein Powder – Teaspoon of Spice
Homemade Almond Milk (+ Triple Berry Smoothie) – McKenzie @NourishRDs
Breakfast:
Almond Flour Crepes – Kylie @immaeatthat
Apple Almond Butter Overnight Oats – Megan @Healthy Grocery Girl
Easy Ginger Spiced Granola With Ancient Grains – Lisa @Healthy Nibbles & Bits
Entrees:
Sweet Smoky Almond Crusted Chicken with Honey Mustard Dipping Sauce – Abby @Abby Langer Nutrition
Maple Almond Crusted Salmon – Abbey @Abbey's Kitchen
Snacks & Sweets:
Chocolate Almond Butter Fruit Dip – Amanda @The Wholesome Dish
Chipotle Honey Lime Almonds – Meme @Living Well Kitchen
No Bake Almond Granola Bars – Alex @Delish Knowledge
Almond Trail Mix Cookies – Rachael @Avocado A Day
Gluten Free Almond Zucchini Bread – Kim @KH Nutrition
**A huge thank you to the Almond Board of California, Porter Novelli, the staff of Wine and Roses, Travaille and Phippen and LangeTwins Winery for the tours and amazing hospitality.***
So, how do you like to eat almonds? Have you ever see a nut tree? Have you ever been to California's Central Valley?