Stuffed peppers made super easy using Panera at Home Turkey Sausage, Kale and Quinoa Soup and Whole Grain 100% Whole Wheat Sliced Bread.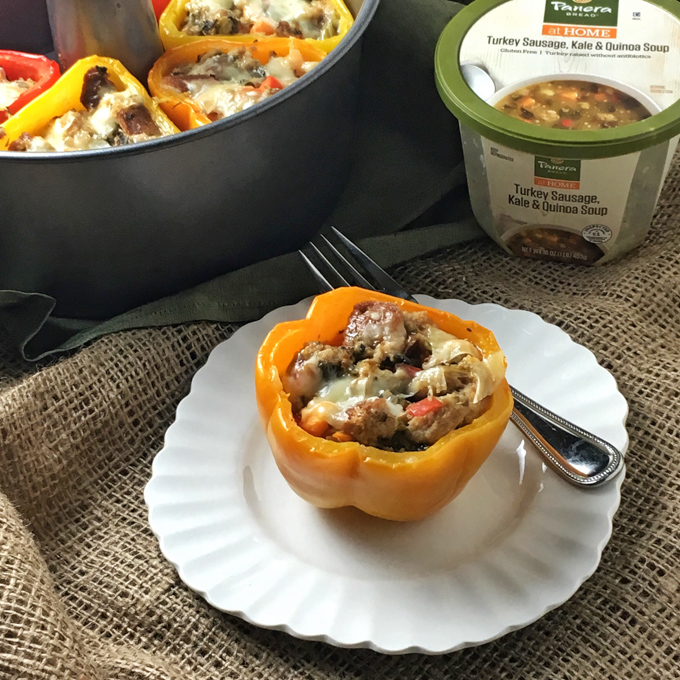 [Disclosure: As co-founder of Blog Brûlée, I was partially funded by Panera Bread via their sponsorship of the event. Opinions are my own.]
Besides making cooking videos and streaming Facebook live casts, I can't say my 10-year old knows exactly what I do for a living as a non-traditional dietitian.
Case in point: when I tried to explain to her what I'd be doing while I was in Vermont a few weeks ago for this year's Blog Brûlée MASTERS event, she didn't seem remotely interested. Until I mentioned that Panera at Home was one of the sponsors to which she perked up and said "I love Panera! It's my favorite restaurant."
#sponsored Turkey Sausage Kale + Quinoa Stuffed Peppers via @tspbasil #blogbrulee @panerabread
Click To Tweet
My daughter has had a love affair with Panera (particularly their mac & cheese) for most of her life at this point. And I've been a fan ever since my friend in Michigan introduced me to the brand many years ago as her suburb was one of the first expansions of their bakery-cafes. Fun fact: there are now over 2,000 Panera Bread outlets in 46 states and Ontario, Canada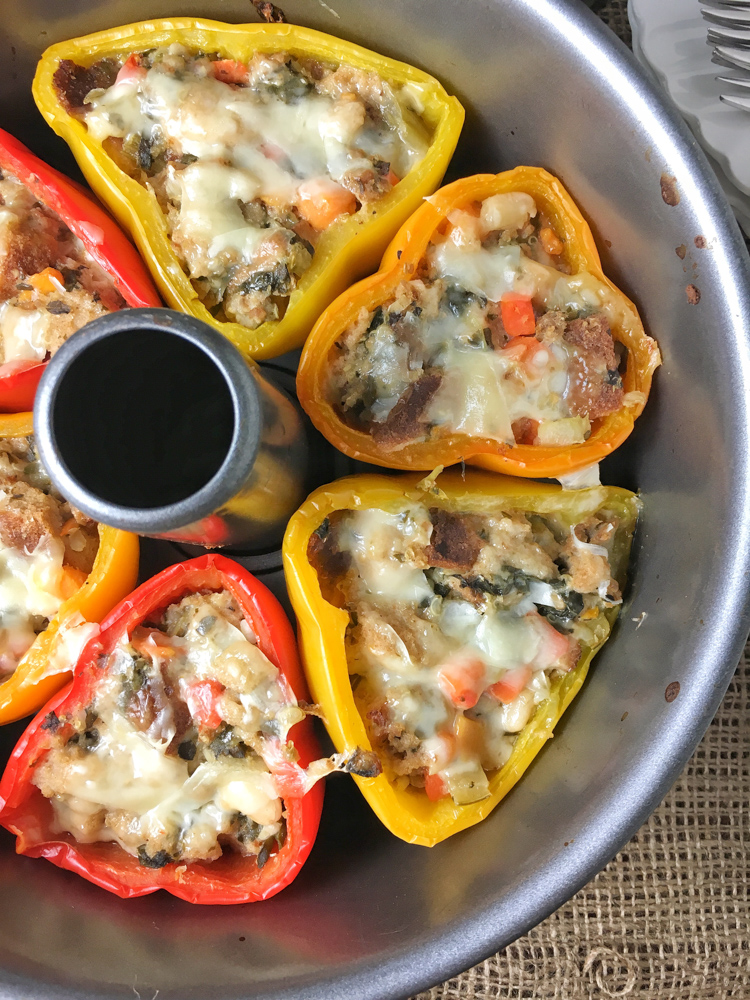 But I didn't even realize until they came on board as a Blog Brûlée sponsor, that they now have a Panera at Home line in grocery stores nationwide. (Link to their store locator here.) At the event, we learned about their offerings: refrigerated soups, refrigerated salad dressings, refrigerated mac & cheese, sliced bread and coffee – we even got to sample several of their products.
Not only are the Panera at Home offerings are a great solution for easy dinners, they also make excellent ingredients for short-cut recipes or meal ideas like Autumn Squash & Chicken Casserole, Asian Chicken Chopped Salad and Thai Tomato Coconut Soup.
And just like all the menu items in their bakery-cafes, all the Panera at Home products are all free from artificial preservatives, sweeteners, flavors and colors from artificial sources.
I took a stab at using a few of the Panera at Home products to make a simple, 4-ingredient meal and the result was these super flavorful, super easy stuffed peppers. Granted, the Turkey Sausage, Kale & Quinoa Soup is delicious on its own but that's why it's also a terrific ingredient for a quickie meal as well.
Print
Turkey Sausage, Kale and Quinoa Stuffed Peppers
---
Description
Stuffed peppers made super easy using Panera at Home Turkey Sausage, Kale and Quinoa Soup and Whole Grain 100% Whole Wheat Sliced Bread.
---
2

(16 ounce) containers Panera Turkey Sausage, Kale and Quinoa Soup

4

slices Panera Whole Grain 100% Whole Wheat Sliced Bread, cut into

1/2

-inch cubes

1/2 cup

shaved Parmesan cheese

6

large bell peppers (any color)
---
Instructions
Preheat oven to 375 degrees.
In a large bowl, mix soup, bread and 1/4 cup cheese. Set aside to let soak as you prep the peppers.
Slice off 1/2-inch off the top of each pepper, cutting off the stem and exposing the insides. Carefully scoop out the membrane and seeds.
Bring a large pot of water to a boil. Add peppers and boil for 4-5 minutes or until they just start to soften. With a slotted spoon, carefully remove from pot and place on a rack cut side down so water drains out.
When peppers are cool to the touch, place cut side up in a square baking dish or a bundt pan coating with cooking spray.
Spoon the filling into each pepper, dividing filling evenly. Sprinkle each pepper with remaining cheese.
Bake in oven for about 30 minutes or until stuffing is set.