For today's post, I don't have a catchy hook or trendy theme to tie it back, too. Rather, this recipe came together from two of the many recipes I dog-eared in the Jan/Feb issue of Cooking Light. (Side note: am I the last person who still reads through magazines and dog-ears the recipes I want to make??)
The sad reality is that as a dietitian, when making lunches at home, I actually don't a) eat as many salads as I should/I'd like and b) I don't eat seafood as much as I should/I'd like to.
Unless I'm doing a good job at food prep on a weekend, which is not all that often (I'm always inspired by my pal Lindsay over at Lean Green Bean and her Sunday Food Prep series)…I'm instead throwing a hodge podge of whatever is in my fridge together for lunch (since I work at home.)
On the days that I have decent dinner leftovers, it's not an issue. On the days there are no leftovers and the produce running low and I haven't planned ahead, it is an issue.
Get more fish into your day: Roasted Avocado Salmon Taco Salad via @tspbasil
Click To Tweet
I realize I need more substantial lunch ideas that I can make on a regular basis so I'm not staring at the refrigerator at 12:30 pm or grazing through the cereals in our pantry.
Enter two new seafood salad recipes that are now part of my lunch rotation: Roasted Avocado and Salmon Taco Salad and coming to the blog in a few weeks now on the blog: Salmon Caesar Salad.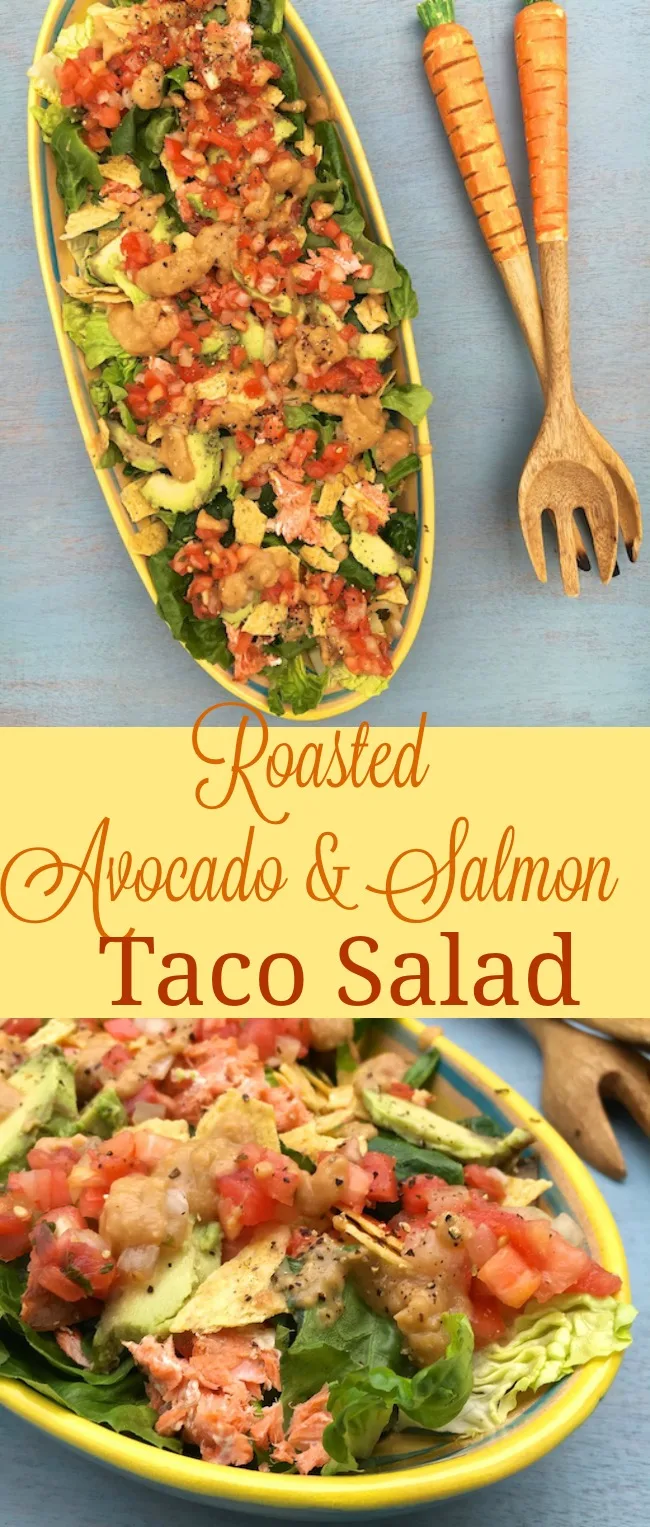 I took ingredient ideas from Cooking Light's Grilled Chicken with Seared Avocados and Shredded Chicken Avocado Nacho Salad but swapped in salmon instead. And getting more fish into your eating routine is a smart move because it's:
high protein yet low in saturated fat
lower in calories
a good source of iron, zinc and omega-3 fatty acids
a great food source for brain and heart health (the American Heart Association recommends eating fish at least two times a week)
convenient (frozen) and easy to cook
Print
Roasted Avocado and Salmon Taco Salad
---
Author:

Yield:

4

servings.

1

x
Description
Roast salmon and avocados together to make a delicious, healthy Tex-Mex salad for lunch or dinner!
---
1

–

1 ½

pounds salmon

2

avocados, cut in half and pitted

¼ teaspoon

cumin

¼ teaspoon

sugar

¼ teaspoon

salt

1 cup

fresh salsa
Juice from

½

of lime

1

bag of chopped Romaine or mixed greens (or

one

large head of dark leafy lettuce)

3

taco shells, broken into pieces

¼ teaspoon

fresh black pepper
Fresh chopped cilantro, optional
---
Instructions
Preheat oven to 425 degrees Fahrenheit.
Arrange salmon and avocado halves in a roasting pan lined with foil. Sprinkle avocado halves with cumin, sugar and salt. Roast for 12 minutes or until salmon flakes. Remove from oven and cool slightly.
In a blender, add ½ cup salsa. Take one of the avocado halves and scoop flesh into blender (discard skin.) Add lime juice and blend. If dressing is too thick, blend in a few teaspoons of water. Set aside.
Arrange Romaine in a large salad bowl or platter. Flake salmon and put on top of greens. Thinly slice avocado flesh side up (do not cut all the way through the skin.) Scoop out slices with spoon and add to salad. Top with remaining ½ cup of salsa. Toss broken taco shells over top. Drizzle with avocado salsa dressing and sprinkle black pepper on top. If desired, sprinkle with fresh chopped cilantro.
Serve warm or cold. (Note if serving later, keep salad ingredients separate and toss together right before serving.)
Tips on how to enjoy this salad for lunch:
If using frozen salmon (like I do – I buy it from Trader Joe's), remember to thaw it in the fridge overnight.
If you have time, cook salmon and avocados the night before for quick lunch time assembly.
Try canned salmon, smoked salmon or even smoked trout! <—(a new fave product of mine from Trader Joe's that Danielle & Robin have turned me on to recently.)
This salad is great warm or cold.
If packing your lunch, pack the dressing and taco chips separately.
Final random thought: I'm definitely turning into my mother (who is notorious for making up bad puns unknowingly.) I just reread my opening sentence about not having a catchy hook about a recipe post that features fish.
As my husband says, "rats don't have mice."
So, what are your go-to lunches? What are your favorite tips/recipe ideas for eating more salads and/or fish at home? How are you turning into your mother or father? Please share!