Easy recipe for canning any type of beets – with step-by-step instructions for DIY success: Pickled Candy Cane Beets.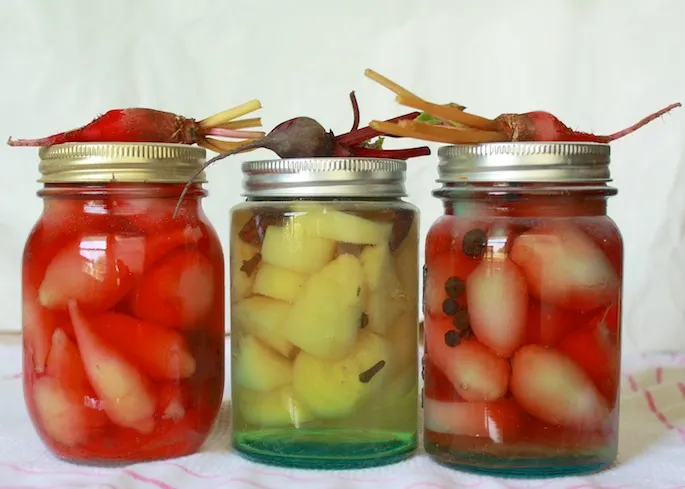 I bought the big Ball canning pot with kit at our local Ace Hardware store a few summers ago. It's been used to can a few treats: Pickled Okra, Bread & Butter Pickles and Ginger Pear Preserves.
Why I didn't can….until now
But truth-be-told, I didn't can a thing last summer. My excuse was that it was a long, hot, pregnant summer. (Baby #4 was born in September so I was BIG last summer.) But I think I just got too lazy to bring the big ol' canner up from the basement. (However I know Mom and Grandma certainly didn't stop canning while pregnant or because the canner was down a few steps!) So I promised myself that this summer I would can again.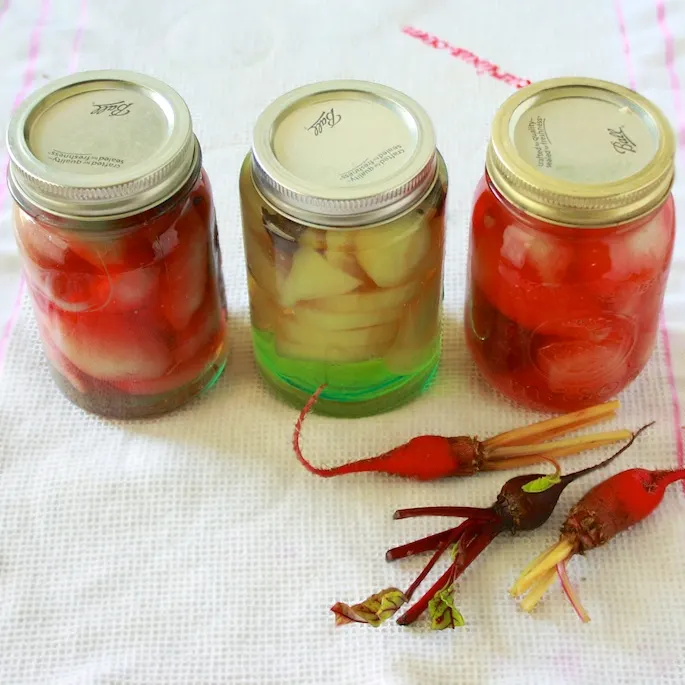 And then my master gardener mother-in-law gave me all these beautiful candy cane baby beets.
They were perfect for The Recipe ReDux challenge of "Raising the Bar on Food in a Jar."
The trick would be to maintain the absolutely gorgeous color of these striped beets. I searched for recipes and tips on how to maintain the red-and-white striped coloring. But unfortunately the striping disappears during cooking – but the jars do come out a gorgeous rose color as explained by Dig in the Dirt.
The best way to can beets
So, in the end, I used a delicious-sounding, trusted recipe from Ball's Blue Book Guide to Preserving. The only change I made was to add a few whole cloves. (I don't recommend changing the amount of sugar or acid in canning recipes; adaptations to recipes from a trusted source could be a recipe for a canning disaster!)
The best tip for pickled candy cane beets
I also made one other small recipe adaptation: I (maybe) cheated and added a few dark red baby beets to electrify the pink color in the jars. Even my girls announced "Mom, those beets are our favorite color! Pink!" (And then the two girls proceeded to have a small argument over who has had pink as their favorite color for longer!)
Print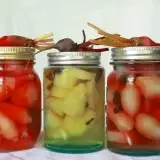 Pickled Candy Cane Beets
---
Description
Easy recipe for canning any type of beets – with step-by-step instructions for DIY success.
---
3 quarts

beets (about

24

small or

4

pounds)

2 cups

sugar (minus about

2 tablespoons

)

2

sticks cinnamon (broken in

3

pieces each)

1 tablespoon

whole allspice

1

heaping teaspoon whole cloves

1 1/2 teaspoon

table salt (or

1 1/2 teaspoon

canning salt)

2 1/2 cups

white vinegar (or cider vinegar)

1 1/2 cups

water
---
Instructions
Wash beets. Boil beets until just tender. Peel the beets using rubber dishwashing gloves to avoid getting beet-stained hands.
Combine all ingredients except beets in a large saucepan. Bring mixture to a boil; reduce heat. Simmer 15 minutes.
Pack beets into hot jars, leaving 1/2-inch headspace.
Ladle hot liquid over beets, leaving 1/2-inch headspace. Remove air bubbles.
Adjust metal lid and rings. Process pints in a boiling water canner for 30 minutes.
Notes
Recipe adapted from the Ball Blue Book Guide to Preserving which contains detailed instructions on how to can safely.
Have you done any canning before? What did you make – or what to you aspire to make some day?