By adding just 3 ingredients to frozen cherries you'll have a super luscious frozen treat – Simple Cherry Ice Cream. You can make this scoopable ice cream with frozen peaches, strawberries, blueberries, raspberries, or more!
It's Healthy Kitchen Hacks Wednesday – the day we share our favorite time-saving kitchen tricks and cooking shortcuts to help you make healthy and delicious meals.
You can see all our Healthy Kitchen Hacks here. To get exclusive healthy kitchen hacks – only available to our email subscribers – sign up HERE.
___
Frozen banana 'nice' cream is, well, nice. But this Very Cherry Ice Cream is better.
By using this Healthy Kitchen Hack you can have infinitely better texture and creamier flavor using any frozen fruit: peaches, strawberries, blueberries, raspberries, even apricots, plums or bananas you've frozen.
But the main ingredient is still frozen fruit. #winwin
Regular 'nice' cream is usually just frozen bananas whizzed in the food processor until it forms a cool 'creamy' treat. This real fruit snack is a dream for moms and kids (and dietitians!) because it's quick and is real fruit.
But, banana 'nice' cream treat has a few drawbacks:
It begins melting almost immediately.
You can't freeze it for later – because it gets rock hard.
If you want to eat it later, you'll have to get out the food processor, and re-process it.
When re-processed, it turns a not-so-lovely shade of brown.
Enter: Simple Cherry 'Nice' Cream! Simple Cherry 'Nice' Cream with just 3 ingredients is infinitely better than banana 'nice' cream! @tspcurry Click To Tweet
By adding just THREE ingredients to your frozen-fruit-nice-cream you will have a super luscious frozen treat the day you make it – and you can freeze it for later with excellent (and delicious!) results.
1. Plain Greek Yogurt – Use reduced-fat (2%) or full-fat varieties
Greek yogurt blends with the frozen fruit and becomes frozen.
The now-frozen Greek yogurt keeps the 'nice 'cream from melting immediately because the frozen solids (proteins and fats) don't melt immediately.
2. Sugar
Sugar is known for its sweetness (or should we say is villainized for this quality!)
But actually, you really need sugar in ice cream for a scientific reason: It makes it creamy!
By adding sugar, you keep water and cherry juice from forming ice crystals – and being icy instead of smooth and creamy.
3. Vanilla
I used a whole half teaspoon of good vanilla.
Alcohol doesn't freeze at the temperature of your freezer. So the alcohol in the vanilla helps keep the Simple Cherry Ice Cream very scoop-able hours after freezing.
You can scoop out cherry yumminess even the next day – if you have any leftover!
Print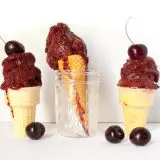 Simple Cherry Ice Cream: Better than 'Nice' Cream
---
Description
Just 3 ingredients plus frozen fruit for a super luscious and creamy treat – that's healthy!
---
1

(12-ounce) bag frozen dark sweet cherries

1/4 cup

sugar

1/3 cup

plain Greek yogurt (reduced-fat 2% or full-fat)

1/2 teaspoon

vanilla
---
Instructions
Remove the frozen cherries from the freezer and place on the counter to thaw slightly.
Place sugar in the food processor and process for 1 full minute to make the sugar granules very fine. (Place a kitchen towel over the food processor if the sugar dust begins to escape.)
Add the frozen cherries to the sugar and pulse until finely chopped, but not pureed.
Add the yogurt and vanilla and process until mixture is smooth.
Serve or place in a cold metal bowl and freeze until ready to use. Cherry Ice Cream will still remain 'scoopable' even after freezing over night.
Now here's a question, do you prefer cake cones or sugar cones? Have you ever made frozen fruit 'nice' cream?