Healthy Kitchen Hacks is a weekly series on Teaspoon of Spice. We share fellow bloggers' and our own favorite cooking shortcuts, kitchen tricks and "aha" ideas for making healthy meals a snap.
The last few pile of snow are melting around here and I'm gearing up for a St. Patty's Day parade this weekend. If you're catching spring fever, don't miss last Wednesday's green edition of Healthy Kitchen Hacks #6 – or our most popular Hacks post #5. Here's the full list:
Healthy Kitchen Hacks #1
Healthy Kitchen Hacks #2
Healthy Kitchen Hacks #3
Healthy Kitchen Hacks #4
Healthy Kitchen Hacks #5 – Homemade Protein Powder
Healthy Kitchen Hacks #6 – Green edition
Now, for this week's time-savers:
1) How to Use Regular Lasagna Noodles in No-Boil Recipes
via Sally @Real Mom Nutrition
I'm pretty sure I fell off my chair when I first read Sally's tip. What? No need to search out 'no-boil noodles'?? And no need to cook regular noodles first? As Sally explains, when using regular lasagna noodles in no-boil or slow cooker recipes, just add a little extra liquid. In my recipe, I added about 8-10 ounces of extra tomato sauce and covered my dish tightly with foil. The result was better than expected: No mushy noodles!
2) How to Keep Potatoes from Sprouting
via Jennifer @Peanut Butter & Peppers
Since it's almost St. Patricks Day, potatoes are on sale everywhere – so buy a big bag. But after you make Irish Colcannon or Deanna's Mashed Potato Donuts, keep the extra spuds from sprouting by storing them with an apple. I keep my potatoes in a dark cupboard in a brown paper bag and now…with an apple. No sprouting yet.
3) 5-Minute Homemade Mustard
via Rebecca @Strength & Sunshine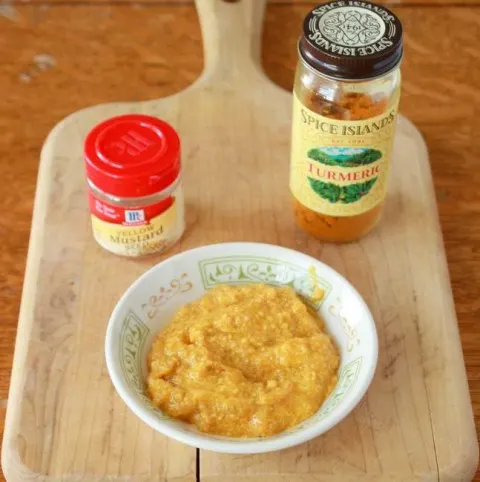 Spicy mustard is the classic condiment for corned beef and cabbage. And if you have mustard seed, you're set; the other ingredients are pantry staples. I used Rebecca's recipe – but didn't soak the seeds overnight as suggested. Instead, I just popped the mustard seeds, vinegar and water in the microwave for about 1 minute on high power. Then whizzed them with the other ingredients (and a sprinkle of salt.) Done.
4) How to Keep Parchment Paper from Rolling Up
I use parchment paper for lining the bottom of pans for my kids' birthday cakes, to quicken clean-up after roasting veggies or pumpkin seeds, and even for covering the table when kids use play dough. No more frustrated kids (or moms) from a piece of parchment that won't stay put: Just crunch it into a loose ball and then smooth out. It stays flat.
5) How to Make Homemade Jerky
Spring has almost sprung and that mean out door activities abound. Homemade jerky is a favorite on-the-go snacks. And yes, it really is easy: Just slice slightly frozen meat into thin slices, sprinkle with seasoning and roast in a low oven. Talk about protein-power. My kids (and husband) beg me to make this snack often.
Would you try any of these hacks? Any healthy kitchen or healthy living shortcuts to share? Shoot us an email ([email protected] or [email protected] ) or share below and we'll try them out.