Homemade Chai Latte Mix * Brands We Love * DIY Sparkling Water Bar * Magical Way to Get Kids to Eat Soup * Kitchen Sponges vs. Dishcloths: Which are Better?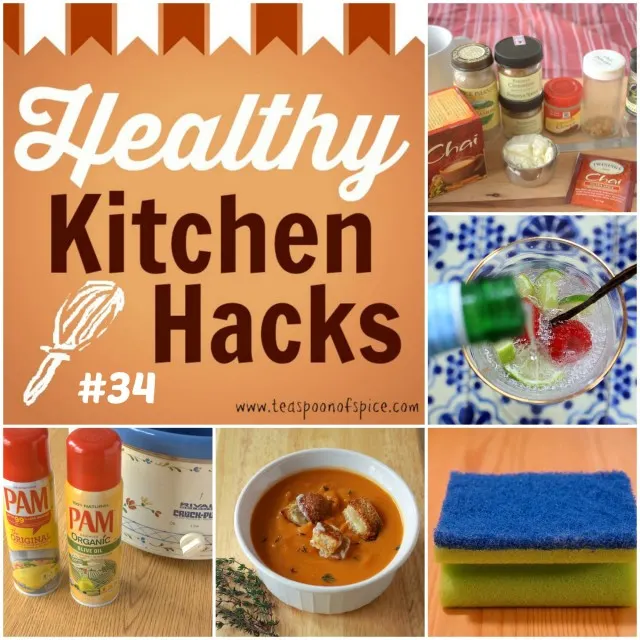 Here are this week's top 5 tricks that actually worked in my kitchen. I was inspired by a long-time reader to research 'how do I keep my dish sponges from going sour.' The answer surprised me! And speaking of inspiration: How about some new (easy!) drinks –> Hot and cold. I'm sipping one right now…
1) Homemade Chai Latte Mix
@Cooking Light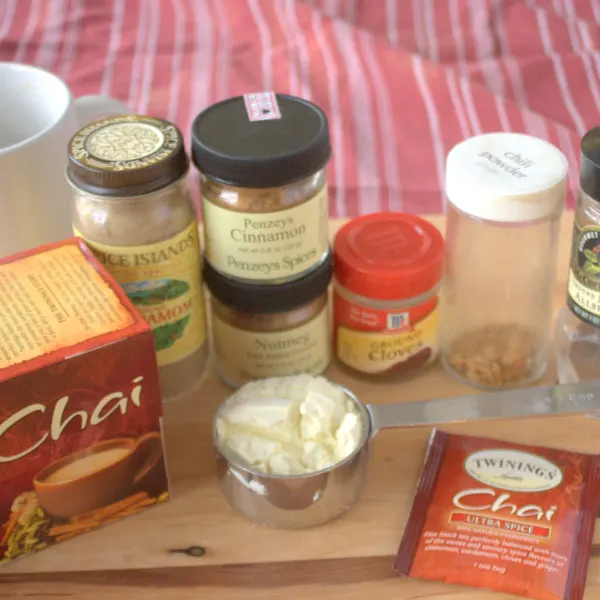 I adore chai lattes: Spicy, creamy…and full of sugar – so the coffee shop version is a like-once-a-year-treat. And it's tough to find a chai latte mix in the supermarket that doesn't contain non-dairy creamer plus a host of other manufactured ingredients…and lots of sugar.
Enter this DIY Chai Tea Mix from Cooking Light; just add to hot black tea. When made it, I left the sugar out so I could self-sweeten – and sometimes I didn't – as the spices were so nice they were all the sweet I needed.
2) The Magical Way to Get Kids to Eat Soup
My kids are pretty used to eating lots of soup in the winter time. I love that it's a great way to get them to eat their veggies from beans to zucchini. But occasionally they decide soup isn't for them.
That's when I whip together grilled cheese croutons. They are sort of a magic bullet to make the soup more fun. I let the kids add them themselves. And they get to (carefully!) dish up their own soup; usually this leads to more bites of soup.
3) Brands We Swear By: Pam Cooking Spray
From time to time, Deanna and I will offer a peak into our pantry to see the brands we actually use – a lot. Today it's: Pam cooking spray. Fed up with the sticky yellow residue I got on my casserole dishes when using sale-brands of cooking spray, I actually paid attention to a Pam commercial advertising "Our all-natural spray oil leaves up to 99% less residue".
And it's true. Now my slow cooker and rice cooker and casserole dishes are much easier to clean. (Disclosure: None! I've never attended a Pam or Con-Agra sponsored event or been asked to write about the company's products.)
4) Kitchen Sponges vs. Dishcloths: Which is Better for Preventing Bacteria Breeding?
@TheKitchn and @EatRight
The answer: Dishcloths are the safer option – if you launder them often, according to the Public Health Department inspector interviewed by TheKitchen.
I'll admit, after worrying about the freshness of sponges when my kids were babies, I ditched them and use dishcloths now. But if you still use sponges, here are tips from the Academy of Nutrition & Dietetics on the: Dos and Don'ts of Kitchen Sponge Safety.Kitchen Sponges vs. Dishcloths: Which are Better? Plus 4 more top #HealthyKitchenHacks via @tspcurry Click To Tweet
5) DIY Sparkling Water Bar
EA @Spicy RD Nutrition
Still trying to stay on track with that New Year's Resolution to cut sugary beverages? The Spicy RD has tons of: Simple Tips for Healthy Hydration including ways to make small changes and 'go halfsies.'
My favorite way to stay hydrated is to set up a DIY Sparkling Water Bar – even if it's just by keeping these ingredients together in your fridge so you can grab-and-go. I'll be ordering up one of these! –> Sparkling Water + Fresh Blueberries + Blood Orange Wedges + Fresh Basil
Would you try any of these hacks? Do you have healthy kitchen or healthy living shortcuts to share? Shoot us an email ([email protected] or [email protected] ) or share below in comments and we'll try them out.