Healthy Kitchen Hacks is a bi-weekly series on Teaspoon of Spice. We share fellow bloggers' and our own favorite cooking shortcuts, kitchen tricks and "aha" ideas for making healthy meals and healthy living a snap.
It's hot.
So, cool treats have been 'in season' at our house. And using these hacks, I've been able to keep things light and refreshing.
Because when you're looking for a treat, there's no reason they can't be sweetened mainly by nature, small-and-satisfying, and full of fruit. (For more 'fruity' hacks, see Deanna's #HealthyKitchenHacks edition on peeling and prepping summer fruit!)
And you may just find you'll use a few of these hacks all year long!
1) Right Bite Your Ice Cream Sandwich
via @The Boston Globe
Since summer ice cream 'season' began, I've been wanting to try out this hack: Slice a paper container of ice cream with a serrated knife to make an easily stack-able ice cream sandwich. These how-to pics demonstrate the trick using a pint-sized ice cream container, but I found that slicing a 4-ounce single-serve container produces ice cream slices that fit neatly between two graham crackers. Voila: Portion-controlled creamy treat sandwiches.
2) What to do with Leftover Wine
via Patricia @Rubarbarians
Got leftover wine? Make wine pops! These frozen treats are beyond refreshing with just 3 ingredients: Leftover Pinot noir, 100% juice (I had white grape juice), and fresh blackberries. With a wine pops recipe this easy, these treat make the perfect pick-me-up for adults while the kids are cooling off with Watermelon Ice Pops and the like.
3) How to Prevent Freezer Burn on Ice Cream and Frozen Yogurt
While we don't always have containers of ice cream or fro yo in the freezer, when we do, this trick works like a charm to keep away freezer burn: After scooping a scoop or two, just press parchment paper onto the surface of the ice cream. The paper acts as a barrier and prevents the freezer from 'pulling' out moisture – causing freezer burn.
5) Mess-Free Way to Dip Chocolate
via Janice & Liz @MealMakeoverMoms
Where has this hack been all my chocolate-dipping-life? This pic is usually how messy chocolate dipping ends up in my house:
But the Meal Makeover Moms promise this chocolate dipping process to be (almost) mess-less – and they're right! By using an appropriate dipping tool AND the right way for melting chocolate – messes are kept to a minimum. (But no worries, there will still be an opportunity to lick a few fingers!)
And for a bit bigger project, try out our favorite Frozen Banana S'Mores.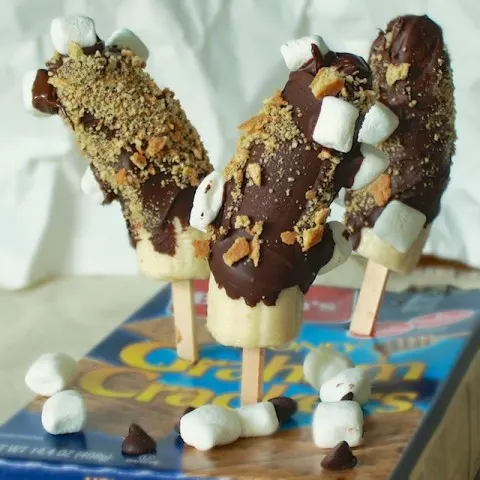 5) How to Make Extra-Creamy Frozen Yogurt or Ice Cream Without an Ice Cream Maker
via @ HealthMagazine
The process of using an ice cream maker whips air into frozen yogurt so it's scoopable and extra creamy. But with this easy but brilliant technique, you can turn your food processor into a lean, mean ice cream making machine. I tried the process out with Deanna's recipe for Honey Frozen Greek Yogurt. Oh, man. Talk about creamy!
The Cool Treats Edition of #HealthyKitchenHacks - 5 hacks for 'right' bites
Click To Tweet
Would you try any of these hacks? Any healthy kitchen or healthy living shortcuts to share? Shoot us an email (ddaly(at)teaspooncomm.com or sball(at)teaspooncomm.com ) or share below and we'll try them out.