Healthy Kitchen Hacks is a bi-weekly series on Teaspoon of Spice. We share fellow bloggers' and our own favorite cooking shortcuts, kitchen tricks and "aha" ideas for making healthy meals and healthy living a snap.
Today's edition of #HealthyKitchenHacks is full of summer fun. If you're party planning for 4th of July, don't miss the 'blue' Blueberry Soda and the trick for keeping cool when making (the BEST) baked beans.
And speaking of 4th of July, the saying goes "Corn should be knee-high by 4th of July" but I've already seen bushels of it at Farmers Markets – so consider freezing it fresh off the cob with the hack.
Hope you're having a fun summer – I know I had lots of fun testing out these hacks!
1) No-Bake Baked Beans
via Melissa @StockpilingMoms
Don't turn on the oven! Use the slow-cooker instead. Pinterest is bursting with "Summer Slow-Cooker Recipes". And on one of those recipe collages, I found this tip for baked beans in the slow cooker. I was surprised the beans came out nicely browned and crusty on top – just like from the oven. I made the recipe a bit healthier by:
First draining and rinsing the kidney and Great Northern beans
Decreasing barbecue sauce to 1/2 cup; adding 1/2 cup water
Skipping the ground chuck
2) Low-Sugar Fruit Soda
via Jen @YummyHealthyEasy
I told my kids, "We're making homemade soda today." They checked the calendar to see if it was April Fool's Day! (We pretty much never have soda in the house.) But I love this hydrating idea for Blueberry Soda using just a tad of sugar, lemon juice and fresh seasonal blueberries. By decreasing the lemon juice to just 5 tablespoons, I was able to reduce the sugar to only 1/2 cup. I used about 1 1/2 teaspoons of blueberry mix per 12 ounces soda water. Antioxidant-rich, refreshing soda – yes please! (I subbed peaches into Jen's recipe for delicious peach soda.)
3) Baked Donuts without a Donut Pan
via Karlynn @TheKitchenMagpie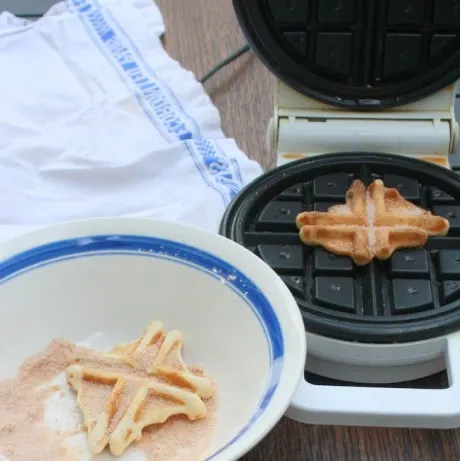 The baked donut craze has certainly made it passé to make homemade donuts fried in a pot of grease. But I'm pretty sure I'm the only food blogger without a donut pan. So I've been unable to try out Deanna's Mashed Potato Baked Donuts or Carrot Coconut Baked Donuts. Until now. When I discovered from Karlynn you can make a baked donut recipe in a waffle iron. I tried out on Lindsay @TheLeanGreenBean 's (lower-sugar) Baked Mini Donuts recipe – and they were delish.
4) How to Freeze Fresh Corn
This is by far the best way to freeze fresh corn to avoid freezer burn. Plus with these tips you can have individual-quick-frozen kernels – like found in supermarket bags – instead of a big massive clump of frozen corn.
5 new #HealthyKitchenHacks for summer: Blueberry Soda, freezing corn, no-bake Baked Beans via @tspcurry
Click To Tweet
5) Tricks for Using Bread Heels
via Rebekah @SimplyRebekah
Rebekah shares 12 Ways to Use the Heel from a Loaf of Bread. And my favorite is to use it to clean/soak up excess fat in a pan after sauteing meat – be it ground turkey or bacon. (Yes we dietitians eat bacon occasionally! Like this picnic-perfect salad: Praline Bacon & Broccoli Salad with Raisins)
Before, I used paper towels to sop up grease – only to have tiny shreds of paper towel stuck to my cast iron skillet. Not cool. Use the smooth heel side for sopping fat to avoid crumbs stuck to the pan.
Want more hacks? Click on Healthy Kitchen Hacks for a listing of all our past trick and tips.
Would you try any of these hacks? Any healthy kitchen or healthy living shortcuts to share? Shoot us an email (ddaly (at) teaspooncomm.com or sball (at) teaspooncomm.com) or share below and we'll try them out.