Make this traditional treat – Grandma's Peach Kuchen -topped with creamy homemade vanilla custard and fresh peaches. It's the recipe made famous by my German grandma – and a small bakery in North Dakota!
In the middle-of-nowhere North Dakota, in the town of Ashley, the bakery Grandma's Kuchen bakes up 350 homemade kuchens a day – in a garage. And apparently, Grandma's bakes a peach kuchen that is as delicious as my own grandmother's famous Peach Kuchen. Here's how I know.
My parents drove through Ashley last week after hearing about Grandma's Kuchen. They bought a peach kuchen and a raspberry one; and ate the peach one – all of it – while driving down the road. Luckily they were only a few miles away when they turned around and went back to Grandma's Kuchen to get a raspberry-rhubarb kuchen, a cherry one, and another peach kuchen. They were that good.
My Mom called me from the car (when they again had cell reception in middle-of-nowhere North Dakota) and told me she had found THE perfect peach kuchen – and sent me these photos. And she reminded me of our shared quest to recreate my own grandma's peach kuchen (her mom's.)
Story behind the recipe
Years ago, I asked Mom for that peach kuchen recipe, but she said she's thrown out Grandma's Famous Peach Kuchen recipe! She said got frustrated with how inconsistent the recipe was; my grandma baked mainly from 'look and feel and memory,' not recipes.
So I've been trying to recreate my Grandma's Peach Kuchen for almost 5 years. I've scoured hundreds of recipes. 'Peach kuchen' is literally translated as peach 'cake', so peach kuchen means something different to every baker. Traditional breakfast treat from my German grandmother: Grandma's Famous Peach Kuchen @TspCurry Click To Tweet
But the peach kuchen of my fond childhood memories had a thick, slightly-sweet yeast-bread 'crust' that was covered in about 1/2-inch of homemade vanilla custard (Grandma made it with fresh cream from the cow!) and fresh peaches, and then was baked. Other recipes I found had everything from cookie-like shortbread to poundcake to baking-powder-leavened quick bread for the 'crust'. And it's really tricky to get the custard to set up and get done in time before the yeast bread gets overdone and tough. Plus the custard soaks into the soft bread dough leaving a skimpy skim of custard – not the 1/2-inches of creamy thick custard.
But this year, I finally got it right!
Kuchen baking tips
That was thanks to a few tricks for baking a custard pie I learned from one of my favorite podcasts: Milk Street. I applied them to this kuchen:
Pre-bake the 'crust' for a few minutes to keep the custard from soaking into the bread. (This is optional. I decided I liked the moist bread + custard center. So I did NOT pre-bake it – but if you do, I suggest baking for about 5 minutes.)
Cook the custard on the stove to get it hot, and starting to thicken, before it goes into the oven. Then it will get done in time.
Added the peaches at the end of the custard cooking time to warm. (I didn't the first couple times and they cooled the custard down enough so it STILL didn't get done.)
Here's the recipe for Grandma's Peach Kuchen – or you could drive the 534 miles from Billings, Montana like my parents did.
Print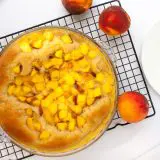 Grandma's Famous Peach Kuchen
---
Author:

Yield:

8

servings

1

x
Description
Make this breakfast filling breakfast bread that's topped with dreamy, creamy homemade vanilla custard and fresh peaches. It's the recipe made famous by my grandma – and a small bakery in North Dakota!
---
2 1/4

–

2 1/2

cups all-purpose flour, divided (See note)

1

package active dry yeast

3/4 cup

2%-milk

2 tablespoons

sugar

1/4 cup

butter

1/2 teaspoon

table salt

1 cup

whole wheat pastry flour (or white whole wheat flour)

2

eggs

1

egg yolk
For the vanilla custard
2

eggs

1/3 cup

sugar

2 1/2 tablespoons

all-purpose flour

1/8 teaspoon

freshly grated nutmeg, plus more for serving

3/4 cup

2%-milk

1 1/2 cups

chopped peaches, unpeeled (about

2

medium)

1 teaspoon

vanilla
---
Instructions
In a large mixing bowl, stir together 1 3/4 cup of all-purpose flour and the yeast. In a medium saucepan heat and stir milk, sugar, butter, and salt just until warm (about 110-degrees Fahrenheit). Add milk mixture to dry mixture along with the eggs and egg yolk. Beat with an electric mixer on low for 30 seconds, scraping down the sides. Beat on high for 3 minutes. Using a wooden spoon, stir in as much of the remaining 1/2 cup all-purpose flour and the 1 cup of whole wheat flour as you can.
Turn the dough out onto a lightly floured counter. Knead in enough of the remaining flour to make a moderately soft dough that is smooth and elastic (3 – 5 minutes total). Shape the dough into a ball. Place dough in a lightly greased bowl, turning once to grease the top. Cover; let rise in a warm place till double in size (about 1 hour).
Gently deflate/punch the dough down. Divide the dough in half. Refrigerate or freeze one half of dough. Place the other dough ball into a greased 9.5-inch glass pie plate and let rest for 10 minutes. Then gently stretch it to fit the plate, molding it up the sides of the plate into a 'pie crust.' (It won't be a beautiful crust, and it may not even go up the sides very well; that's okay.) Cover and let rise for 30 minutes.
Meanwhile, for the filling, in a medium saucepan, lightly beat eggs with a fork. Stir in sugar, flour, and nutmeg. Gradually stir in milk. Cook over medium heat for about 4 minutes until the sugar is dissolved and mixture is hot (about 140-degrees F), stir in peaches and cook for about 2 minutes more to warm peaches. Stir in vanilla. Pour milk mixture into the prepared crust (after it's raised 30 minutes,) it's fine if some of the filling seeps under the crust. Bake in a 350-degree oven for 20-25 minutes until set. The very center of the kuchen will still be slightly liquid-y; this is okay as the kuchen will continue to firm from residual heat after removed from the oven. Cool completely and serve at room temperature, topped with additional freshly grated nutmeg.
Notes
If you use an electric stand mixture with a dough hook, this recipe will likely need about 3 1/4 cups total of all-purpose and whole wheat flours. If you knead the dough by hand, it will likely need about 3 1/2 cups (or slightly more) cups total of flour. Using an electric stand mixer is the preferred method.