Thanksgiving cranberry sauce is often a polarizing side at Thanksgiving.
It seems you are either in the "I love it" camp or "I do not care for it" camp. I was in the latter camp for many years until I discovered cranberry sauce options outside of the canned version that you can slice with a knife.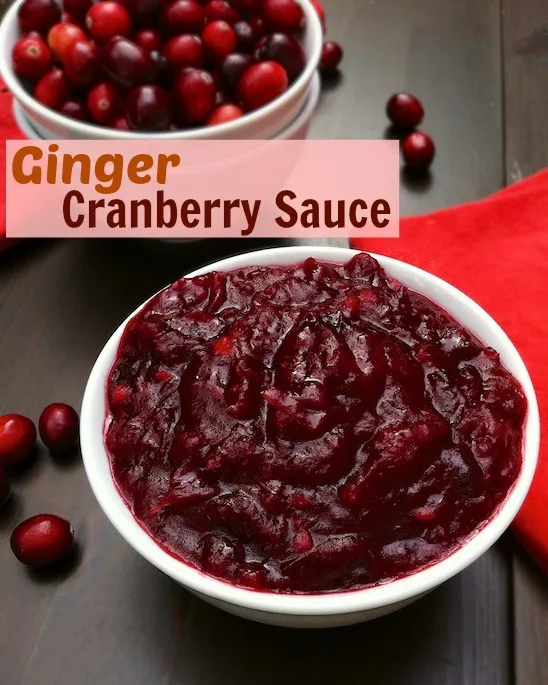 Point is, if you've never had cranberry sauce beyond the can, I urge you try the homemade version. It's super simple to make and versatile, too.
Print
Ginger Cranberry Sauce
---
Description
Add ginger to your homemade cranberry sauce to make it extra special.
---
12 ounce

bag (about

3 cups

) fresh cranberries

3/4 cup

water

1/4 cup

orange juice

2/3 cup

honey

2 teaspoons

minced fresh ginger

2 teaspoons

orange zest
---
Instructions
Rinse cranberries and add to medium pot. Add water and orange juice, bring to a boil.
Reduce to a simmer, add in honey and ginger, mix well. Cook for 10 – 15 minutes – cranberry skins will start popping and the flesh will start to cook into a sauce.
Remove from heat and let sit 5 minutes. Mix in orange zest.
Notes
If you want a smoother sauce, mash with a potato masher.
If you aren't into ginger, leave it out. Or add a cinnamon stick instead. Swap orange zest for lemon. Make it your own new Thanksgiving tradition. Or perhaps your new favorite sandwich spread.
Beyond the sauce, here are a few of Serena's & my favorite cranberry recipes:
Holiday Cranberry Cake – A fairly healthy dessert when it comes to cake & holidays!

Festive Cranberry Whip – Another holiday recipe – a tradition in Serena's family for generations.
Cranberry Lemon Curd – A yummy spread that doubles as a creative, homemade gift.

And some more creative cranberry recipes from around the blog-o-sphere:
Pickled Cranberries – Amanda @ Phickle
I'm so intrigued by these (plus I kind of adore the name of this fermented food blog written by a Philly gal.)
Cranberry Whole Wheat Muffins – Lindsay @ The Lean Green Bean
Not only are these easy to whip up, Lindsay's post is a great read on the nutrition benefits of the all-American cranberry.
Pumpkin Spice Milkshake with Cranberry Sauce Swirl – Joanne @ Eats Well Well Others
Let's just say this is the next thing I'll be whipping up in my blender.
Slow Cooker Cranberry Sauce – Annmarie @ Real Food. Real Deals
Another way to make a batch of homemade cranberry sauce (what can't you make in Crockpot, right?)
Almond Cranberry Quinoa Bowl – Janice & Liz @ Meal Makeover Moms
Get out of your oatmeal rut with this yummy breakfast recipe.
20 Healthy Cranberry Recipes – Katie @ Healthy Seasonal Recipes
And if you want to continue to drool over more delicious, nutritious cranberry recipes, Katie has you covered here.
Do you like cranberry sauce? Canned or homemade? Any favorite cranberry recipes to share?