Roasted broccoli and white pizza toppings (ricotta, mozzarella and Parmesan) stuffed into whole wheat dough become homemade calzones that are pizza-parlor-worthy.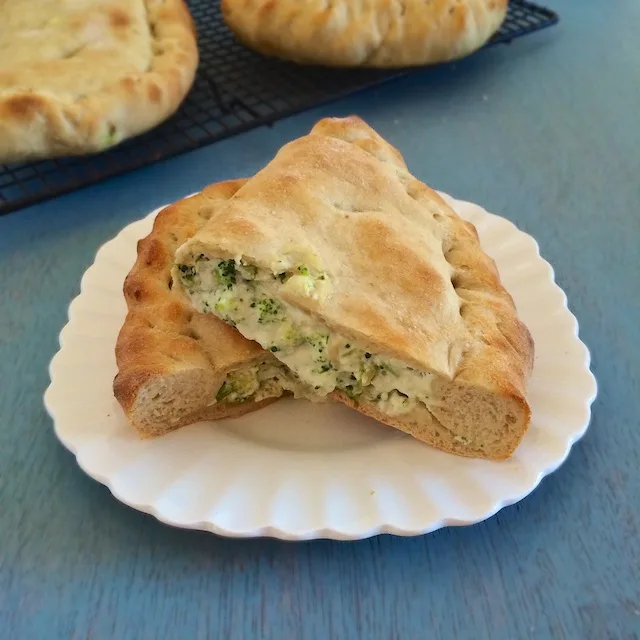 Pizza, calzones, stromboli, stuffed bread – I love 'em all.
While my family has our favorite local pizza places – Cenzo's and Pica's (<— Tina Fey's favorite) that we order from almost weekly; just as often, we're making pizza at home.
After years of adapting homemade pizza recipes – like here – and consulting my copy of Cook's Illustrated: The New Best Recipe Cookbook (which my mom got for me at a garage sale and I reference all the time) – I think I've finally developed a decent dough. The ratio of bread flour to white whole wheat flour is just right – and I can feel good about it nutritionally and tastebud wise.
For me, pizza dough making (and bread making for that matter), isn't really complicated, you just need time anytime you are working with yeast (unless you use this 4 Ingredient No-Rise Pizza Dough Recipe.)
Time to let yeast proof. Time to let dough rise. (Time to make the donuts <—80s reference.)
I usually make a double batch and then freeze individual dough balls vs. one big ball of dough to make defrosting easier and to have on hand when anyone in the family has a pizza craving.
#KidsInTheKitchen Bonus: My 7 year old loves to roll out the individual pizza dough for each family member and gather everyone's custom toppings order. This is also a great lunch for when she has a friend over; they really get into making their own pizzas.
For this recipe, I looked to Cook's Illustrated again on the best tips for making calzones. A few pointers I picked up:
Twist and tightly roll the seam shut (making sure it's firmly sealed)
Make slits with knife to create air vents (prevents calzone explosions)
Cool calzones on a rack
Print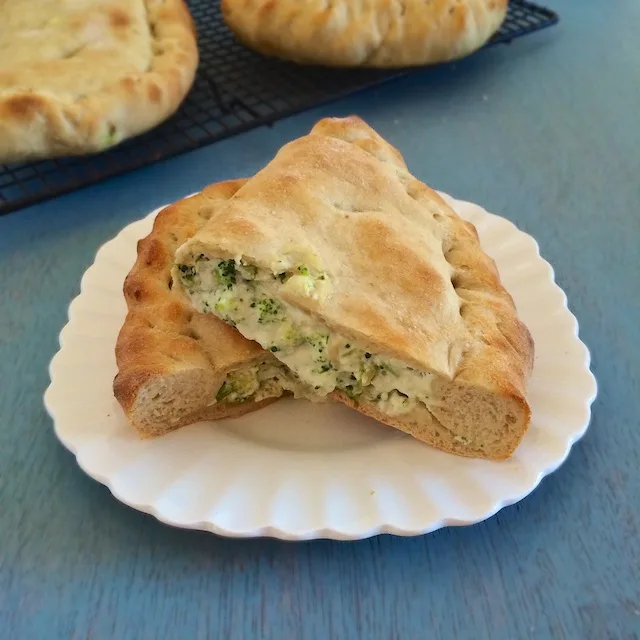 Broccoli Ricotta Calzones
---
Author:

Yield:

6

calzones.

1

x
Description
Roasted broccoli and white pizza toppings (ricotta, mozzarella & Parmesan) stuffed into whole wheat dough become calzones that are pizza parlor worthy.
---
For pizza dough:
1

package yeast

1 teaspoon

sugar

1 3/4 cup

warm water

2

–

2 1/4

cups bread flour

1 cup

white whole wheat flour

1/4 teaspoon

salt
For broccoli ricotta filling:
4 cups

finely chopped broccoli

2 tablespoons

olive oil

2

cloves garlic, minced

1

(15 ounce) container part-skim ricotta cheese

4 ounces

fresh mozzarella, diced

1/2 cup

grated Parmesan or Romano cheese

1

egg

1/2 teaspoon

red pepper flakes
---
Instructions
In large mixing stand bowl, add yeast, sugar and 1/2 cup water water. Let sit for about 5 minutes until yeast dissolves and starts to foam.
Slowly add in remaining water, 1 1/2 cups bread flour, white whole wheat flour and salt. Using dough hook (or wooden spoon if not using stand mixer), mix together ingredients, adding the remaining 1/2 – 3/4 cup bread flour, a few tablespoons at a time as needed. Once the dough comes together, allow the dough hook to continue to knead the dough for about 5 minutes, then knead into a ball by hand (or if kneading by hand, turn out onto a floured surface and knead for about 5 minutes.)
Coat mixing bowl with cooking spray and add dough ball back. Cover with plastic wrap and a dish towel. Let rise for about 1 1/2 – 2 hours.
If using pizza stone, place in oven on lowest rack. Preheat oven to 450 degrees Fahrenheit.
In a bowl, mix together broccoli, olive oil and garlic. Spread out on roasting tray and cook for about 5 minutes. Remove from oven and cool slightly.
Turn up oven to 500 degrees.
In same bowl, add back in broccoli, ricotta, mozzarella, parmesan, egg and red pepper flakes. Mix together until all ingredients are incorporated.
Punch down down dough and divide into 6 sections. For each calzone, roll into a 9-inch circle and spread about 1/2 cup of broccoli mixture over half of circle, leaving an 1-inch lip. Fold over dough and twist together edges to seal. Press seal down firmly to make sure calzone is fully sealed.
With a knife, cut 3 – 4 air vents diagonally over top of calzone. Place 3 calzones on parchment paper on a pizza peel or on a baking tray (if you don't have a peel or pizza stone.)
Place parchment with calzones on pizza stone in oven or if you don't have a pizza stone, place tray on lowest rack.
Bake for about 10 minutes until golden brown. Let cool on rack for about 5 -10 minutes before serving. Bake remaining 3 calzones.
Are you a pizza lover? What are your favorite toppings (or stuffings)? Do you ever make homemade dough?