A fancy appetizer of stuffed dates can be super-quick when stuffed with aged Cheddar cheese and served with a savory-sweet orange fennel sauce:  Cheddar Stuffed Dates with Orange Fennel Sauce. ~ by Serena Ball, MS,RD
Stuffed dates are the perfect simple appetizer. They can be:
Simple or fancy-pants-to-impress
Throw-together-in-8-minutes or a bit more complicated
Hot or just-chillin'
Sauced or not
But what's the best way to actually stuff them? I did lots of tasting and testing and here's what I found:
Use kitchen shears to snip open one side of the date.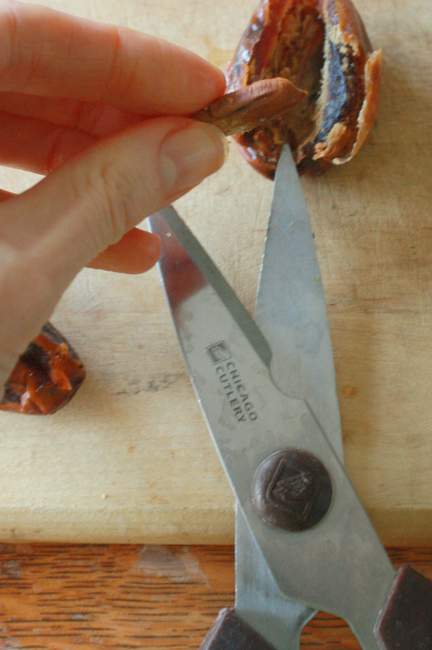 Which variety of date is best to stuff?
That depends on whether you want 'just one bite' or 'a few luscious bites of date + stuffing.' If you're going to serve the stuffed date on the end of a toothpick, smaller, less-sweet Deglet Nour dates work better because they're small enough to pop into your mouth. But for finger-food or fork-food, use larger, plumper, sweeter Medjool dates which will yield a few bites.
Should a solid cheese or spreadable cream cheese be used?
For the fastest app, use a boldly flavored solid cheese like a wedge of blue cheese (not blue crumbles,) Manchego, or aged Cheddar. Just slice and tuck it into the date. Slice about ¼-inch x ¾-inch bricks for smaller Deglet Nour and ½-inch x 1 1/2-inch for Medjool dates. A cream cheese mix takes a bit longer because the same amount of cheese has to be measured out and then scraped off a spoon into the date. (But of course if you have the time, the taste is melty-yummy and can be customized to a variety of flavor combos.)
Sauced or not?
First the no-no's: Never cold. Cheese and dates are both more flavorful at room temperature. Cream cheese stuffed dates can be served without sauce – but any saucy stuffed date is something really special. I will never, ever forget the blue cheese stuffed, bacon wrapped dates in a red pepper and smoked paprika sauce that I had at a Spanish tapas restaurant. And this Orange Fennel Sauce makes these cheese-stuffed dates pretty unforgettable. It can be served hot – and kept warm with a sterno candle lamp on a buffet table – or can be served room temp.
For serving, fork or toothpick?
If Medjool Dates are used, try to find cute little cocktail forks or those small seafood forks. If small dates are used, toothpicks are fine.
Wrap them in bacon or prosciutto?
Yes. And yes!
Print
Cheddar Stuffed Dates with Orange Fennel Sauce
A fancy appetizer of stuffed dates can be super-quick when stuffed with aged Cheddar cheese and served with a savory-sweet orange fennel sauce.
Ingredients
25

small dates or

15

Medjool dates

2

–

3

ounces aged Cheddar cheese (I used Cabot Legacy Alpine Cheddar )

1/2 teaspoon

fennel seeds

4

oranges

1 1/2 tablespoon

cornstarch

2 teaspoons

honey

1 tablespoon

dry white wine (optional)

1/4 teaspoon

Kosher salt
Instructions
Using kitchen shears, slice open one side of date. (if pitted remove pit)
Cut cheese into date-sized sticks; about 1/4-in x 3/4-in for small dates OR 1/2-in x 1 1/4-in for Medjool dates. Set aside.
Place fennel seeds in dry skillet over medium heat and toast for 5 minutes – being cautious not to burn. Set aside.
Zest 1 orange into a medium bowl. Using a knife, remove peel of the zested orange plus 1 more orange. Cut orange into bite-sized pieces.
Juice 2 more oranges. Add water to orange juice to yield 1 1/3 cups juice.
In a medium saucepan, whisk together orange juice, cornstarch, honey and optional wine. Bring to a boil over medium-high heat, stirring constantly. Cook 2 minutes more over medium heat until thickened. Stir in fennel and salt.
Serve orange sauce with dates or nestle dates in sauce and serve with toothpicks/forks alongside.