Welcome to our first ever Healthy Kitchen Hacks Holiday Gift Guide!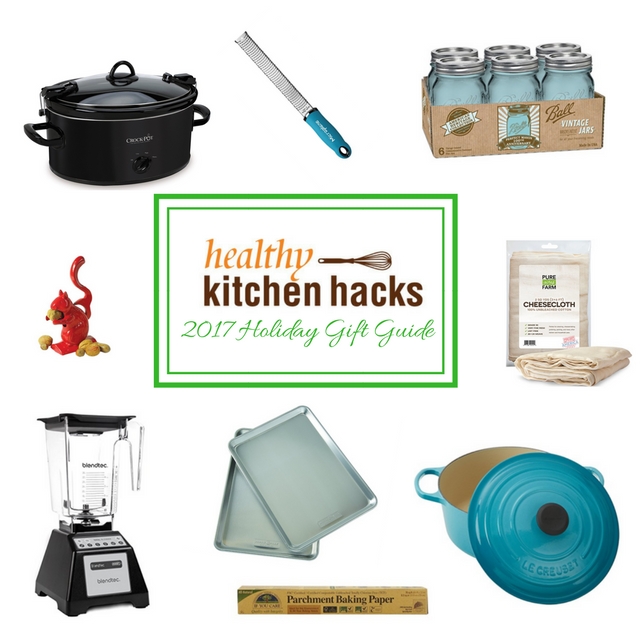 [This post contains Amazon Affiliate links. If you purchase a product through these links, your cost will be the same but we will receive a small commission to help with operating costs of Teaspoon of Spice.]
We're sharing our favorite kitchen tools, gadgets, and equipment that can help you cook more efficiently, nutritiously and deliciously. This list includes both practical items along with a few bigger ticket items if you want to splurge for a loved one…or yourself… this season.

PARCHMENT PAPER
Serena recommends: If You Care FSC Parchment Baking Paper
Other recommendation: Pre-Cut Parchment Paper Sheets
MICROPLANE
We both recommend: Microplane Classic Zester/Grater
For some kitchen color, check out: Microplane Classic Zester/Grater in Turquoise
PINT SIZE MASON JARS
Deanna recommends: Ball Pint Jar (Set of 12) or Ball Pin Jar (Set of 2)
For more kitchen color: Ball Jar Heritage Collection Pint Jars (Aqua)
SHEET PANS
Amazon best seller: Nordicware Natural Aluminum Commerical Baker's Half Sheet
Deanna bought the set: Nordicware Natural Aluminum Commerical Baker's Half Sheet (set of 2)
SLOW COOKER
Serena recommends: 4-Quart Manual Slow Cooker and 6-Quart Crock-Pot Manual Slow Cooker
Amazon's best seller: 6-Quart Crock-Pot Programmable Cook & Carry Slow Cooker with Digital Timer
My (Serena's) 4-quart Crock Pot is still going strong after 17 years (yay for Crock Pots!) but I just bought an additional larger one to help feed my family of 4 growing children (and for entertaining.)
Try these Slow Cooker Healthy Kitchen Hacks:
CHEESECLOTH
Deanna recommends: Pure Grade Unbleached Cotton Cheesecloth
The main reason I (Deanna) always have cheesecloth on hand is to make ricotta. It's so easy – as long as you have that cheesecloth in your pantry. Here's How To Make Homemade Ricotta in less than 15 minutes!
NUTCRACKER
Serena recommends: Hungry Harvey Squirrel Nut Cracker
DYK that nuts in their shells are less expensive than shelled nuts?
Originally received as a joke from my sister, my (Serena's) kids LOVE to use it and they can now identify every in-shell nut.
Extra bonus: it takes a little more time to crack the nuts yourself so you automatically slow down when snacking!
Try this Healthy Kitchen Hack after you crack those nuts: How Not to Burn Nuts.
TOTALLY WORTH-IT BIGGER TICKET ITEMS:
HIGH-POWERED BLENDER
Deanna recommends: Blendtec Total Blender Classic with WildSide+Jar (Certified Refurbished)
Amazon best seller: Ninja Professional Blender
I (Deanna) wanted to get a Blendtec for years (I prefer the Blendtec dull blade vs. Vitamix's sharp blade) but the price tag always eluded me. The answer: Buy a refurbished model for close to 1/2 of the price of a new model, which I did a few months ago and I haven't looked back.
So what does Certified Refurbished mean?

Tested and certified by Blendtec or a third-party refurbisher to look and work like new
Process includes functionality testing, inspection, reconditioning and repackaging
Includes a 3-year manufacturer's warranty
Use it for….everything! Try these Healthy Kitchen Hacks for your new blender:
DUTCH OVEN
If you want to splurge, Deanna recommends: Le Creuset 5-1/2-Quart French (Dutch) Oven
More economical (and highly rated) choice: Lodge Enamel Dutch Oven -6 Quart
My (Deanna's) Dutch Oven and Slow Cooker are the reasons I'm NOT interested in buying an Instant Pot. I got my Le Creuset Dutch Oven (color: Honey) as a wedding gift and 13 years later, it continues to be THE workhorse pot in my kitchen. It works on both the stove top and in the oven.
Use it to make everything from chili, to soups, to whole grains, to casseroles, to sauteed greens and more. My favorite Dutch Oven recipes:
Which other kitchen tools are on your wish list this year? Let us know below or pop over to our Facebook page and join the conversion!