Years ago, my grandparents would take their young family on camping trips in their wood-paneled station wagon; when they arrived at a campground, Grandma asked Grandpa to drive all around until they found a still-smoldering campfire. Once found, she would pull out the marshmallows, chocolate, graham crackers and wire coat-hanger-roasting-sticks. S'mores always came before the tedious tent set-up. Grandma was known as the S'mores Queen.
Thus in my family, Summer = S'mores! Lots and lots of S'mores.
So when thinking about another way to eat s'mores I looked to see what I had in my kitchen – how about bananas? Frozen!
After researching a bit to find the best chocolate dip (milk chocolate vs. dark chocolate, or oil vs. no oil in the melted chocolate), I think the following recipe is the most delicious. I discovered the easiest way to get the chocolate on the banana (most recipes don't tell you the chocolate tends to seize up on the banana if not done as below with a spatula.) I also learned that warm chocolate is the best way to 'glue' marshmallows onto the already hard chocolate + graham crackers.
Kids will love these (of course!) But as an adult, I have a brand new affection for chocolate covered frozen bananas – and only partly because they remind me of the S'mores Queen! Dark chocolate shell over not-too-sweet bananas …with the kicker being the frozen marshmallows. When is the last time you ate a frozen marshmallow?? (In your college days, during the fat-free-desserts fad?) I'm serious, frozen marshmallows are nearly as good as the golden, toasted kind: Gooey in a chewy way! Grandma would have adored this way to eat a s'more.
Print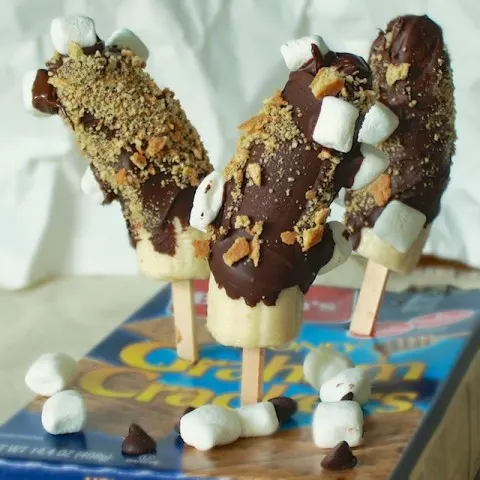 Frozen Bananas S'mores
---
Description
Frozen bananas kicked up a notch by the addition of graham crackers and mini-marshmallows; so simple and so yummy.
---
3

bananas, peeled and cut in half cross-wise

6

wooden craft (ice pops) sticks

1

sheet graham crackers, thoroughly crumbled

3/4 cup

miniature marshmallows

1 cup

semi-sweet (or dark) chocolate chips

1/2 teaspoon

canola oil
---
Instructions
Insert 1 stick into cut-side of each banana half and freeze on parchment paper (or aluminum foil) lined baking sheet for 20 minutes.
Meanwhile, place graham cracker crumbs on plate on your counter or work space.
Place marshmallows on another plate.
Place chocolate chips and oil in a metal bowl over simmering water to melt. Stir frequently during melting with a clean dry rubber scraper. (Alternately melt chocolate and oil in microwave on 50% power until melted.)
Turn off burner with simmering pot of water; scrape chocolate onto large sturdy glass plate and place plate over steaming water to keep chocolate warm while dipping bananas. (Or just warm the plate by running hot water over it and drying thoroughly before scraping chocolate onto plate.)
Roll frozen bananas in chocolate and using a flat edged rubber scraper, evenly smooth chocolate onto banana in as few strokes as possible (to avoid the problem of chocolate not sticking to the bananas.)
Working quickly before chocolate hardens, lightly roll banana in graham cracker crumbs.
Dip each marshmallow in chocolate and place on top of the graham cracker crumbs; use about 5-6 marshmallows per banana.
Place banana back on parchment paper lined baking sheet and repeat with remaining bananas.
Freeze for at least 30-45 minutes. Serve, or place in a large plastic zip-topped freezer bag. Before serving, allow bananas to thaw for about 5 minutes at room temperature to prevent chipping a tooth when biting into frozen banana.
How do you like to eat s'mores? When was the last time you ate frozen marshmallows? (: