Disclosure: I received free FNCE registration in exchange for writing this post. I also received samples from some of the companies mentioned below. All my opinions are my own.)
Curious about what you may see at your grocery store (and outside it) in 2017? A few week ago, I got a glimpse into the future.
Serena and I attended an annual nutrition conference affectionally referred to as FNCE – acronym for the Food & Nutrition Conference & Expo in Boston. It's typically a whirlwind of tours (we got to walk in a cranberry bog on an Ocean Spray Harvest sponsored trip), receptions, educational sessions and catching up with many colleagues and friends – and this year was no exception.
But one of our favorite things to do at FNCE is to walk the Expo floor and see the latest and the greatest in food and nutrition products, services and innovations (here's Serena's 6 Nutrition News Bites You May Have Missed from FNCE 2015.) We often feel like detectives over the course of the four days, discovering the common trends and themes coming into the market.
5 Healthy Food + Nutrition Trends You'll Be Seeing More of in 2017 #fnce via @tspbasil
Click To Tweet
Here are my five favorite nutrition trends and food finds I saw at this year's Expo:
Fermented Products For Good Guts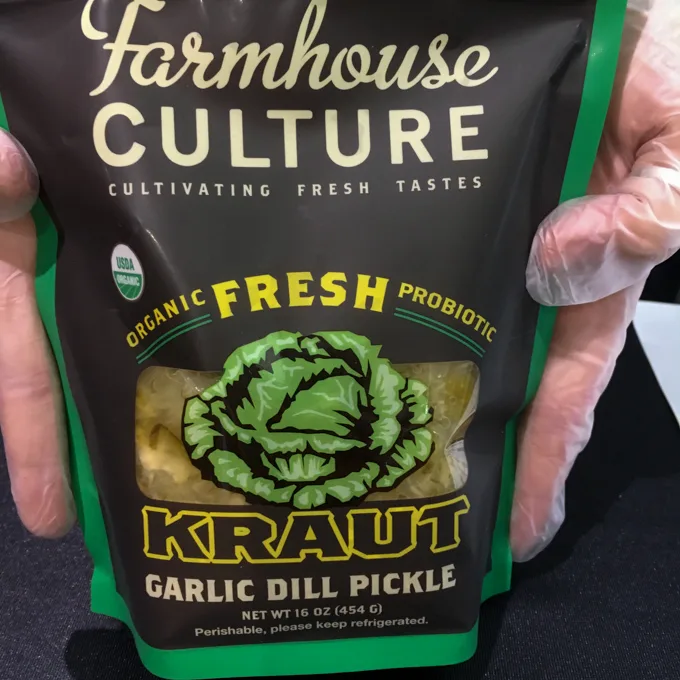 The first booth I visited was Farmhouse Culture and was immediately drawn to their variety of fresh krauts, kimchi and "gut shot" fermented drinks (which feature the juice from fermented veggies) – my fave was the Ginger Beet Gut Shot as Serena samples here.
Gut health continues to be an emerging and enthusiastically discussed topic in the nutrition world because we are just at the tip of the iceberg of understanding the many ways our microbiome (the bacteria that lives in our gut) functions. What we do know is that eating more fermented, probiotic-rich foods – like sauerkraut, yogurt, kefir, tempeh and miso – can help keep your gut healthy and thriving.
To learn more on this topic, read 3 Easy Ways To Improve Your Gut Health.
Sorghum: The New "It" Whole Grain
Ancient grains have been hot over the past few years due to the interest in better-for-you carbs, gluten-free diets and eating more plant-based meals. And it looks like sorghum could be poised to be the new quinoa – as I saw lots of sorghum products at the Expo.
Here are some sorghum basics:
Whole grain sorghum has a hearty, nutty flavor and can be used just like rice, farro, barley or quinoa in your favorite recipes
Whole grain sorghum provides 180 calories, 5 grams of protein and 5 grams fiber per 1/4 cup, uncooked
You cook it like brown rice (in 3 cups water per 1 cup uncooked sorghum)
Sorghum is also available as a flour, syrup, flaked and even popped!
Check out Serena's recent Vegetarian Soul Food Power Bowl with sorghum as an ingredient.
Low FODMAP Products: More Options for IBS

It was so interesting to see how many products were touting that they were low in FODMAPs this year – a brand new trend we didn't see at last year's Expo.
A quick description of FODMAPs:
The LowFODMAP diet was created by researchers at Monash University in Australia
The acronym FODMAP stands for

F

ermentable

O

ligosaccharides,

D

isaccharides,

M

onosaccharides

A

ND

P

olyols – which are sugars that ferment in the gut causing gas, bloating and GI distress.
People with Irritable Bowel Syndrome (IBS) and gut-related issues may benefit from temporarily removing high FODMAP foods from their diets and giving their guts time to heal.
I saw low FODMAP drinks (ProNourish), salsas/tomato sauces/oils – without garlic and onions (FODY Foods) and snack bars, just to name a few products. Look for this diet to continue to grow in popularity – and more products at your grocery store promoting they are low in FODMAPs.
And here's a comprehensive resource site if you want to learn more about this diet: Low FODMAP Central developed by Nestle Health Science (Full disclosure: they were a recent Recipe ReDux sponsor.)
Certified Transitional: Organic Farming "In Training"
This is a brand new concept spearheaded by the folks at Kashi and the term "transitional" farming may very well become as common as organic farming in the next few years.
The first Certified Transitional farmland is growing wheat but any agricultural producer can use the protocol and label while completing the three years of transitional farming that is required to convert to organic practices.
Now I support both conventional and organic farming but I like this program as it brings more transparency to our agriculture systems and options to consumers. Look for the Transitional Certified mark on more products in the near future.
Meal Kits Continue To Deliver
You've probably seen the explosion of meal kit home delivery services, like Blue Apron, Plated and Terra's Kitchen, in the past year. Even magazines like Cooking Light are getting on board.
Sun Basket and Hello Fresh were both at FNCE and each program focuses on offering fresh ingredients with healthy, delicious recipes and features their suppliers/farmers on their sites.
I spoke with the Hello Fresh rep for awhile – they are the only meal-kit service with a full team of registered dietitians on staff and they also have a blog to provide tips for cooking seasonally and nutritiously. They say they see their meal kits as a catalyst to get people comfortable and confident to cook at home more often. That's definitely a message I can get behind!
——
And since no FNCE attendee can ever make to every booth and every session, there are many new products and trends I didn't even get to – but my fellow dietitian attendees did! Check out what they thought were the hottest trends and takeaways at 2016 FNCE in their posts below:
Trendspotting at FNCE: 7 Hot Food Trends – Janet @Nutrition Unplugged
Food Trends from 2016 FNCE – Janet & Liz @Meal Makeover Moms
My Top FNCE Take-Aways – Rebecca @Rebecca Scritchfield
Food Favorites at FNCE – Katie @Mom's Kitchen Handbook
FNCE Trends – Jaime @Borderless Nutrition/Ketchum Blog
Why I'm OK with Soda Companies Sponsoring Nutrition Conferences – Lauren @Nutrition Starring You
What do you see as the newest trends in food and nutrition? Are any of these new to you?